Elephant House – Pony Ride
by Freq | 2017-04-20T17:51:54+00:000000005430201704 17:51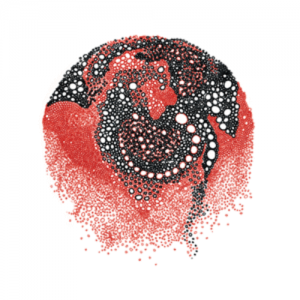 Hypnotic and dreamlike, Elephant House's début LP ambles in on a calmly unfolding ride through ticking, tickling and trickling percussion that sets the scene for the strange and beguiling journey that follows. As the title Pony Ride indicates, this is a trip that resolves itself at a gentle pace, and the opening track "Camel Mom" is apparently inspired by traditional Mongolian camel midwifery rituals.
The duo of Shenggy Shen (of Beijing punks Hang On The Box and White – whose self-titled LP from 2007 is getting a welcome vinyl release on Adaadat) and Christos Fanaras (sometimes known as Jack Shirt) from Mothlite, Masters, Temper Temper and Agaskodo Teliverek layer percussion, guitar and electronic textures into ambient spaces where atmosphere and occasional beautifully drawn melodies reveal themselves in an unhurried fashion.
Echo and reverb are key effects, giving the LP a patina of ethereal reflection and semi-hallucinatory bending of the apparent speed at which the seven tracks are actually playing. When Shenggy sings to the lilting sway of "Shuidiao Getou", the arrival of a human voice alongside Christos's lightly fuzzed guitar makes for
a drifting dreampop interlude among the otherwise instrumental body
of the record.
Pony Ride
is a subtle album where texture and melody combine to supremely pleasant effect, filling out the sound spectrum with subtle details that always seem to have been placed just so. The title track closes the album with a lovingly spare
ten minutes of synthesizer chorale and delicate electronic rhythms
that sweeps pleasantly from a blissed-out opening via organ passages that are almost impossibly
nice
into a concluding welter of wordless vocal glide. All this and an arresting front cover by Fanaras makes
Pony Ride
a visual and aural delight to be enjoyed — only with the warning that it may occasionally provoke a happy state of satisfied drowsiness: so no operating heavy machinery…
-Linus Tossio-
Source URL: http://freq.org.uk/reviews/elephant-house-pony-ride/
---