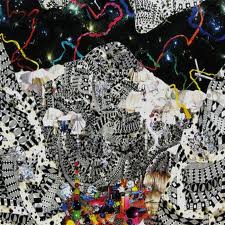 Organic grinding. The music humming inside the skulls of cannibals as they try to decide which would go better with their longpig; rosemary or thyme? Are chives too much? Too little? What would Michel Roux Jr. suggest? They'd hardly want to spoil the meat with excess seasoning, or overpower the flavour with some badly chosen shallots or unnecessary garnishes. Here, we are treated to imaginary soundtracks to imaginary places. Brian Pyle (who was in… etc etc) coming up trumpeting; weaving processed, processional sounds into the mix; keeping things flowing.
He's amassing an interesting soundpile; working I'm guessing mostly by instinct ('those reversed bells would sound just
lovely
right there') but also paying plenty of attention to detail. And here's where the Devil is; in the little sounds behind the main drag (Drag?). Even in the 'smaller' tracks – the hornstabby "Everything I Have, I Give To You" for example –
there's tiny little piles of sound beneath the tune, giving a woozy swirl
, making what might in other hands me a simple Gothic trawl into a more expansive cinematic journey.
I say journey but you can't imagine any of these journeys actually getting anywhere. This is an Aguire: Wrath Of God journey; deliberately, desperately heading nowhere. Whoever these people are, there's no hope for them, even at the beginning. They may be crossing the pass but those torches aren't going to last forever. Pretty soon, the world will turn black, the forest will crawl upon them, the wind will wreck their bones.
People will no doubt remember the
Goblin
-fancying drones and wails of the
Psychical
album and they won't be disappointed with this one (
Heat Waves
, with its slow modular bubbling and soft pads, might be on one of Goblin's less abrasive soundtracks) but I think this is a step forward. While I sort of lost myself in the echoes of
Psychical
, to the extent where I heard less than was in there, this new one seems lusher, more confident of its musical language.
Psychical
was a wondrous slab, one of my favourite releases of last year, but I think I'm already preferring this one; here you can hear the footsteps of the marching men, and hear them popping off into cold space, one by one.
-Loki-
Ensemble Economique – "To Feel The Night As It Really Is"