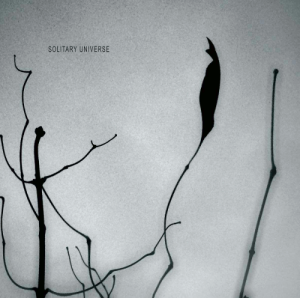 Italian guitarist and producer Eraldo Bernocchi has worked on a wide range of projects since forming Sigillum S in the eighties. He has collaborated on projects with Harold Budd, Markus Stockhausen, Robin Guthrie and Russell Mills among many others. From working with avant-garde noise to almost world music, Solitary Universe finds Bernocchi and Chihei Hatakeyama in a more ambient mode.
"Waiting" begins with a lilting guitar sound not unlike that of "Wind And Water" by Robert Fripp and Brian Eno. The track rolls around in utter melancholy beauty. Outside it has been snowing and this opener is the perfect soundtrack to watching the wind blow snowflakes around in the air, and to drift in that moment of stillness for a while. The guitars gently weave in and out of each other, layering the sound so much that its hard to distinguish each instrument separately. Its a gorgeously lush feeling of a piece whose atmosphere hangs in the room after its finished. "Those Glorious Days" conjures up images of old black and white photos found in drawer that have been forgotten for years, people standing frozen in time in summer days long gone. Texturally the guitars are reminiscent in atmosphere to some of Harold Budd's work, and again it feels like a moment in stasis as the rest of the world turns without you for a short while.
"Shapeless Buildings" starts with a similar haunting guitar sound as its predecessor, but here you begin to feel a slight influence of
David Sylvian
's early solo releases, especially his ambient work in the mid-eighties. It reminds me in particular of Sylvian's
Steel Cathedrals
 in the way that it somehow hangs majestically in a space of its own. When the lead guitar (if you can call it that) comes in, it adds a sense of eeriness to proceedings. Visually, here you can imagine something similar to Eno's video project
Memories Of Medieval Manhattan
'. The very stillness of the piece means you can
wallow in its atmosphere and a sense of dislocation from city life
. "The Mistakes Box" uses a guitar sound at one point that could almost be mistaken for some of Fripp's work. The track hums with a feeling of a summer heat haze hovering in the air. It is
the view out of your window on a quiet Sunday, when only a gentle breeze disrupts the branches
of a tree. Even though the piece seems slightly more active than some of the others, it still builds its own space in the room it's playing in and gives off a sense of the other.
"Unopened Letters" again has a sense of melancholy. The title to me seems to reference a love that has passed and is now lost, and the fear of opening and reading the pages in the envelope in case they somehow reveal some missed opportunity. Here again, some of the guitar sounds reminds of Sylvian's work in its stark beauty, and the sense of nostalgia and regret his work discusses. The track drifts like forgotten memories through the course of your life, of places and people that have now become the past, it questions the reality of memory while at the same time it washes over you like a wave on a beach.
Petulia Mattioli
and
Yasushi Miura
's book of photographs that accompany this CD release are a thing of wonder in their own right. The black and white and colour
images fit perfectly in sync with the feel of the music, and give the album that extra layer
of something different, and makes you view the music in another way as you work your way through it. All in all a stunning release, and an album to play when you need to take time out of life for a while, and wallow in your own thoughts and solitude.
-Gary Parsons-