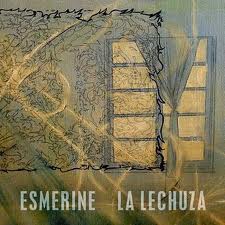 Bruce Cawdron (Godspeed You! Black Emperor) and Becki Foon's (Thee Silver Mt. Zion) latest release as Esmerine (now expanded to a quartet, with harpist Sarah Page and percussionist Andrew Barr) is dedicated to Lhasa de Sela, the Montréal-based singer-songwriter who succumbed to breast cancer in 2010. I know nothing about Lhasa, but I'm guessing this is a fitting and heartfelt tribute. The tones are uniformly elegiac and mournful, with the slight exception of the bobbing harp motifs of "Trampolin", and some of the Antonyesque vocals (I really thought it was him on "Snow Day For Lhasa") would be heartbreaking even if they'd appeared on the soundtrack to a Vin Diesel film.
Godspeed fans expecting their creeping gusts and slow crescendos will be disappointed here; this music here is generally linear, akin to
Philip Glass
or, especially, the mallet textures of
Steve Reich
. Large
parts of this would work as a soundtrack to a slower, post 9/11, Koyaanisqatsi or perhaps a Wim Wenders documentary about East Germany
. It's mostly instrumental, though the songs work the same timbres as the music. In truth, it's hard to comment on this kind of stuff, hard to get
excited
by it because it's music that isn't
designed
for excitement; it's dealing in different emotions and different
actions
: stillness, contemplation, memory. If
Samuel Beckett
's
Murphy
had put on a record just
after
his solipsistic fight with his own rocking chair self…
La Lechuza
is beautiful and beautifully non-invasive, or rather, it
does
invade but does it so gently, with so little back-lift, that
you're transported into a landscape with no jarring at all, like the way a dream location shifts without you noticing
. You won't play this at parties; you probably won't try and seduce someone with it but, if you're on a long bus journey through the wilderness this will make any landscape instantly blasted and stilled and poignant. It's an amplification coil for sadness.
-Loki-
Esmerine "Snow Day For Lhasa" from Constellation Records on Vimeo.