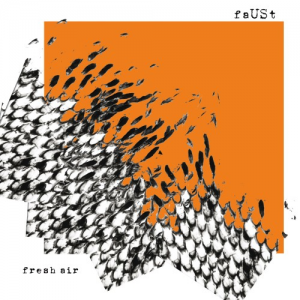 I think the first thing that should be mentioned about this record is the press release. Breaking all form and convention, it's readable, witty, descriptive and — get this — actually tells you some information about the record. Those wild renegades. Hopefully the copywriter responsible has been shot and someone much more asceptic with an anthology of shit clichés can return their press release to its proper state of turgidity.
Of course, that probably tells you something about FaUSt — the press release does feel like its written from a place of affection for the music, and from a position of being a well-established band. You're probably aware that there's at least two Fausts operating from the aegis of the unitary Faust we know from the 1970s, and this FaUSt is the Zappi/ J-H Péron one.
Anyway, music. That's what we're all here for, waiting with bated breath. Anticipatory. So I haven't really kept up with FaUSt on record — I'll typically see them whenever they're playing, but I've not got much on record. So this record may be very much in keeping with recent trends or it could be a radical departure. I'll tell you what though, it goes down some odd roads. Opener "Fresh Air" starts off with some open, drifting viola and French poetry read in Polish and, after a full eight minutes, descends into something pounding and rackety; elsewhere there's sleazy jazz-ish numbers ("LaPoulie"), brief explosions of avant-vocalism ("Partitu"r)… the strength of FaUSt here, then, being that
they don't come across as being tied to a particular tradition (exception perhaps the tradition of being FaUSt)
.
Production-wise, it's a lovely sound — everything, especially drums, sounding lovely and the mix just subtle enough. There's a few bits where it was a few listens before I noticed the amount of detail — found sounds and synths — accentuating the core of the songs. And I guess, strangely enough, there are a lot of songs here — recognisable motifs in three languages (English, French, Polish). Not so much song that you'd mistake it for a charge on the top ten, but enough that holds together the oddities and avant-gardisms without feeling like the sort of "experimental" music that your parents would hate. I'd say as well that there's an element of fun to Fresh Air that's pretty important — not "fun" as in "let's all dress up as clowns" (although, obviously, Slipknot are awesome), but a definite playfulness, a sense that a album can be a collection of ideas and sounds rather than a specific manifesto on given methods.
I have to say, as a string player myself, guest viola
Ysanne Spevack
really makes the standout tracks on this album — reminding me of the lush sonorities in
Takehisa Kosugi
's
Catch Wave
, a piece I've an enormous fondness for. It's pretty FaUSt-y, probably, to suggest that the viola isn't used in the way "classical" instruments usually are — incidental flourishes or "classiness" — but rather integrated properly into the fabric and colour of the whole track, allowed to breathe slowly into the music and with a lightness of touch in bow and vibrato that's just exquisite.
It's possibly the case that, like me, you've not really been keeping abreast of FaUSt ,but I'd quite strongly like to disabuse you of any notions that they're a bit business as usual. They always were a special band but, most importantly, on the evidence here, they're definitely very much still a very special band.
-Kev Nickells-