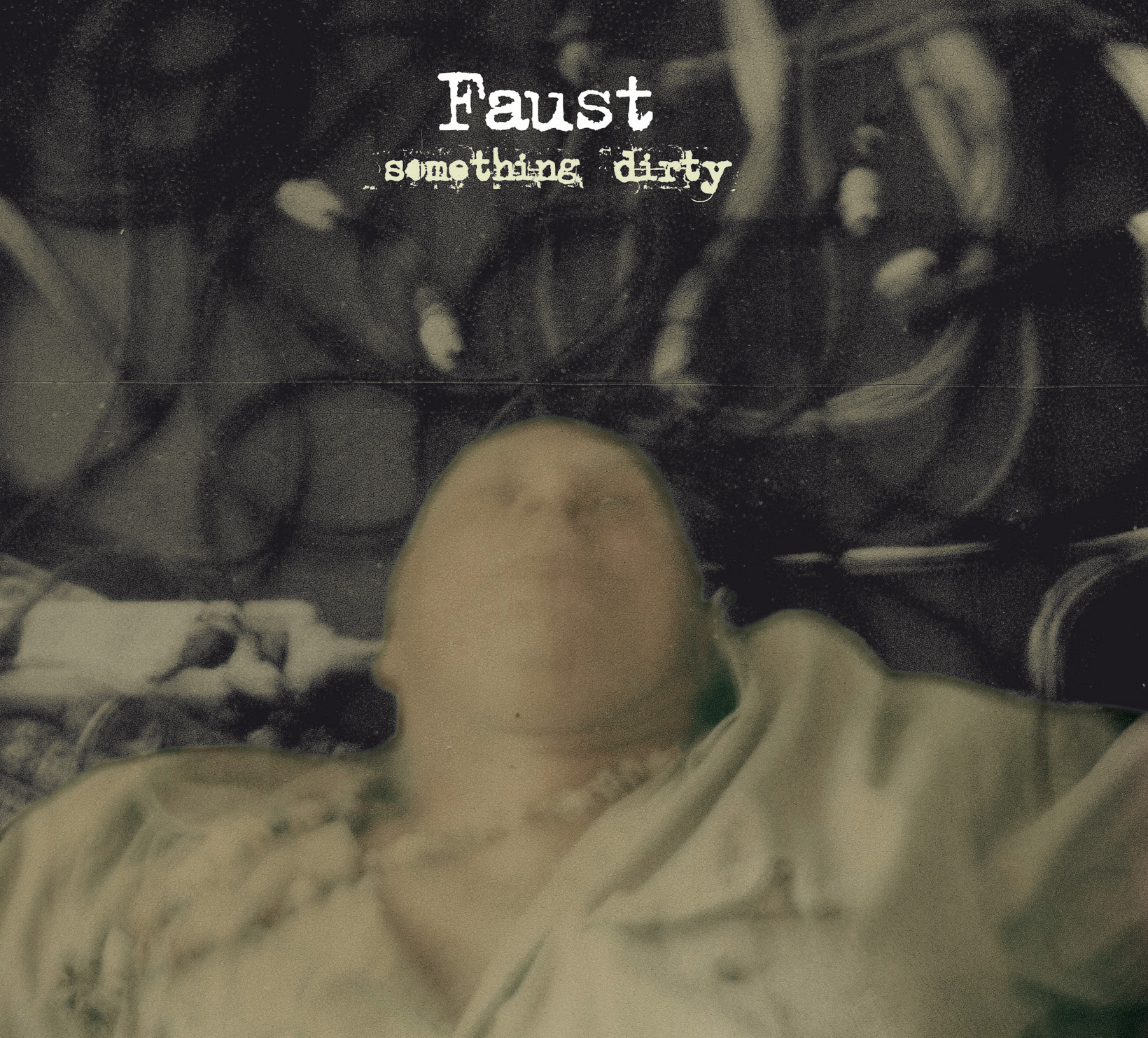 Ok, as most of the people reading this will know Faust were one of the most important bands of the 1970s Krautrock movement and have an incredible important body of work behind them. Also at this moment in time there appears to be two Fausts, so this is Jean Hervé Péron and Zappi W Diermaier's Faust aided and abetted by Gallon Drunk's James Johnston and Bender's Geraldine Swayne.
So that all cleared up, let's get down to the music on offer. Album opener "Tell The Bitch To Go Home" is a three chord blues workout that to be fair would not have sounded out of place on an early Gallon Drunk album. Think "Some Fools Mess" without the dynamics. It has the feel of a studio jam and doesn't seem to really gravitate beyond that and develop further; not really an inspiring opener. Things begin to look up with "Herbststimmung," glissando guitars and powerful keyboards swirl into the sound of glass being blown before the beat brings it down to earth. Unearthly lead guitar and power electronics take over to build on a dramatic main theme that becomes quite uplifting.  A noise  welcomes in "Something Dirty," all rolling tom tom drums, squelching noise keyboards and guitar scraping before it hesitates into its main two chord theme. This again builds slowly as the track progresses and lifts skyward and drifts into a spoken word ending over the top of power chords.
"Thoughts of the Dead" utilises mono synth swirls over a spoken word to create an overall eerie atmosphere that is somehow reminiscent of early
Psychic TV
. "Lost The Signal" traverses desert blues guitar and organ over a steady blues beat while Swayne's vocals travel
Anita Lane
-like against the great expanse of space behind her. Excited drumming begins to herald in "Je Bouffe," before it settles into a waltz rhythm under some rather over the top spoken word vocals. "Whet" meanders more towards industrial, its atonal keyboards melding with tremelo guitar slaps. Swayne's vocal starts off "Invisible Mending," a melodramatic blues piece that sits somewhere between
The Bad Seeds
and
Einstürzende Neubauten
. "Dampfauslass 1" is carried on an urgent drum pattern while synths add tension over a very
Snakefinger-
sounding lead break. The guitar creates a steady mood for "Dampfauslass 2" and kicks straight ahead into more rock territory, and
this is the kind of track that would sound great live as the distorted organ picks up the melody
. The thing is, it's just too short. "Pythagoras" has a touch of
Discipline
-era
King Crimson
as its syncopated rhythms build over nasty atonal guitar and keyboard crunches. "La Sole Doree" finishes the album in quiet splendour. Over-echoed vocals drift on top of a steady guitar, organ, drums and bass until
it hits its psych-out screaming final punch, the wah wah guitar playing malevolently
until the feedtheback cuts out. There are some interesting tracks on this album; my only problem with it at times was that some really good ideas were not seen through for longer periods of time. A lot of the tracks last a matter of a couple of minutes and so come across as almost note books for longer songs or unformulated ideas that lead into a dead end too quickly. When the album does take off it does so with gusto and there is some fine playing from all concerned and is certainly well worth an investigation if you're a fan of the band past and present.
-Gary Parsons-