For most bands, tackling that 'difficult' second album can be a daunting experience; the expectation, the pressure to top their debut, and the need to break new ground can all conspire to form a perilous trap for the unwary and the uninitiated. Most bands, however, don't record their second album 41 years after forming.
Figures of Light
, a ghost legion of the proto-punk army who fought almost single-handedly around New York and New Jersey during the early 1970s, have returned to the studio, however, and recorded a new album, following on from their 2007 'debut'
Smash Hits
. That album, which collated vintage material from as far back as 1970 alongside recordings made that year, was a first step in placing the band back into their proper historical context, elevating them into their proper place as a lost link between the 1960s era of
Velvet Underground
feedback and improvisation, and the 1970s era of snotty Punk snarl. Figures of Light had them both, and, despite having been listed as missing in action for close on 35 years, 2011 has proved that the years have done nothing to diminish their powers.
Having forged a strong working relationship with Brooklyn's respected Norton Records, run by Billy Miller and Miriam Linna (one time Cramps stickswoman), the label backed the rejuvenated Figures of Light to record a new album, and has now issued the results as Drop Dead. Right from the offset, every groove on the album takes its cue from that title – "a message to our fans, a message of hope and inspiration" – a growling Garage rumble that drives past in a beaten-up black Dodge Charger and flips you the bird as it does so.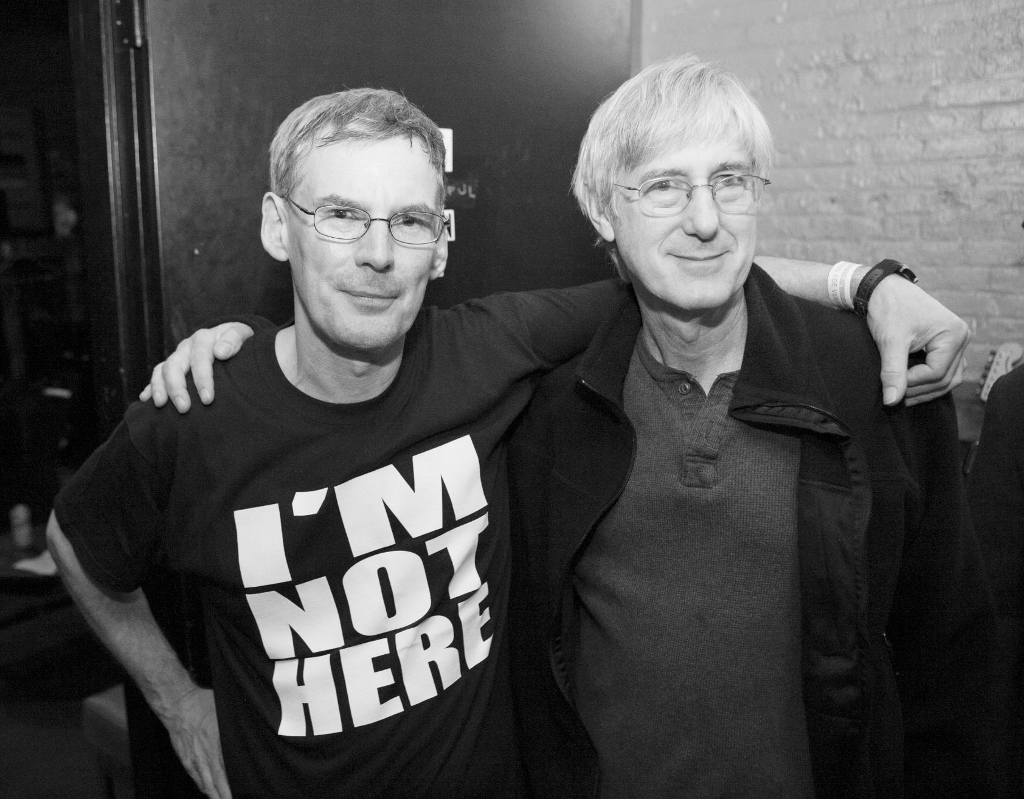 With original members Wheeler Winston Dixon and Michael Downey augmented by some stellar support – Linna herself on drums, Detroit legend Mick Collins of The Gories and The Dirtbombs on guitar and Marcus 'The Carcass' Natale of The A-Bones on bass – Figures of Light serve up 15 tracks of pure bare bones Rock & Roll goodness. Mick Collins, doubling up with a stint in the producer's chair, achieves the kind of raw, reverb-saturated sound that Linna's old confidantes Lux and Ivy so luxuriated in, and it's a sound that suits the Figures well, bringing out the band's Garage roots and thrusting their no-compromise stomping primitivism right into your ear – as Downey says of their songwriting process "A lot of the material was stuff that I sent him [Dixon], and he changed. He's got a definite idea of what a Figures of Light song should sound like, whereas I'm more of a 'Well, I'll write a song' type of songwriter. I will send something, and he would say 'It's gotta be simpler, it's gotta be shorter, it's too fancy.' So I'd work on it some more." Dixon himself agrees that this is one of the Figures' prime mission directives, "My role is to strip things down and make them simple. Remember the old motto, 'Three chords are good, but two are better'? Well that's the truth. The simpler you get, the better it is. Virtuosity sometimes gets in the way."
Not for Figures of Light the smothering of a once-great sound, now buried beneath a double whammy of a suffocating studio over-production and a desperate urge to prove more proficient musicianship. As Dixon so sagely puts it,
"One of the greatest compliments we got came from Miriam who said, 'You guys haven't improved in 35 years.'
And it's true. Of course we have, but we keep it simple. Other bands are trying to show how much they've progressed, but our motto was always 'Keep it simple.' I think we're better now that we were in 1970 in terms of being raw and stripped down. As long as you stay pure and stay true, and don't try to make anything more pretentious, then you're always going to connect. It has to be visceral, it has to connect, and it has to have a message."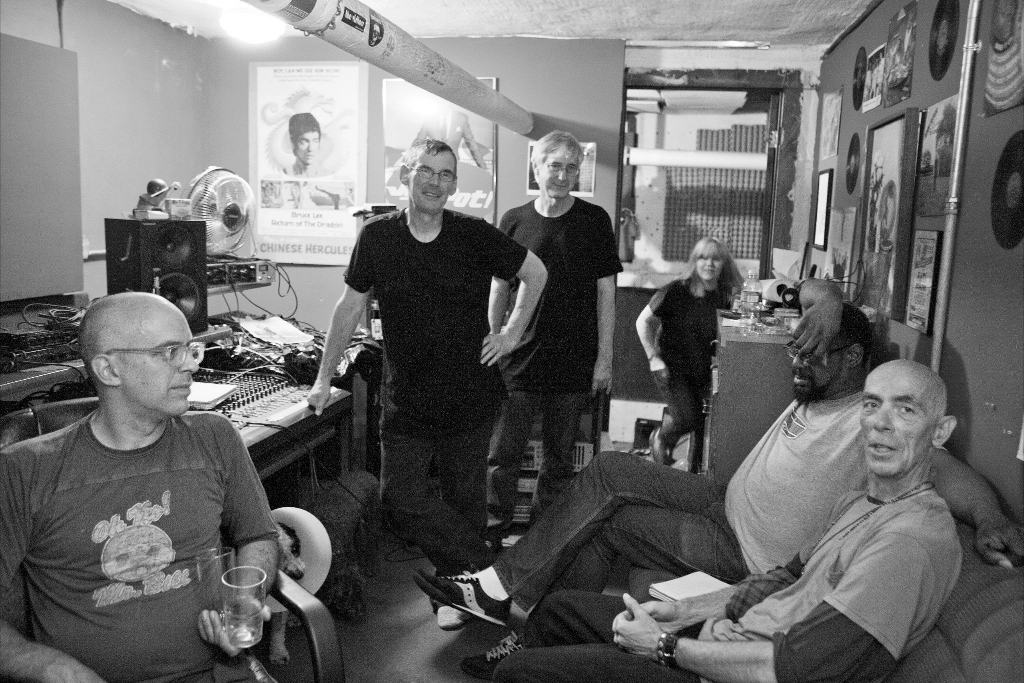 As if to underline this message with a punch in the solar plexus, Drop Dead was recorded over the course of a crazed and intense 48 hours at Mitro Valsamis' studio in Brooklyn, onto one inch analogue tape, in a burst of insane creativity that perfectly encapsulates what made Figures of Light great at the turn of 1970s, and what keeps them great in the second decade of the 21st century. "We just ploughed through the material at a ridiculous rate… we did 27 takes of 20 songs in the space of five hours. Everybody was like 'Go, go, go!' they were so primed. The band is playing as one, and we're all in this enclosed space, and the acoustics were very much like Impact Sound, where the Stones first recorded, it basically had egg crates on the walls. It was just intense."
Across 15 tracks of pure Rock & Roll precision, Figures of Light
put their theory into practice, and give a masterclass that should, by rights, be put straight onto the National Curriculum
. Kicking off with "My Box Rocks," with its walking bass, grating guitar and arch lyric,
Drop Dead
contains Figures pearl after Figures pearl like a
Liz Taylor
necklace. "Fifteen Minutes of Fame" shows something of Dixon's 1960s association with
Warhol
's Factory, and (depressingly) seems even more timely and relevant in 2011 as it would have in 1967. The magnificent "Black Plague Blues," dating from the band's first concert in 1970, tells a sorry tale of bacterial infection, replete with both a short and nasty Collins guitar solo and the signature Dixon /Downey rhyming scheme that manages the not inconsiderable feat of both rocking and being amusing at the same time: as Dixon disarmingly puts it, "Our songs retain their mordant sense of humour." What also never ceases to amaze is what a great voice Dixon has, never too technical, but rarely missing a note, disdainful and derisive, yet always subtle, never breaking a sweat. Nice. "With A Girl Like That" sounds almost as though it could be prime-era
Mary Chain
, a calm central point in a life or death clash of fuzz and melody, nodding both to the Velvets on one side and
The Ronnettes
on the other. "Is It A Dream?" could sit comfortably on
White Light, White Heat
, with its Collins-inspired backwards
Pretty Things
guitar line a beautiful curveball thrown in on top. And how can you resist a stonewall dancefloor stomper with harmony vocals entitled "Mellow the Fuck Out"? By the time the album concludes with the gloriously wry racket of "Don't Call Us, We'll Call You," ("thanks very much for your input"), one really wonders at the strange path that has lead Figures of Light over the decades into recording the album, and amazement that, unlike so many others, they have made such a fucking good fist of it. As Michael Downey succinctly puts it,
"If you'd have told me this would happen five years ago, I would have said that you were nuts."
The story of Figures of Light is the triumph of artistic intent over the tribulations of both life and the music industry. Andre Gide's maxim – Art is born of constraint and dies of freedom – has always been a guiding inspiration to the band, and Drop Dead is a Gloria in excelsis example of this, and of a time when everything came together in perfect harmony, and allowed them the creative tools that were denied them in the 1970s, in order to perfectly capture their cri de coeur. Dixon speaks of the experience with rapture, "This was a session that was kissed by God. If we get to do another one, then fine, but I fail to see how the stars could align any better. This is the album that we've been wanting to do our entire lives."
Drop Dead, a message of hope and inspiration indeed.
–David Solomons–
Pictures: Jackie Roman