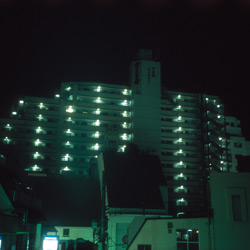 Branching out into conceptual composition with Ensemble Intégrales, Felix Kubin acted as a sort of central engineer/conductor for this piece, with each instrument recorded live with no overdubs in separate rooms at the Westwerk cultural centre in Hamburg under Kubin's supervision, and the results edited by him down into the resulting album. As a result, each room sound is almost as important as the tones recorded for the instruments concerned, and the results certainly resonate with the nuances of each space in the final mix, especially when listened to on headphones – which is probably the best way to appreciate the textures of the recording.
It's also perhaps inevitable that the terms electro-acoustic and musique concrète will crop as reference points when describing both the techniques and sounds of Echohaus – and justifiably too. There's plenty of scraping, creaking, twisting and plinking, honking, squittering electronics and keening breaths, mournful drones and pizzicato strings among the synthesized interventions, in between the electro-mechanical susurrus and thumping among gentler ripples on piano and violin, with vaporous electronic reflections trickling subtly or otherwise across the dissociated (but not disembodied) studio space. The improv is strong here, quite happy to let rip into spine-tingling moments very close indeed to the fingernail/blackboard interface.
So drumkits give their best falling down the stairs impressions (though it frequently does seem like that baskets full of household good are being given a good thrashing ), and there are moments where stereo-panned strings rise in counterpointed waves which could quite possibly drag the listener into a state of panicked delirium. What is particularly enjoyable are those moments where the music moves through space as Kubin manipulates the mix, with deep bass throbs and high-pitched whines circling the clatter of percussive motion across the soundscape he creates with the Ensemble's sounds. Is that the sound of one room bleeding and/or receding into another, or is it just the natural echo? Who can tell, and does it matter too much?
To keep calling this sort of music avantgarde is perhaps to hang onto a term which sometimes seems to be almost backward-looking, given the decades in which this modernist form has developed (or otherwise) – but even so, the recording technique is, if not at the advance guard, at least experimental in some form or other. But so much for labels – this is largely a fine piece of work where dissonance and discordance, horripilation and disconcerted listening teeter into sometimes quavering moments of reflexive beauty. Echohaus engages the senses fully, and the way in which it was recorded and produced being ultimately secondary to the results, which, while often difficult – or flat-out challenging – listening, are certainly none the worse for that.
-Linus Tossio-