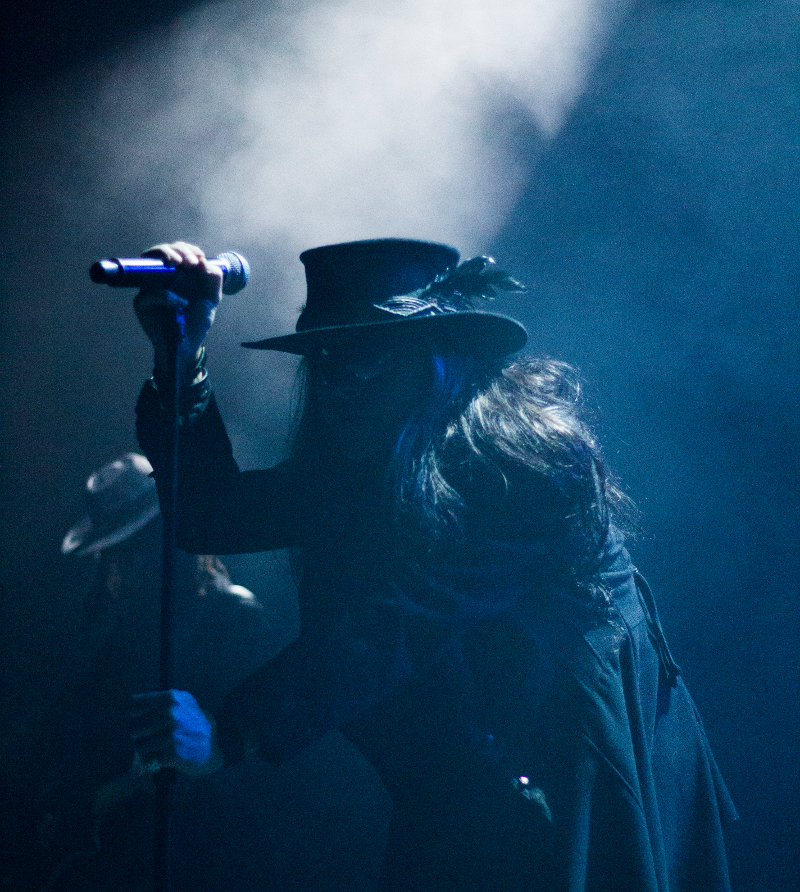 London
21 December 2015
Having been unceremoniously shunted from the Shepherd's Bush Empire (due to what is officially known as "structural weaknesses" but which I personally suspect may be closer to "some bastard wants to make some luxury flats", Fields Of The Nephilim are tonight gracing The Forum with their presence. The date's also been changed, which is undoubtedly a right bastard for people who can't change their plans, but which on the plus side means they're playing on the winter solstice, which is pretty much the perfect time of year for a Nephs gig.
And they've brought friends. And what wildly eclectic friends they are.
Black Volition
are confusing, confounding, and rather wonderful. They start off kinda
Bauhaus
y, playing
rock'n'roll-oriented goth music with a double bass
(which always makes everything better). Then they morph into something more
Lynch
ian, reminiscent of "The Pink Room" off
Twin Peaks
(which is always a good thing to be reminiscent of) — they're almost a mirror image of
Bohren & Der Club Of Gore
, eschewing all Bohren's soporific chill in favour of the relentlessly bassy grind of a far angrier
Badalamenti
. THEN they start reminding me of
NMA
's spooky ambient soundtrack to
Joolz
's
Hex
, and then before you know it we've got a new romantic power ballad going on. Basically, they manage to combine most of my favourite things into one stunning set, while still putting their own stamp firmly on the whole caboodle. Which, I guess, makes them the equivalent of a posh brand's booze pizza. In case you're in any doubt, this means I like them a lot. Highly recommended.
It's been thirty years since Fields Of The Nephilim first burst onto the scene, dragging the
Sisters Of Mercy
's stark cybernetic
Stooges
-meets-
The-Terminator
rock'n'roll into a
Sergio Leone
-directed hell built of straw and feathers, but when they come on with "Dawnrazor" it's like no time has passed at all. Despite having a drastically different line-up these days, they've clung to that timeless aesthetic template, looking like a bunch of gunfighters and peasant farmers. It's a powerful look, and when a few years ago I first read
Cormac McCarthy
's masterful
Outer Dark
, it was the one I had in mind for the Reavers. Apart from that one guy who looks like he's been sent by the CIA to spy on the rest of the band, but he actually appears,
if anything, even more sinister than the rest of them
.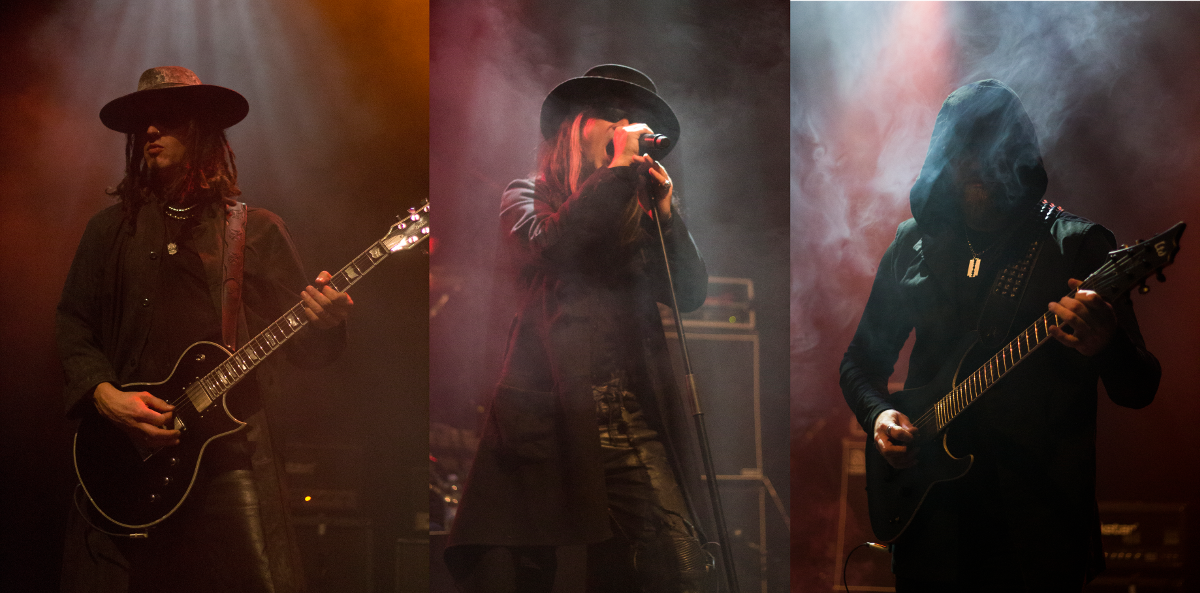 And Carl McCoy still looks exactly the same as ever. Indeed, Camera Dude turns to me and says "fucking hell, he's another one of those
Dorian Gray
motherfuckers" as they take the stage. He's still rocking the
Jim Morrison
shamanism vibe, growling his way through a set that takes in their whole career, from the sublimely creepy "Vet For The Insane" right through to "Mourning Sun". "From The Fire" is wonderfully epic, and "Zoon pt 3/Wake World" (from the album
Zoon
, which I must confess to having hated when it came out, but which has massively grown on me in the intervening years) is
nothing short of revelatory
.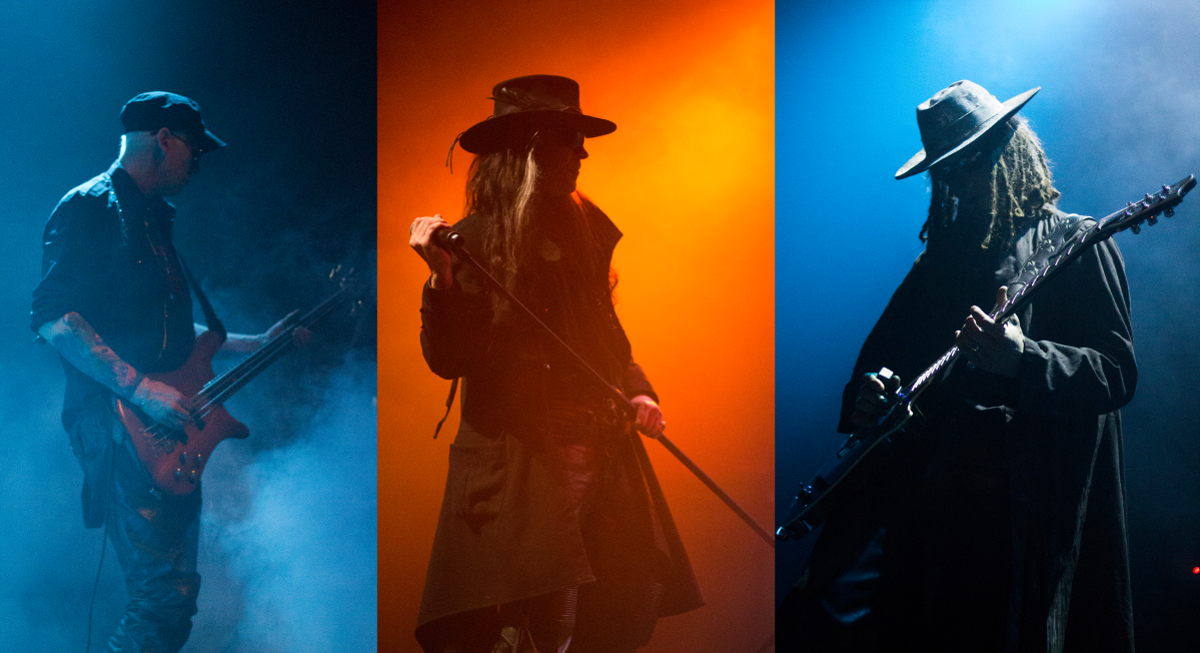 Then it's time for an intravenous prog injection as they kick into "Psychonaut", all bubbling bass and Biblical prophecy, McCoy preaching it like a man possessed. And of course they end with "Last Exit For The Lost", a song which, as always,
simultaneously seems to go on forever and ends far too soon
.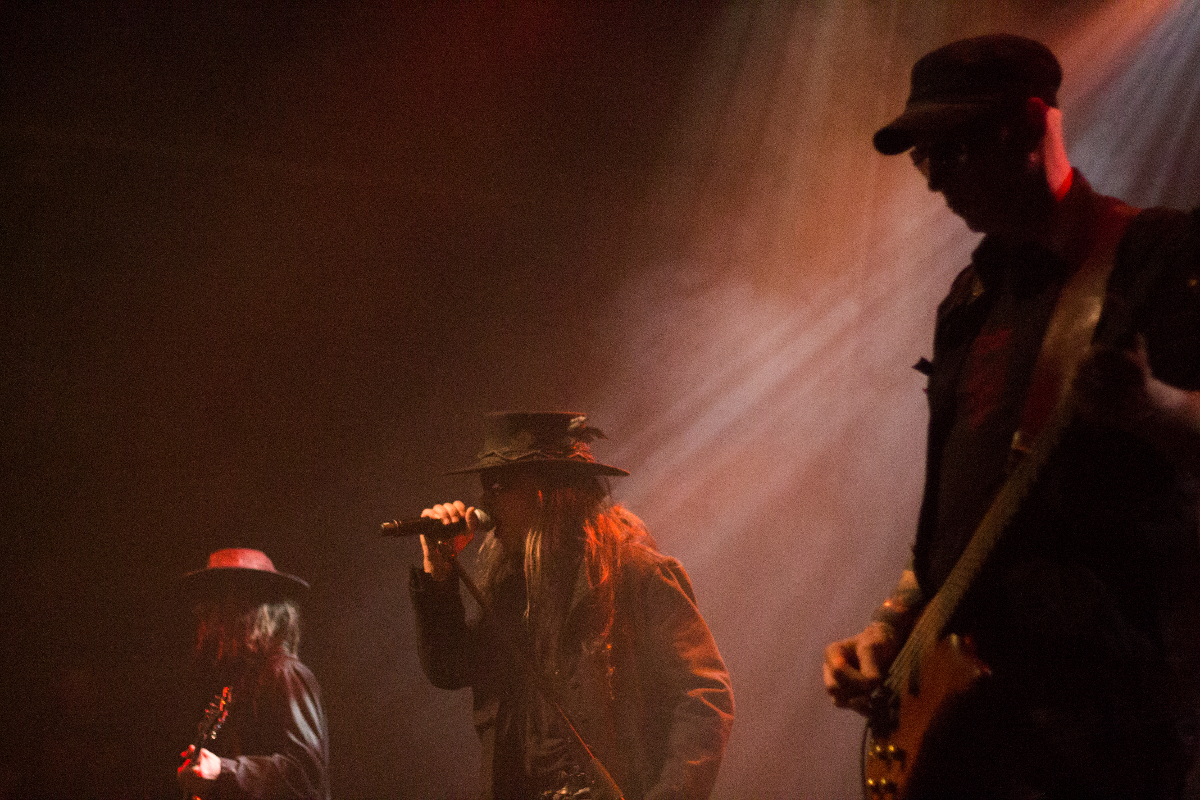 Some new material would be nice, guys, but hey, while you've got shit this good already, I'm not complaining.
-Words: Justin Farrington-
-Pictures: Dave Pettit-