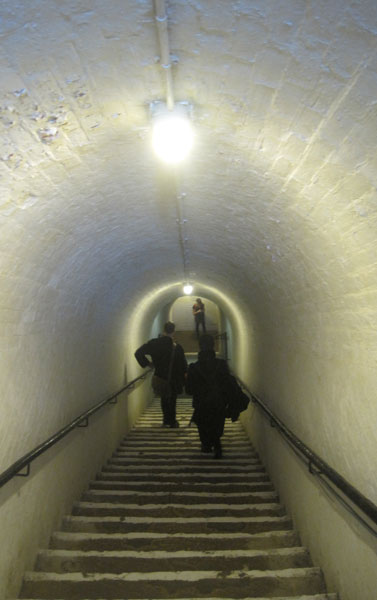 Newhaven Fort, East Sussex
13 September 2014
Wow! This place was superb!! A semi-ruin with a labyrinth of white-clad tunnels eating into the gloom, the natural reverb promoting plenty of pseudo monk fun. The weathered solidity and teasing signs of atrophy, the stonework full of weird apertures that once occupied armoury now harbouring a host of musical oddness.
On arrival,
a spasmodic crackle of strip lights and Marshalls greeted us from a long corridor
that spurred off from the entrance, their randomly-triggered bolts of phosphorescent paparazzi(ing) the curving murk of the narrow half-corridor, recoiled in guttural spasms of ampage. Momentary light splattered, the crack of the amps cattle-prodded the blackness like a sparse re-enactment of a Blitz bombing.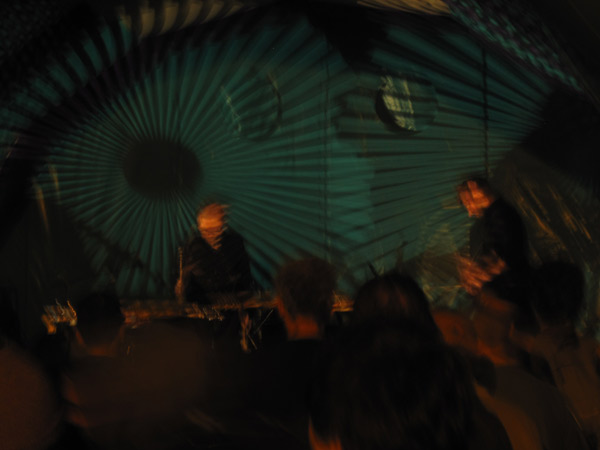 The running order was frustratingly alphabetical, which completely scuppered any notions of organising your day, leaving you to adopt a nomad approach,
wandering around accidentally bumping into some really cool stuff
. I really wanted to see a few listed –
Philippe Petit
,
Plurals
,
Peter Brötzmann
,
Seth Cooke
and a few more, but most billed were a complete mystery (I wouldn't want it any other way) which I was more content to happen upon.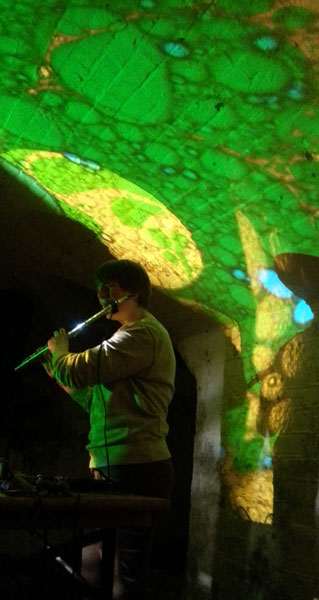 One band I was really eager not to miss was Part Wild Horses Mane On Both Sides, especially having seen their spectacular show at Supernormal a few weeks back. Some 70 steep steps and a long sloping tunnel into the echoey bowels of the beast revealed a tiny performance space aswirl with psychedelic oils courtesy of Innerstrings' psychedelic lightshow. Part Wild Horses Mane didn't disappoint, the swirling visuals matching the eeriness of their sounds; a fluidity perfectly entangled with Pascal Nichols' inventive approach to percussion and Kelly Jayne Jones' tentacling clarinet, their confetti(ed) tape spree weaving a chloroformed blanket of aural hieroglyphs and swarfing coptics. A great start.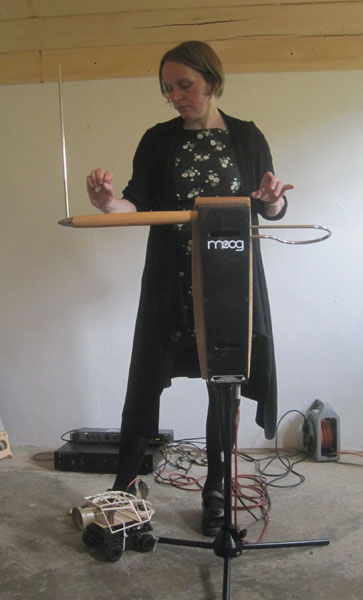 The place was riddled with nifty installations, every twist and turn revealed more: motorised wire fountains, rusted plate-bouncing batons, numerous lakes of candles, slowly melting ice blocks; the best of all being this divine wine glass/turntable installation by Timothy Didymus, the eerie symphonics of which I found very hard to pull myself away from.
It was a really chilled event where things just unfolded, far removed from the choking congestion of other festivals. I found myself kicking back and enjoying the warm weather, watching the gulls cliff-hovering whilst listening to the drifting drones of Poulomi Desai's treated sitar, taking in that piercing blue sky to the continuous ting of Alvin Lucier's Silver Streetcar for the Orchestra.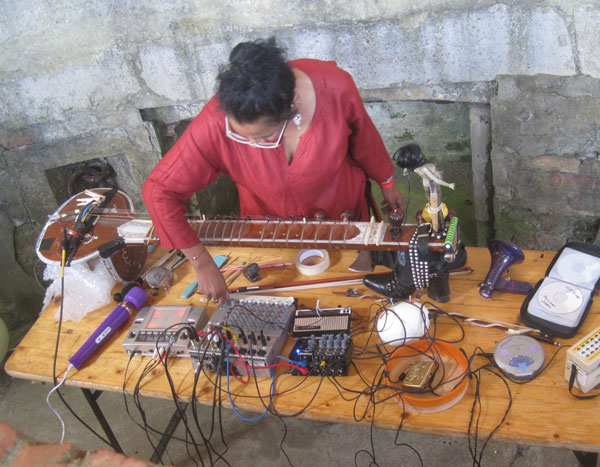 Blood Stereo
's odd garblation of karaoke worked well with
Karen Constance
's collaged arts filling the schoolhouse's wall; Bastille grunts and blancmanged candy overflowing the ears , morbidly oozing through her comedic displacements of Victoriana. Somehow I missed the two events that were staged there though, arrrrrgggh. I stumbled upon the
Hysteresis
in a sunken gun emplacement, all atonal gnarl, guitar wire everywhere
plundering your senses in wholesome thunder. Further wandering revealed
Sarah Angliss
accompanying a gathering of unruly motorised bell carriers with her musical saw and Theremin. I had my electronic fill with
Aqua Dentata
's hypo-waves in the Romney hut (a gigantic air-raid type shelter off the main parade ground). His wavering drone acupunctured in subterranean subtleties, a weathered underlay caught upon the vertically climbing light show of
Bartosz Dylewski
.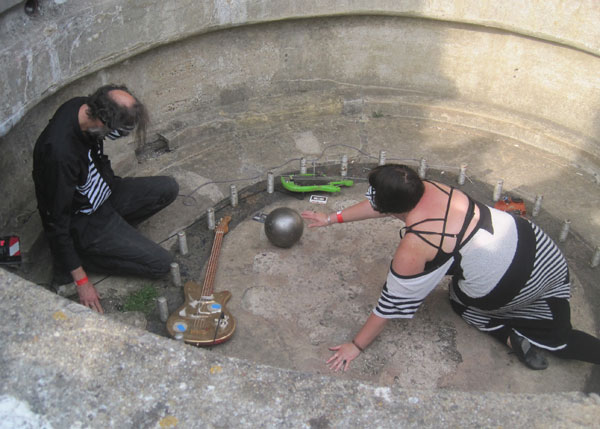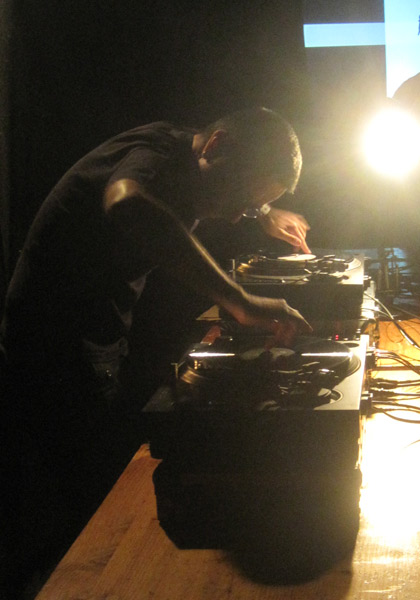 Philippe Petit's set was a highlight for me, a whirlwind of turntable dexterity that tipped happily into the surreal. A slow tease of surface noise started the proceedings through which he quickly carjacked whirled smudges of drone before falling headlong into a kinetic soup of abrasive sweeps, jumping styluses and abrupt switch-a-roo junkings. Pure pipe bombs of excitement, incitement. That genius loop made from a slanted 7-inch half pyramiding the turntable —
whether it was it pure genius or happy accident, it was undoubtedly sublime
, causing the audience to whoop along. His hands were everywhere, teasing the edges, palms reverse-ruddering, percussive finger tapping over a heap of broken trajectories and casually flung angles. At the final curtain my head kept screaming for more.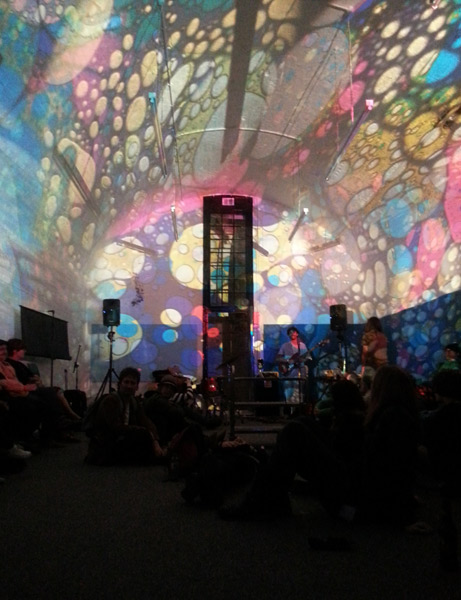 Having missed Duncan Harrison's set completely I was glad I caught Plurals in action (oddly without Duncan), their quasi-religious texturing leading to a massive fallout of mangled guitar and wailing vox, which certainly gave the corrugating a good rattling. Jennifer Allum's set was a far gentler proposition, an un-amped "can't believe that's really violin but it was" set blasted to infinity by Bolide's unholy guitar theatrics in the classroom, a raucous scorch that could be heard from the other side of the fort, that sub-woofer gouge wreaking havoc with my full bladder.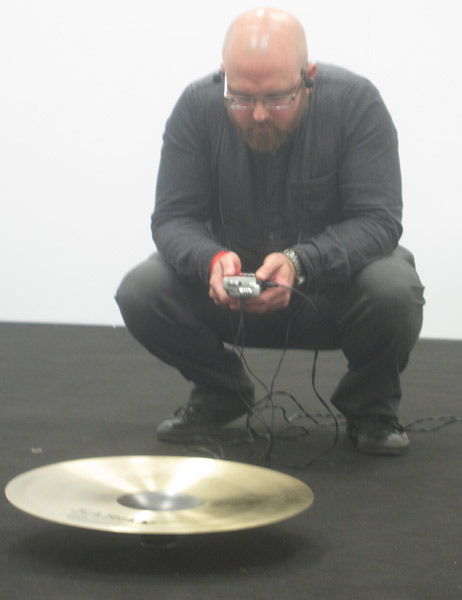 Seth Cooke's phantom feedbacks of cymbal were bewitching: he'd been using the odd acoustics of place all day, but I managed to catch him inside the grand magazine for his final show of the event. The sinuous tones he was plying were both mysterious and deeply meditative, synaptically hijacked you in temple mirages and best experienced with closed eyes. Back in the parade ground Ex Easter Island Head bathed you in a soft recoil of percussive chimes, a dissolving radiance of beat that twisted new juice from Steve Reich's notations of minimalism throwing its muse in waves after wave of optimism. The dynamic slants of Brötzmann and Noble were a tasty treat too, helped in part by an enthusiastic girl on the sidelines yelping and chanting along as the curves of saxophone and crazy blurs of percussion whipped up quite an atmosphere, Brötzmann softening his usual savagery to let a few lilting rhythmics slide pleasing along.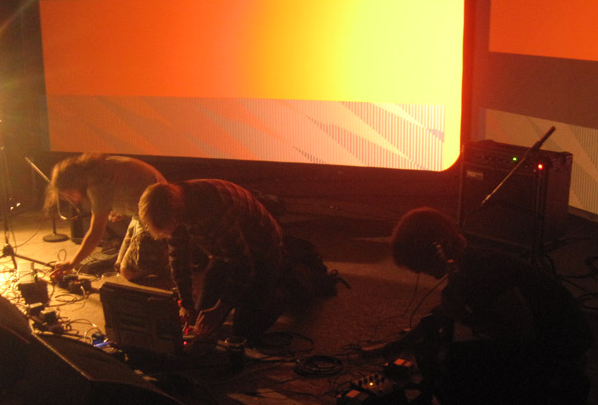 We stayed for the very last act, (sadly didn't catch their name) plying subtle Islamics and drone candy in the schoolroom before nipping down to the beach to eat our fill of chips in the dark. The lighthouse's myopic eye blinking over the black waves, the cliff we'd just spent a satisfying day upon looming behind us like a spent beast.
-Michael Rodham-Heaps-