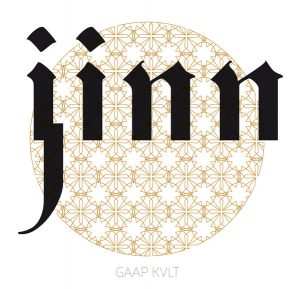 Deep like the desert where the unchecked winds create and carry the drones, Gaap Kvlt's Jinn  — which follows on from 2014's Void — draws on field recordings from north Africa to evoke the baking days and cold nights of the Sahara.
Jinn
is hallucinatory, evoking an imaginary internal landscape through carefully-placed environmental recordings that provide the base material for much of the album's textural nuance. Samples, vocal and otherwise, are processed nearly to the point of oblivion,
crepitating and crunching, whipped up into hissing electronic zephyrs that unfold and heave
with an immersive sense of wonder in a warmer counterpart to
Thomas Köner
's Arctic evocations, or fulminating into wall-shaking kicks that pound relentlessly in bursts of single-minded energy, the most earth-shuddering of which explode like night-time meteorite impacts on "Ovidius". If ever there was a record that benefited from the application of volume and bass,
Jinn
is one. Some of the low end deployed here — on "Tangsir", and in the shape of
some pure wobbly bass that puts most (so-called) dubstep to shame
on "Ovidius" in particular — is as cavernous as the reproducing subs can take; reverberent, deep and gloriously, 
physically
present. The heavyweight pulsing booms and throbbing dubs that ride on occasionally camel-like motion are almost purely electronic, so it falls to the samples and
Tomek Mirt
's elegantly minimal sleeve design to set the scene in a triple gatefold of gold-flecked Moorish mosaics and a dedication to noted former Tangiers inhabitant
Paul Bowles
.
All of which could easily put Jinn in similar ethnodelic territory as Bryn Jones' enthusiastic immersion in a self-created idea of an Islamic dub culture from afar. Where Muslimgauze's firebrand stance was as important to Jones as his music, Gaap Kvlt's approach is far more abstract, more twenty-first century technoid in feel, and the only obviously identifiably Maghrebi percussion loops emerge in the final minutes of the last track. Overall, Jinn is a remarkable album, the shifting textures filtered among the very modern heartbeat pulsations ebbing and flowing with the ageless tides of the desert sands it frequently succeeds in evoking.
-Linus Tossio-