Arlen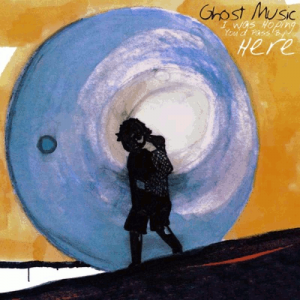 After twenty years of playing in various groups together and apart, Ghost Music finds songwriters Matt Randall and Lee Hall reunited and plying a fine example of what I would consider to be melancholic English coastal music.
The press release mentions Silver Jews, Flying Nun and K Records as influences, but there is something low key and a little wistful that evokes the empty coastlines of Britain in the autumn. The band hail from Southend, so something about that locale makes its way subtly into the make-up of the band and into the sound. They used to be in Beatglider years ago, back in the days of John Peel and Enraptured Records and all those lovely bedroom labels of the late nineties. The gentle, homemade excursions and experiments of those days have an echo in the song structures of Ghost Music; and even with the delightful West Coast inflected harmonies they have scattered across some of the tracks, it still captures a resolutely English sound.
In the manner of all good bands with two main songwriters, they tend to alternate the tracks between them, which offers a great juxtaposition of sounds and styles right off the bat. I remember years ago the Irish band
Backwater
had two strong but diverse songwriters and that made for a fascinating listening experience. It is very easy with one main songwriter to fall into the trap of familiarity over the course of an album, but that really doesn't happen here. To mix things up a little more, even the bassist and drummer are given the opportunity to throw their hats into the ring and submit a track each. Clearly,
the emphasis here is on the band as a unit and it works really well
. Opener "Home Dog" is one of Lee's songs, and with its shambling drums and laboured tempo is a gentle opener. I can see a touch of the Flying Nun bands in the vocal delivery, laid-back and slightly offhand, but the sunny "Ooohs" and
glittering steel guitar in the background tear it away from its torpor, and inject a sense of fun and sunshine
; everything in the band seems to be pulling at once, gently scrapping for supremacy. There is a touch of
The Commotions
about Matt's "Heart Shaped Holiday", but the band are not afraid to fill any void with breezy "Ba ba bahs" or
Galaxie 500
-like guitar breaks. In spite of all this, it doesn't lose its seaside outlook and it is possible to glimpse the grey surf hitting the beach on a bright morning.
One interesting thing is that, rather like Bedhead, they know when to end a song and leave the listener wanting more. There is no real comparison musically, but when the Felt-like "Strange Love" comes to an end, there is a real sense that it could have gone on for another five minutes. Throwing the next track straight at you lessens the loss, and the pastoral village green vibe of "We Could Get Along" soon floods your mind with its hypnotic beat, drums sounding like they are covered with duvets as the two distinctly different and at-odds guitars attempt some sort of strange aerial ballet. Matt's "This Kingdom" adds cello and backwards sounds to the mix, but the harmony duet is so easy it feels as though you are lying on your back in a bright autumn day, looking up at trees and just allowing life to sweep over you, the strange, picky, jerky guitars acting as an odd foil to those sweet vocals.
Special mention must be made to bassist
Roy
Thirlwall
's incredibly melancholic contribution "The Queen Of England". Any track that contains the refrain "I used to have that feeling that things would work out well, but I don't have that feeling anymore" receives a thumbs-up from me. His imagery of meeting that queen at a party "with her arms around a little boy" is so evocative and oddly romantic, I was really quite moved. For it
to then break into a mournful trumpet solo was the icing on the cake
. Drummer
Leighton
Jennings
's song "Close Your Eyes" is as sparse as they come, with an almost whispered vocal that brings to mind the most hesitant of
Crescent
's songs and is a delight of a different sort.
The album is packed with melancholy. "What happened to me holding you in my arms?", enquires Lee on "Blackbird Stars", but for every broken heart or feeling of sorrow, there is sunlight glinting through autumn leaves or the glowing of the sunset on a balmy Southend beach as you gaze into the distance and figure your place in the grander plan of things. The songs veer and meander around a basic tempo that is tender and warming. I Was Hoping You'd Pass By Here is an album to take to your heart and one that with regular play will work as a great restorative, should you need it. If not, just lose yourself in its gentle wonder.
-Mr Olivetti-