Gl. Harlev Organ Orchestra – The Organ Session
by Freq | 2017-04-11T17:19:43+00:000000004330201704 17:19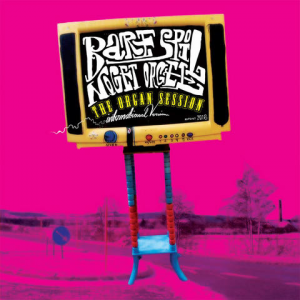 Seemingly beamed in from a parallel easy listening universe where the one and only King Tubby still reigns supreme, the Gl. Harlev Organ Orchestra deploy their vintage Technics organ, complete with cheesy electronic rhythms, dubbed up and overdriven. Add in flute trills and lo-fi guitar picking and the effect is so bizarrely out there that there's no need to come in from the cold to warm up. Originally released in Denmark by Route 66 records as Bare Spil Noget Orgel in 2008, Jahtari bring the intriguingly daft Organ Session back into the light of day in this upscaled international version that enlarges the original 10″ vinyl to a twelve-inch LP.
The trio of
Benjamin Lesak
,
Kristian Nordenthoft
and
Jesper Kobberoe
(also going by the names
Bo Marley
,
Analogik
,
100% Max Akwaaba
and using the band name
BliGlad
 on the 10″ release) recorded the album in one day using just a room microphone. Their comments, chuckle, plus the acutely odd sound of the echoed snorts and niffles from a heavy cold suffered by Lesak round out an atmosphere of fun and frolics at the double-stacked keyboard. The bizarre combination of the limited percussion sound programmes built into the instrument with the deft manipulation of the organ itself never get in the way of
the trio's obvious ability to funk up the old-style reggae roots of the music
. Queasy tape delay trails flicker off synthetic rimshots and the odd sped-up drum fill with all the deep listening effect of a Kingston dub production from the Seventies. Above all, this is a
fun
LP. Hearing an instrument more often associated with low-budget
schläger
entertainers and albums of pop hits played by maestros of what was sold as an all-purpose home musical entertainment device deftly (ab)used to an addled dub purpose could hardly be anything else. While the orchestra are undoubtedly not taking things too seriously, sometimes seemingly amazed at the 
evocative sounds they manage to coax from the venerable organ's internal speakers
, they also play a compact set of ultra-dubbed, retro-fashioned reggae tunes in the process, one that is as self-evidently satisfying as it is at times utterly strange.
-Linus Tossio-
Source URL: http://freq.org.uk/reviews/gl-harlev-organ-orchestra-the-organ-session/
---