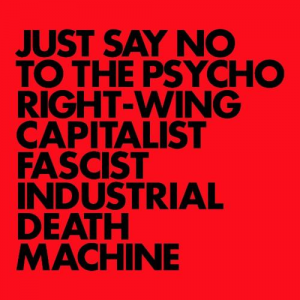 There will be many howls, and here's one of the first out of the blocks. Gnod can meander, at times (and I like their meanderings), but here the rage is palpable; this is a headbutt into the side of a fast-moving machine. Hawkwind on double-speed, ditching the mushrooms for Brown Acid and amphetamania.
I mean, it's not all like this – but the album is dominated by riffs; monstrous and head-shaking and world-annihilating as they are. This is still psych music, but veiled in exasperation and threat; psych music that is distinctly unhinged and hanging on a thread. Here we all are, watching the news as bad news follows worse news; we're all starting to rock in our seats and… well, Gnod rock on theirs.
You think they might break for lunch but this is a fight, no question, and someone has to officially capture the sounds of broken Britain.
As Throbbing Gristle were to the '70s and early '80s, now Gnod are to whatever the hell these times will be called
. This album lacks the fractured, Tesco Disco uncanniness of TG, of course (who doesn't?), but they have some of the ferocity and abjection of tracks like "Subhuman", and even some of the ever-so-slightly dubbed out "Discipline". Talking of feral glee, I caught a video of
Guttersnipe
performing at some festival or other and I immediately thought of their inhuman thrash when I heard this album; I can imagine these two working well together, pulling at each other's sockets until something snaps.
Gnod aren't all that crazy, yet
, but with this album they're getting there.
-Loki-