Godflesh – Post Self
by Freq | 2017-11-22T19:01:27+00:000000002730201711 19:01
Avalanche (LP, CD, digital) / Hospital Productions (cassette)
Fro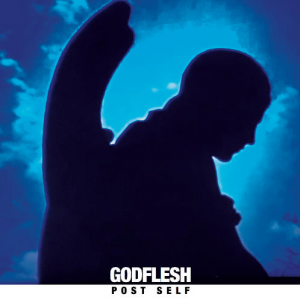 m the opening blasts and drum machine hurl of  Post Self, it's clear that Godflesh are in a very different musical space to 2014's A World Lit Only by Fire. It's not that the ire and scorn for seemingly pretty much everything humans do to themselves, each other and their home planet has dissipated — far, far from it — but the ways in which GC Green and Justin Broadrick use to express their mix of anger, anxiety and anguish has taken a different turn.
The scorching guitars and profoundly gut-wrenching bass on a piece like "Mortality Shadow", the pummelling machine beats and guttural cries of "Lies!"on "Parasite" and
that characteristic wrench-twisting, ratcheted interplay
that Green deploys between his strings and the programmed rhythms on "In Your Shadow" might well point back to Godflesh's pre-eminent position as originators of industrial metal, but they've remained far more interesting than many of their legions of imitators and followers.
So while the first half of the album crushes all before it in a welter of heavy beats, thunderous bass and yowling riffage (just as it should), so things take a turn for the more elliptical and jagged with songs like "The Cyclic End" or "Pre Self", where structures are broken down, turned towards the light, examined, perhaps found wanting, then thrust back carelessly into the darkness.
Broadrick's voice almost cracks with the emotion as he howls with melancholic despair or echoes in distorted trails on "Pre Self", not really going anywhere so obvious that he feels the need to signpost the emotions beyond their immediate visceral impact. He repeats fragmentary variations on "Wear your mask… I'm your son… It was right for you" (there's a sense of some deeply personal ghosts being rendered up here) and more into
the reverberant atonal but heavily rhythmic maelstrom that he and Green dredge up
from the depths. As ever, there is a sense that Broadrick is exorcising his personal ghosts far more than merely performing a role on stage or on record. They aren't afraid of being crunchily funky or going for the groove either (nor have they been), and while vocoders, plangent synth pads and other effects are never too much of a surprise in their music, though perhaps more likely to appear on some of Broadrick's more electronic projects (one of which,
JK Flesh
, reshapes "In Your Shadow" into a metronomic, minimally technoid throbber as a digital bonus track, while "The Cyclic End" gets a dub versioning too on the download edition). Here, the sking and throb benefit greatly from the inventive ways that
the duo draw from a diverse palette while steadfastly sticking to their core inclinations
, and it's a technique that links Godflesh spiritually to the hard-rocking explorations of
Trans Am
.
Post Self demonstrates once again that one should ever go into a Godflesh album without being prepared to encounter a group that still knows how to develop, to spread, to take those essential elements and propel them bodily into new, and occasionally still yet more harrowing directions.
-Linus Tossio-
Source URL: http://freq.org.uk/reviews/godflesh-post-self/
---