Bristol
6 June 2014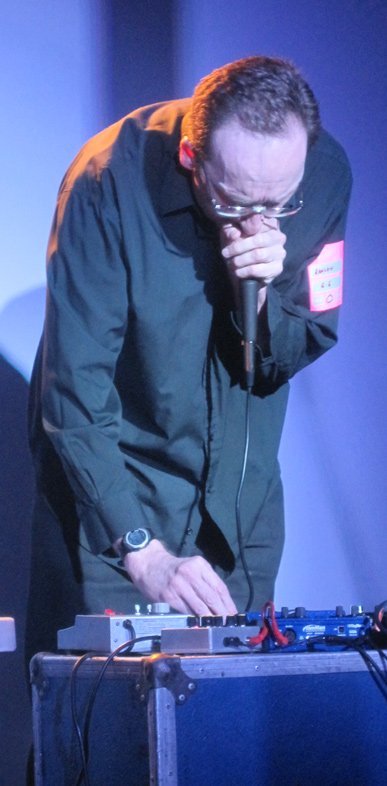 Really enjoyed those colour-blind psychedelics
Ramleh
were plying, being partial to a bit of nihilistic zeal. All that top-heavy primary and scuzzy nail-throwing does you no end of good, run through with copious amount of feedback roughage, a storm of grainy monotonies stabbing your ears and hitting the spot. Both
Anthony di Franco
and
Gary Mundy
looked in their element and seemed
oblivious to the fact there was actually an audience in attendance
. Gary's vocals skating the fray like a glass-paper garnish, his back bent into the yells. The overall intensity tweaked, toyed with like a cat with a sparrow, the density relentlessly rooting you to the spot, submissive to its gory details, arithmetically asway to those empathic schisms of primitive texture gobbled up on a prevailing maggoty hiss.
Two burly blokes came to the front hoping to get a good view, only to leave within minutes, "WTF?" etched all over their faces, obviously struggling to gleam any "entertainment" value from the proceedings. Later Anthony cut some plunging depths with his bass (some well-needed contrast), brief chasms wrapped in the trebly gauze of Mundy switching from mic to amp-facing guitar, a conversation replied to in shrieking spikes and plummeting scars. The duo happily filled the room with an aggressive jigsaw of tonality like hi-def Anti-Christs welding a bleach-lit brutality that left my hearing seriously smurfed. I was worried this would mar my enjoyment of the headliners, but I needn't have been concerned as Justin Broadrick and co. cut through that fog like well-armed ninjas.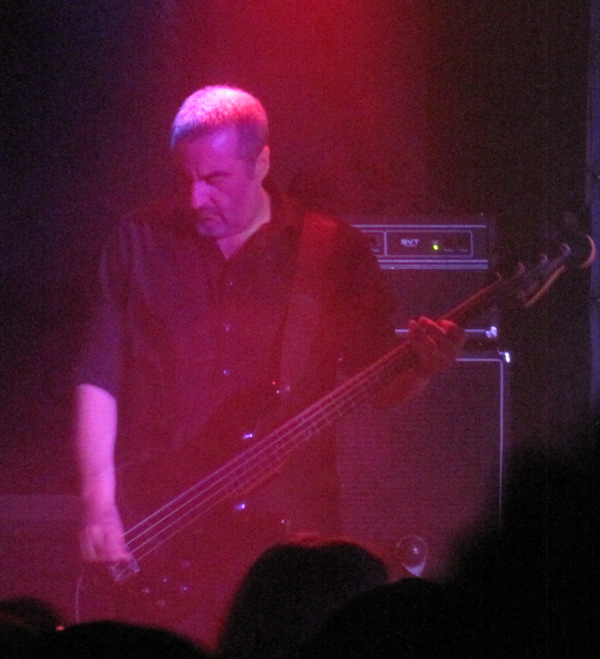 Godflesh were simply phenomenal, a muscle-soaked burn, that drum machine-wrought spine mincing in a pile of incessant directions. The rib-lifting bass and phoenix tail guitar filling in the betweens, comet-flaying the robotic splashes, the clashing swords. Oh, this was beyond good. I recognised individual songs, but it all seemed to blend into one blistering panorama of satisfaction, where objectivity was lost to limb-flinging recoil; they certainly ignited the writhing bodies and horn-locked clichés of the moshpit up front. The gaps between tracks were scarred in hysteria for more, to which the duo obliged by breezing through a massive chunk of their back catalogue and maybe cutting into some fresh carcasses too (honestly, context didn't really matter).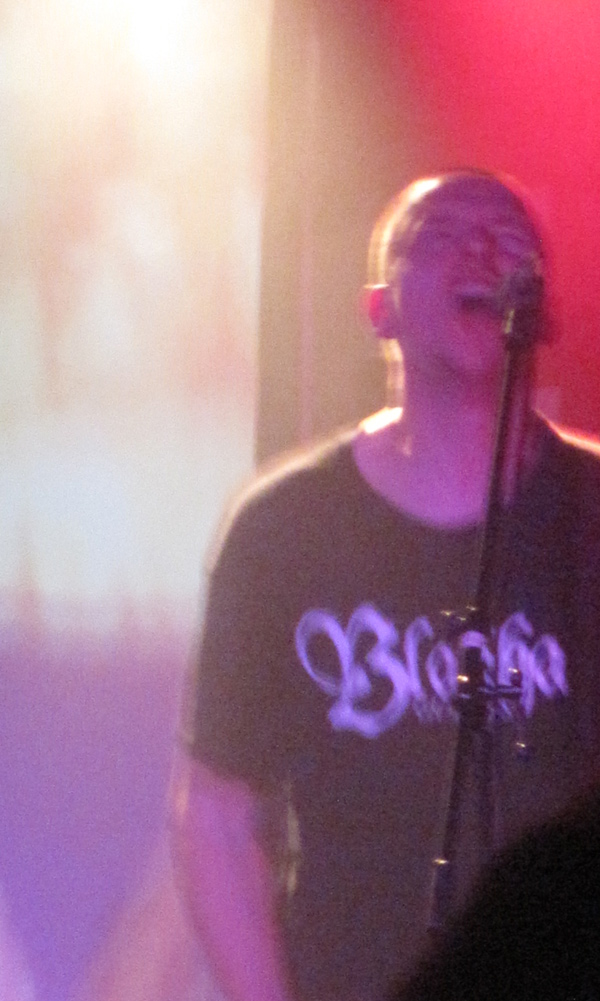 The visuals were a perfect complement too, aswirl with medieval imaginations, mysticism and the odd severed hand. The dry ice playing with your perception, as plumbs grow out of the images like hideous cancers. A flash of chattering skull angled around the screen in time with a clattering wrath of bass that just lunged at you, cut to ribbons on jujitsu fretwork. At one point the machine seemed to be screaming out a mantra of "Diana Diana Die Anna" to a cascade of flames and crucified bodies. The next whir of the driving beast seemed to be sucked into a centrifuge of golden crosses in a star-choked blue, like an exploding church spire in a mirage of afterglows. It all fitted the fury:
calling this music is way too civilised
. When it came to an encore it came quickly, Justin stating "We're way too easy, aren't we?" before launching headlong into another assault of stuttering salvos,
GC Green
eventually leaving Justin alone on stage to put some 'final' finalities to the proceedings. This wasn't so much a reunion but a rebirth, one I can't wait to taste more of.
-Michael Rodham-Heaps-