London
30 June 2015
Godspeed You! Black Emperor, the once-elusive collective from Montréal, are now becoming an almost regular fixture on the live circuit since reforming in 2010. In addition to live activities, we've seen them almost double their late '90s / early '00s recorded output with the dual whammy of Allelujah! Don't Bend! Ascend (2012) and Asunder, Sweet and Other Distress (2015).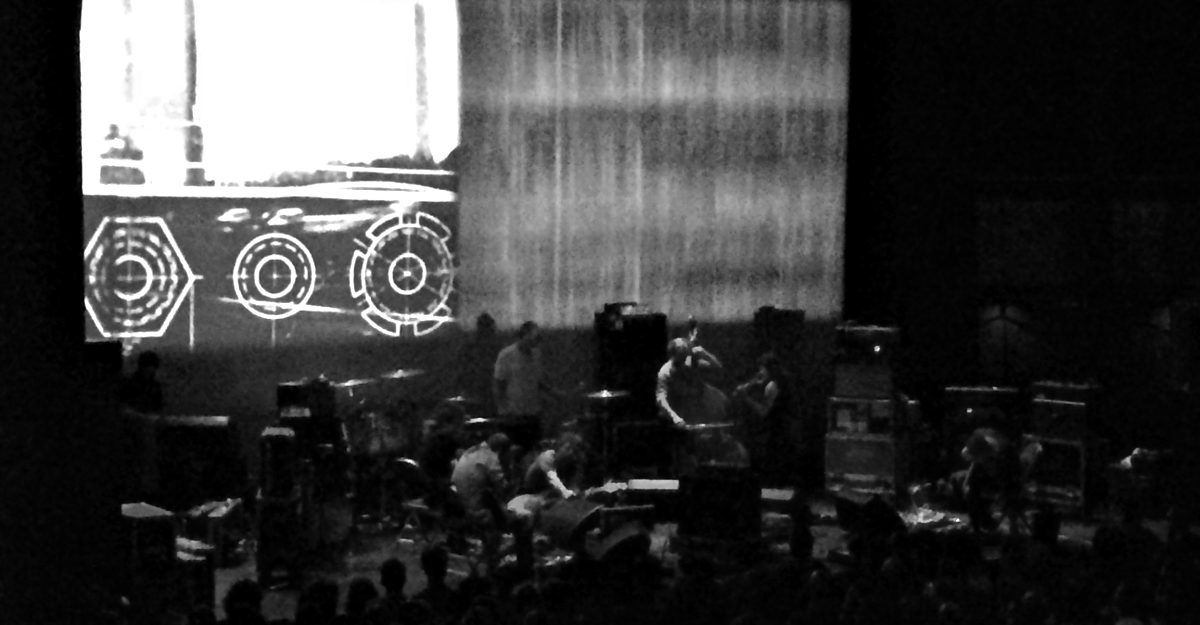 They return to London for the second time in as many months to headline London's
Roundhouse
as part of
Mogwai
's twentieth anniversary shows, and it's fitting that they were asked, given their equal footing in bringing expansive, instrumental soundscapes to the masses in the mid to late '90s. What set Godspeed apart though was
that niggling pre-Millennial tension that they captured so well
, be it through ominous strings and spoken-word monologues about "Dead Flags" or field recordings interviewing dangerous-sounding characters who happen to have an arsenal of weapons stashed at home.
If you've seen Godspeed recently, something which I'm guilty of, many times, then you likely know what you're in for. Things begin typically with the now familiar "Hope Drone", an unrecorded piece that has been used as the introduction to their live shows for a number of years. It's humble beginnings were indeed very droney, with very little else, but has now expanded to include most band members, entering the stage one at a time and taking their places on seats in the now familiar huddle around the stage. Their film man, using multiple film reels in real-time over a number of projectors, can almost be considered an extra member of the band, given the importance of the visuals on screen behind them. In the case of the intro, it's the flashing pencil-scrawled "HOPE", flickering on the screen for an instant, before disappearing again, that sends chills down your spine.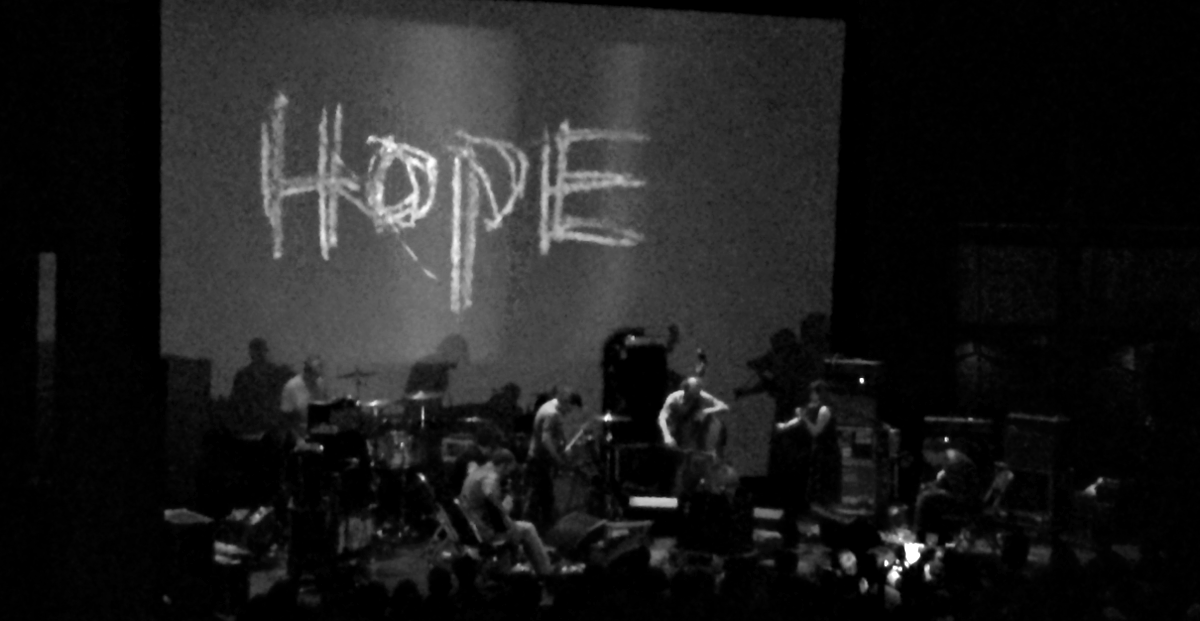 The sound subsides and we hear drums and instantly know we're about to be thrown headfirst into the entirety of
Asunder, Sweet and Other Distress
. This album is a relatively short jaunt considering it's Godspeed, and although its recorded incarnation is split into tracks, it was played live extensively over a period of time when it was known simply as "Behemoth". They don't tend to split it up, so we settle in for the next 40 minutes.
Godspeed have taken to enjoying employing a wall of sound recently, and this is the case with opener "Peasantry or 'Light! Inside of Light!'", all guitars playing the same two-chord sequence menacingly before the whole thing gently enters a very Earth-sounding section, all twangy slidey guitars eventually backed by that ever-familiar GY!BE violin.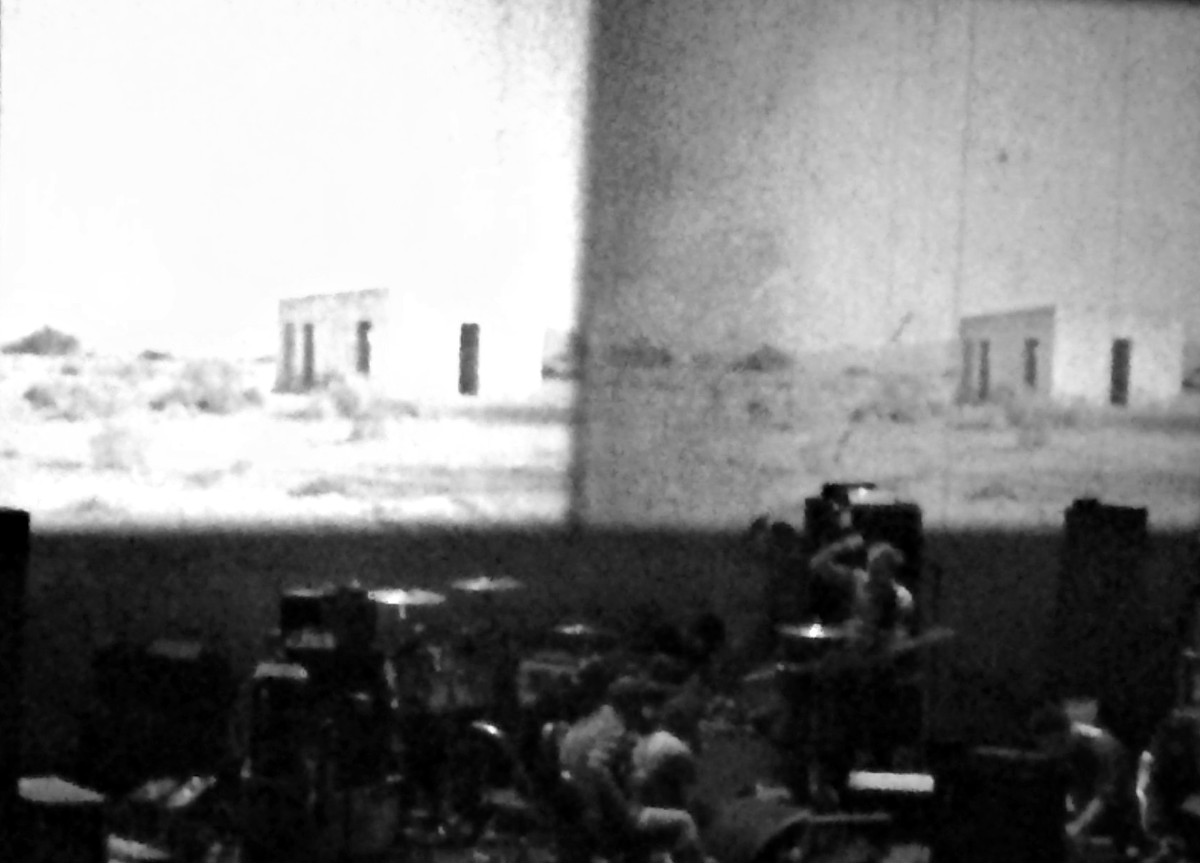 The entire "Behemoth" section flows extremely well, but what follows is where things get interesting. We're treated to a brand new song, beginning with those now familiar screwdriver guitars playing alongside a mournful, descending guitar melody. It's not long before the drums, strings and distorted guitars kick in over the top of the same melody, and even though this is as predictable as hell, there is no denying the considerable impact it has in the room. Perhaps it's the sheer number of members in the band making up the wall of sound, maybe it's the PA in the Roundhouse sounding decent for once,
perhaps it's because I'm sitting in the sweet spot, perhaps I've got the perfect three beer buzz on, who knows? It's a brilliant moment.
As is usually the way with Godspeed, we still have a long way to go with this one, and things settle down for a bit before ploughing headfirst into galloping drums and a full-on distorted onslaught before segueing into the earlier melodic section that had us gripped about thirteen minutes previously. "Moya" follows, named after the guitarist Mike Moya who left in 1998 but rejoined for the reformation, and I always wondered how he feels to be sitting there playing that. As one of my favourite Godspeed moments, from the flawless Slow Riot For A New Zero Kanada EP, it doesn't disappoint.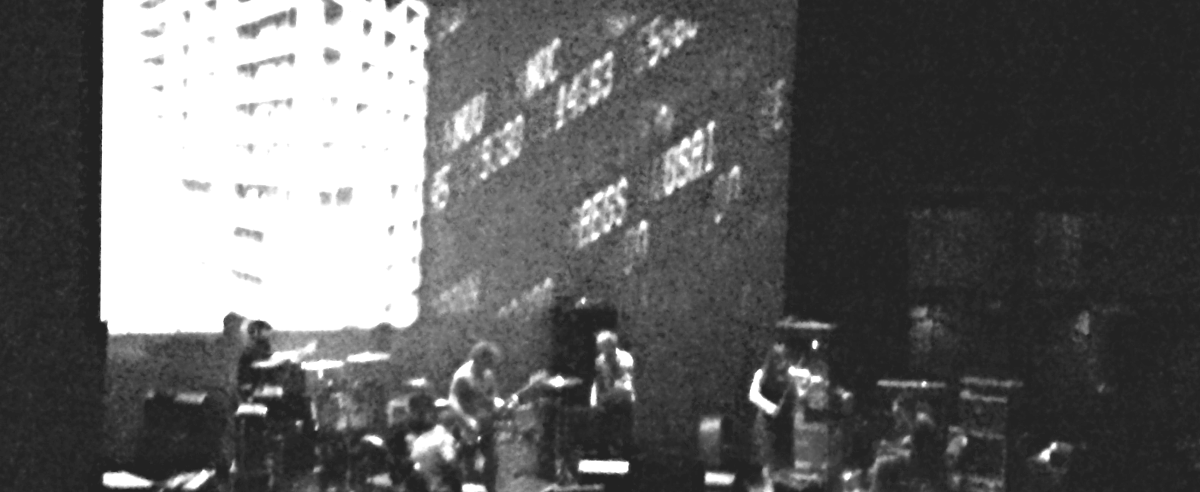 With Godspeed shows you are always concerned about what they're
not
going to play; inevitably some favorites are going to be missing, and it's unfortunate we get nothing from the
Skinny Fists
album, but things do end triumphantly and nostalgically with "The Sad Mafioso" from
F#A#∞
. The combination of
David Bryant
's memorable guitar line, the ferocious screwdriver guitars and the pummelling drum section make this tune as unforgettable as ever, and for roughly twenty minutes we're catapulted back into a pre-Millennial world with
GY!BE providing the soundtrack for all our fears and neuroses about an uncertain future
.
The impact of the night is undeniable. I've often been concerned that the current GY!BE output is perhaps lacking the dynamics and imagination of earlier material — maybe that's the case and maybe not — but as a live entity they are absolutely unique and not to be missed.
-Stuart Low-