Corsica Studios, London
25 April 2013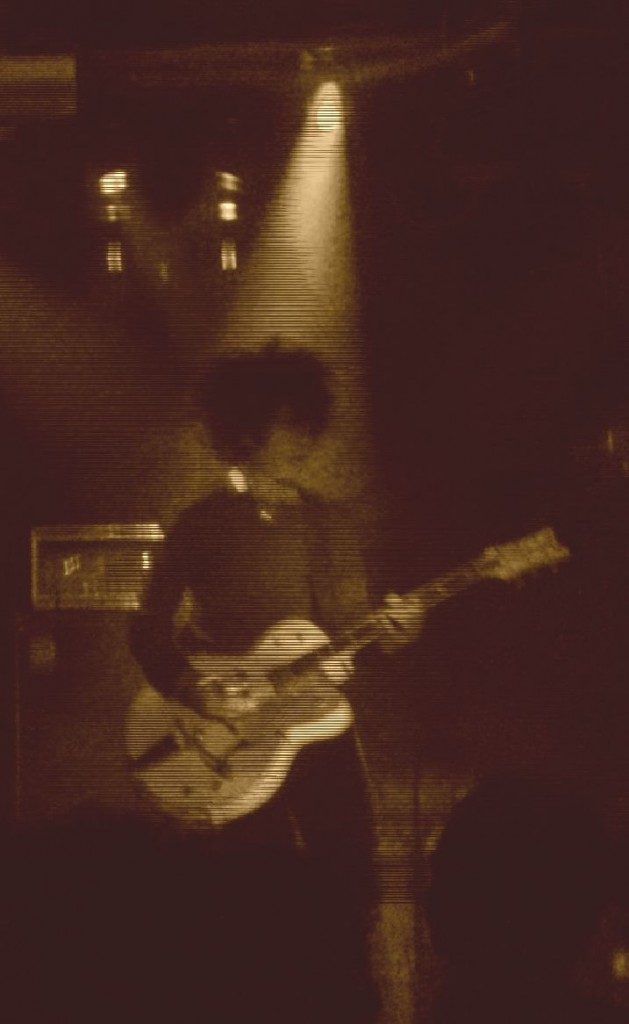 To Corsica Studios, for an intriguing evening of films and performances to launch Guapo's new album History of the Visitation, a tremendous release that maintains the consistently superb standards set by this London-based instrumental rock outfit since their inception in the mid-90s.
Proceedings began with a screening of Chris Marker's 1962 short film La Jetée. It seems a little superfluous to review this, one of the most influential sci-fi films ever made: it is the subject of whole books of analysis (see here for one), although is perhaps best known nowadays as the basis for Terry Gilliam's Twelve Monkeys.
It concerns a man who has survived an apocalyptic war and is coerced into being an experimental guinea pig within a community of fellow survivors clinging to life beneath the ruins of Paris. The experimenters seem sinister and inhumane (we are told that their previous subjects have all ended up dead or insane), although their actions may be justified by desperation, since their bizarre studies, which revolve around the possibility of time travel, represent the only hope of long-term human survival. To say more than this of the plot would be to introduce unnecessary spoilers – you can in any case view the film for yourself
here
.
From a cinematic point of view, the most obviously striking thing about the film is that it proceeds as a series of still images, many of them close-ups of faces, and the tension and suffering etched into these faces gives the film an extraordinary potency. Like all the best sci-fi, the futuristic dystopianism is really a context for consideration of the here and now: an elliptical meditation on memory, identity, and fate. Played on a big screen in the smaller of Corsica's two rooms, the cavernous surroundings made for a superb setting – in that space, the increasing volume of the protagonist's heartbeat during the experiment sequences gave the sense of being in a claustrophobic concrete womb, somewhat akin to the subterranean refuge in which much of the film takes place. A wonderfully powerful way to experience the film.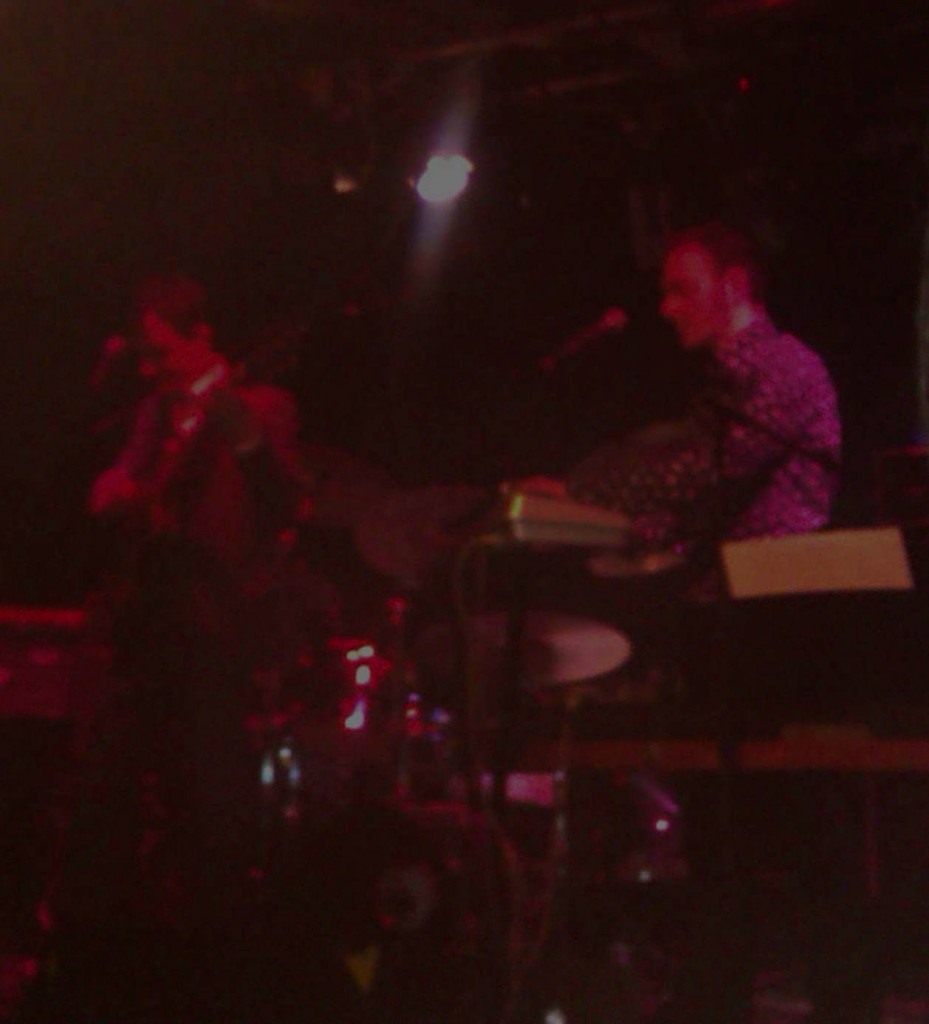 That done, we the audience shuffled back to the larger room to watch the first band of the evening,
Stars in Battledress
, aka brothers
Richard and James Larcombe
. Their band name is that of the British Army's entertainment troupe during World War II, and this reference to a vanished world suits the pair's wistful, folk-infused English psychedelia rather well, although there is nothing remotely militaristic here. Their complex, twisting and turning songs, played on a mixture of guitars and keyboards without drums or beats, are hard to pin down: their predilection for off-kilter tunes and chord progressions was reminiscent of
Cardiacs
at their most pastoral. In fact, a better point of reference might be Cardiacs' acoustic offshoot,
The Sea Nymphs
. Indeed the group have a longstanding connection with Cardiacs: their only album to date,
Secrets and Signals
– released a whole decade ago, in 2003 – was produced by Cardiacs mainman
Tim Smith
, and they regularly supported Cardiacs when the latter were still a going concern prior to Tim Smith's devastating stroke.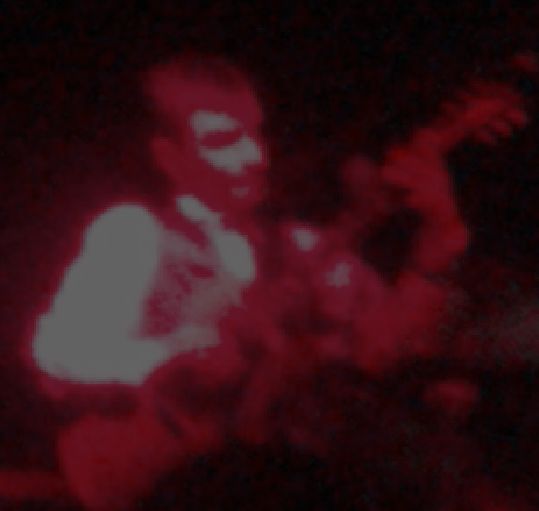 SiB place a strong emphasis on melody, but the melodies are continually surprising: skewed, spiralling in odd directions; these are not songs one can readily hum in the shower. "The Incredible String Band played with Frippertronics" was my initial attempt to describe their sound to a friend who arrived just after they'd finished; Richard Larcombe's hyper-English vocal style also brought to mind the Canterbury sound of the '70s, particularly Caravan. Initially I was unconvinced by them: their music, for all its complexities, seemed oddly insubstantial, and their eccentricity overly contrived, but by the end I had been converted to their cause and proceeded to seek out a copy of their album in the days that followed.
Back now to the small room for a 20-minute sound and video installation,
Spellbound
, by 'electronic music and installation project'
Disinformation
. For some odd reason, this was the only part of the evening that the venue website mentioned in their pre-publicity for the event, but this cock-up (at least I assume that's what it was) at least allows me to cut and paste from their description: "Disinformation presents
Spellbound
– a video and sound installation which transposes imagery from
Salvador Dali
's dream-sequence for the
Alfred Hitchcock
film of the same name, onto an aerial reconnaissance photo of the "lake" of green glass that solidified from desert sand melted by the heat of the world's first thermo-nuclear test, in 1945.
Spellbound
reveals an illusion of atom bomb scientist
J. Robert Oppenheimer
's eye, at the epicentre of the crater left by the blast – "The face is the mirror of the mind, and eyes, without speaking, confess the secrets of the heart" (Saint Jerome)."
This translated into a bleak, yet oddly beautiful, black-and-white image of the aforementioned test site, superimposed on a face (presumably that of Oppenheimer). The face then proceeded to fade, almost imperceptibly, over 20 minutes or so, while a soundtrack played: a looped fragment of electronic space sound set to a whumping bass throb that gradually increased in volume over time. There was a sense that the combination of the barely-changing image and barely-changing music were designed to inspire unquiet meditations on the immensity of the subject matter (at the end there were apocalyptic quotes from the Book of Revelation, presumably to emphasise the profundity of what we'd just seen), but I confess that my overriding impression was of an idea left undeveloped.

And so, at length, back to the main room, and the main event. The lights go down, the intro to "The Pilman Radiant", the opening track from
History of the Visitation
, comes over the PA, the room fills with dry ice, and all of a sudden there's quite an atmosphere. The band walk on and, seamlessly, begin to play as the intro tape ends. Over the next hour they perform the whole album, although "Complex #7", a shade under five minutes in its recorded form, is expanded into something much longer here, something that sounds like… well, like Guapo. The term prog rock is often applied to Guapo, but
if this is progressive rock, then it is progressive in the true sense of the word
– there is none of the precious pseudo-classicism or musoid indulgence typically associated with the term, nor are there any cod-mystical pretensions or excursions into sub-
Tolkien
fantasia.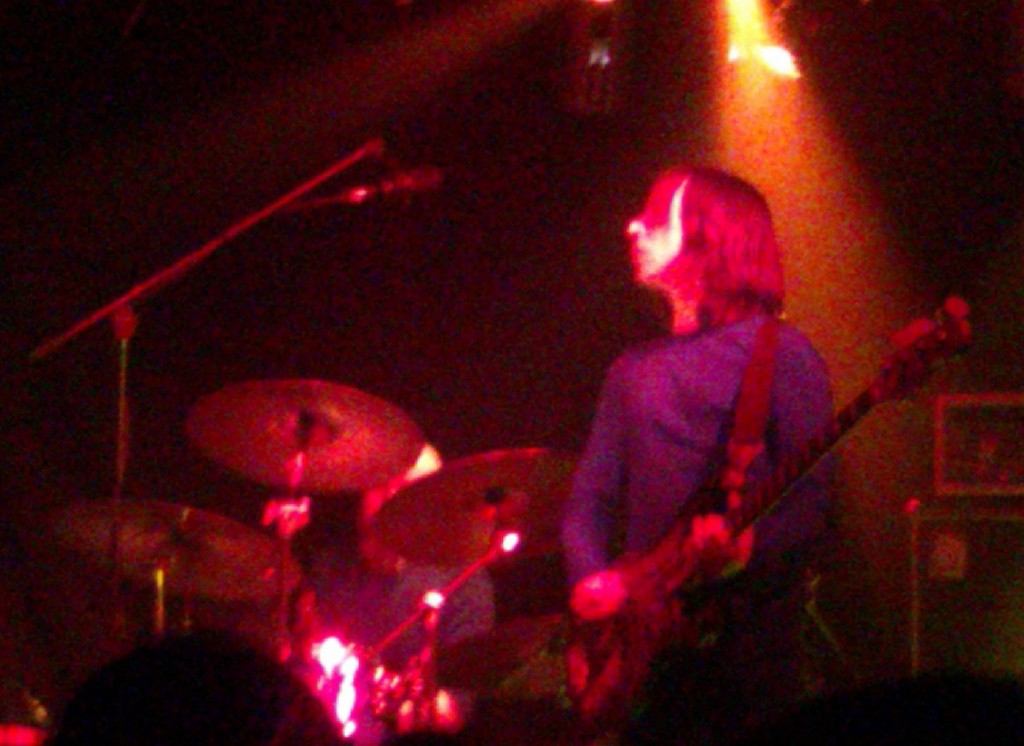 Guapo's output, entirely instrumental with the sole exception of their first album Towers Open Fire, is most commonly compared with that of Magma and Larks-era King Crimson, but the group are far more than mere '70s revivalists: rather the prog/Rock In Opposition influences are woven into a modern, post-punk, genuinely innovative style. Drummer David Smith, the sole constant throughout the band's various line-ups, is the band's driver, their lengthy pieces taking flight from a bedrock of relentless, rolling rhythms, Smith and bassist James Sedwards locked in to the groove, over which guitarist Kavus Torabi (another Cardiacs connection here – he played in that group's final line-up) and recently recruited keyboard player Emmett Elvin paint jazzy shapes and squiggles, or sometimes whole fields of colour: layers and textures rather than grandiose soloing (though make no mistake, these guys are seriously proficient musicians).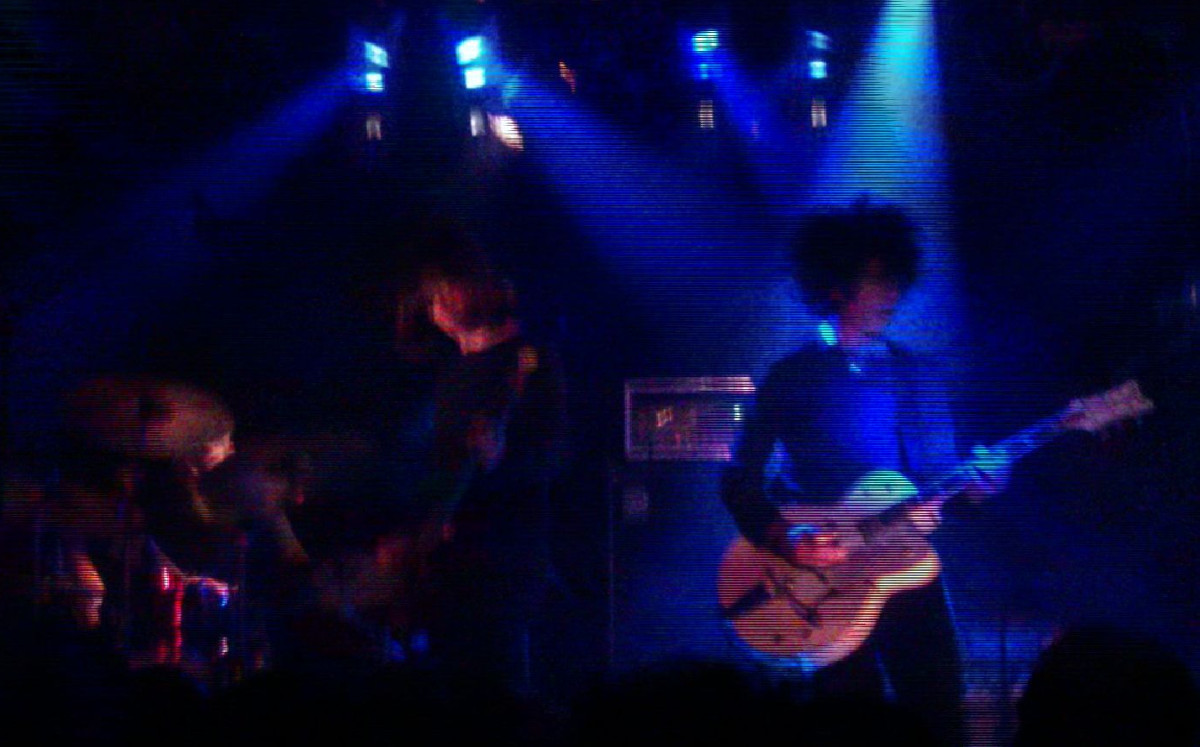 Torabi is an energetic, charismatic presence at stage right, jumping and jerking like a marionette as the music courses through him, giving them a visual appeal that most 'serious' instrumental rock bands lack. Collectively
they have mastered the trick of playing with dexterity and finesse without sacrificing power
: having been a fan of their recorded works for some years without previously seeing them live, I was surprised by just how much of a punch they pack – everything sounds beefier, more oomph, compared to the recorded versions.
As "Tremors from the Future" hurtles towards its climax, the music seems to become an elemental force, alive with dark power. I was, in short, blown away, and left utterly convinced that Guapo are one of the best and most significant bands in the world right now. An album launch by such a group should, in a just world, be a much bigger event than this, but for those that were there, this was a night to treasure.
-Haunted Shoreline-