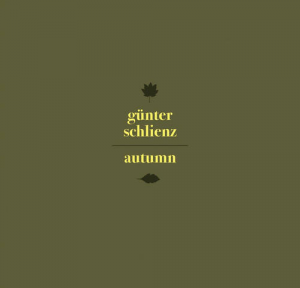 Occasionally known as Navel, whose Ambient series of  albums of last decade included Eno-referencing titles such as Music For Spaceports, Günter Schlienz has been making delicately shaded melodic drones and curling electronica since the 1990s. His latest release comes courtesy of Zoharum, and concerns itself with the theme of autumn.
The CD delivers three parts, each named for one month, though intriguingly "September" comes between "Oktober" and "November" in Schlienz's season of electronica. While autumn may be a time of mists and mellow fruitfulness, as 
Keats
 would have it, for Schlienz it's also a season of brushed cymbals and sudden interjections of French horn (provided on "Oktober" by
Niko Lazarakopoulos
and 
Matthias Baldauf
respectively) and all the sweeping grandeur that his array of self-built modular synths can be coaxed into,
the whole setting out to evoke the falling leaves and encroaching darkness
of this muted time of the year. Intensely meditative,
Autumn
's slowness and stately marking of the passage of time precedes through the long, heavyweight drones of "September" and into the brighter flickers and bleeping wafts of "November", where a Theremin-like warble
folds in melancholy waves into the vibrato and rising swell
of evocative pad sounds. Languid, reverberent basslines reflect the gathering in to the fireside to evade the winter that is always around the corner; perhaps the electronic voices hark to a Solstice chorale that marks the midwinter and the proper descent into the chill and silencing snow of the northern hemisphere too.
Autumn is almost the textbook definition of an ambient album — long, evolving and intended to suffuse the listening environment as much as it will equally reward being paid close attention to, should its audience desire. As its final notes play out into a gathering haze of rain and storm sounds (whether sampled or generated is not clear), it's pleasant to reflect on the album's deeply satisfying conjuration of the atmosphere of the season that is busy turning green to gold to brown outside right now; and that it is equally a record to enjoy at any time of the year.
-Antron S Meister-