Harald Grosskopf and Eberhard Kranemann – Krautwerk
by Freq | 2017-07-27T09:16:00+00:000000000031201707 09:16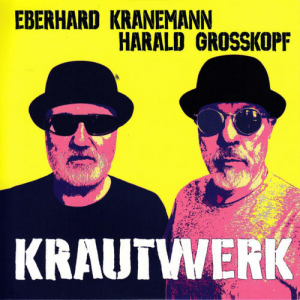 Another important Bureau B collaboration finds two early doyens of German music joining forces for six tracks of far-reaching, future-spanning electronic visions.
Eberhard Kranemann was in at the start of both NEU! and Kraftwerk and has had a distinguished solo career; Harald Grosskopf spent many years drumming for Klaus Schulze and playing with Ashra, and also has released many solo albums. They met for the first time in 2016 at a festival and this album is the first record of their collaborative efforts.
The first track, "Midnight in Düsseldorf Berlin", goes some way to explaining their modus operandi.
Grosskopf is from Berlin and Kranemann is from Düsseldorf and this is their attempt to merge the two schools
in one musical snapshot. It moves slowly and ponderously, with sinuous electric guitar tendrils weaving in and out of the lonely but purposeful rhythm, one of their voices mysteriously intoning at random points. It is dark and stealthy with a strange oriental keyboard line at points, which is then mugged by the electric guitar as it tries to unsettle the relatively calm proceedings. There is no particular style to the album as they are happy to throw whatever they feel like into the mix. There is slide electric guitar opening "Texas Paris", a gorgeous tone that sits at odds with the awkward rhythm. Here we find a lot of space and there is an ethereal nature to the track, helped by scuba breathing sounds and some lovely underwater electronic textures.
You can feel their pedigree in the touches and textures that appear throughout the album, but only on "Happy Blue" do we find drifting Schulze-like space vibes. However, that is only part of the story. As the song progresses, there is the gradual introduction of tempo which becomes more and more thrusting and then a gorgeous descending synth line is hidden away in the background. It is reminiscent of the feeling that came from that last track on the Sisterhood album; wistful and melancholy, but overwhelming and hypnotic. As the beats gradually drop out from our consciousness, the track drifts with minimum propulsion with a strung out guitar ushering in the end.
By the time we arrive at the heavy '80s industrial vibe of closer "Be Cool" by way of the twelve-minute sample fest of "Buddhatal", we have been convinced that these guys have as much if not more to offer contemporary music than a lot of acts half their age. "Be Cool" veers into dance territory with its metallic clashing rhythm and vibrant vocals, and you would be hard pressed to guess the age of the protagonists. They are
clearly still hungry for the discovery of new forms of music
and if this collaboration is anything to go by, they have plenty more to offer.
It really pleases me that these guys are still out there. Where are the UK equivalents of the likes of Michael Rother, Manuel Göttsching, Klaus Schulze or Holger Czukay, still pushing boundaries and giving us all something to think about and to sink our teeth into. This is really great and long may they continue, in whatever form.
-Mr Olivetti-
Source URL: http://freq.org.uk/reviews/harald-grosskopf-and-eberhard-kranemann-krautwerk/
---