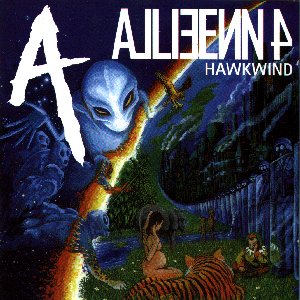 Ah, the mighty 'Wind. Where to start? Let's assume that readers have at the very least a passing knowledge of Hawkwind's classic 1970s material and mythos. That decade's long strange trip went roughly thus for the Hawks: early 'electronic barbarian' days in the Ladbroke Grove freak scene, then the never-bettered industrial strength trance-riffage of the Space Ritual era, before moving on to leaner, tighter, sci-fi dystopianism in the post-punk era. Almost every (official) Hawkwind release of the 70s is a timeless classic, and the band's influence can be felt in virtually every countercultural music trend since. Under Dave Brock's stewardship, the band maintained a sizeable cult following throughout the 80s, as one of the house bands on the free festival scene, and if their material got patchier, they were still enough of a live draw to end their UK tours with two nights at the Hammersmith Odeon every Christmas (or thereabouts).
By the mid-90s, however, their star was waning- the festivals had either fizzled out in a blur of bad drugs and nihilism, or morphed into new-fangled raves. The endless line-up changes – a constant feature of the band's existence ever since their inception – had left them as a triumvirate of Brock, bassist Alan Davey and drummer Richard Chadwick. In an effort to inject some fresh fuel into the starship's sputtering engines, they made the quixotic decision to recruit a new lead singer and frontman: an old ally from the festival days, one Ron Bastard (yes, really), formerly of thrash-punkers 2000DS, who appeared alongside Hawkwind on the 1988 Travellers Aid Trust album. Soon after becoming a fully fledged Hawk, Mr Bastard changed his handle to Ron Tree – which might even be his real name, who knows?
This album was the studio debut for the new-look line-up, originally released in 1995 and now reissued by Cherry Red subsidiary Atomhenge. The odd title Alien 4 may be a reference to the Alien movies, although Alan Davey told an interviewer at the time that it referred to "four musicians alienated from the music industry." In contrast to some earlier Atomhenge Hawkwind reissues, not much has been added to the original package: the booklet contains some new fanboy-ish liner notes by long-term Hawk-friend and fanzine editor Brian Tawn (or Torn Brain, as the group once christened him), and there's one bonus track, a brief throwaway jam titled 'Space Sex" which adds little, if anything, to the original album.
The album proper is tied together by a loose concept involving alien abduction, although there's no discernible story arc, and not every track appears to fit the theme. The concept, such as it is, is underscored by decidedly cheesy artwork depicting reptilian aliens, flying saucers, and the like. The whole thing appears to owe a heavy debt to the X-Files, which was all the televisual rage at the time – there's a sense that the band were trying to hitch themselves to a pop-culture bandwagon: to be blunt, the whole alien schtick is hackneyed and unoriginal.
Ron Tree, it turns out, is a decent vocalist, in a raw acid-punk kind of way, but his lyrics are often very creaky indeed, being marred by a clumsy, self-conscious wordiness. Opening track "Abducted" is a spoken-word effort during which Ron informs us "I don't have any problems facing the little ones, they are so blissful. But the ugly ones scare and repulse me, like the larva inside the leather face skin of a hard dark scary machine." Eh? He continues with "The reptile faced insect bodied robots, they are being brought forth to perform specific functions." You get the idea. For any long-term Hawkwind devotee, the comparison with Robert Calvert is inevitable, and sadly unflattering to Ron. His best effort is "Beam Me Up," a bizarre surf-punk-meets-space-rock number, that if nothing else proves that the band could still be massively eccentric, and is worth hearing, if only for that reason.
He's also on form on "Are You Losing Your Mind?", where he muses "Walking down the street… watching TV.. I realised.. I had a problem." The nature of this problem? "I had a silicon chip in my head." But of course. More sub-X-Files schtick, in other words, but the delivery makes it work. Longterm fans will recognise the riff as a recycling of the 1977 track "Iron Dream," however, and there's more recycling elsewhere with a serviceable but pointless remake of the old Calvert number "Death Trap." Hmmm. Is there anything truly original here? Well, there are a couple of songs that stand out, neither of them voiced by Mr Tree: Brock's plaintive "Alien I Am," which is ostensibly in line with the overall album theme but actually comes off as a riff on a more earthbound alienation, and Davey's "Sputnik Stan," a chugging spacey rocker with a middle section where the band finally blast off as only they can, albeit only briefly. Elsewhere, there are some decent electronics-dominated instrumentals, but even at its best, it's hard to be any more than lukewarm about this album, and some of it doesn't merit even that level of enthusiasm. It's not helped by the weak sound – the drums in particular sound more like a click-track than actual percussion – and most of these tracks are available in beefier versions on the subsequent live album "Love in Space."
A curio item at best, then, and emphatically not the place to start if you're still getting to grips with the daunting, near-infinite Hawkwind discography.
-Manfred Scholido-