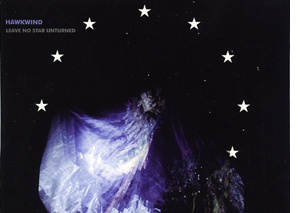 Over the years there have been innumerable live Hawkwind releases, of varying degrees of officiality and legality. The majority of the officially sanctioned releases are worthy of attention, even those put out by latter-day, non-classic line-ups. The unofficial releases range from essential documents of the psychedelic warlords in full battle cry, to recordings so laughably poor that they were quite plausibly recorded on a dictaphone by someone loitering outside the venue. During a force 10 gale.
I'm not sure whether this particular release is approved by head Hawk
Dave Brock
and his current cohorts, but it is brought to the world by
Easy Action
, a label that has previously put out a slew of more than worthwhile
MC5
, [post=iggy-pop-california-hitchhike text="
Iggy Pop
"] and
[post=stooges-action text="Stooges"]
live releases, and even before playing the CD the signs are encouraging: the presentation, at least, is vastly superior to yer average bootleg. In fact,
this package is positively lavish: a nifty long-box in an attractive slip-case, a glossy booklet, and there's even a postcard thrown in for good measure
. The booklet has high quality pics of the band in all their early 70s outlaw glory, and informative notes by Hawkwind biographer
Ian Abrahams
. On the last page, the reader is assured that "the recording is of excellent quality throughout." Now, you might wonder about the need to actually state this – you would imagine it should be self-evident, if true – but more on that below.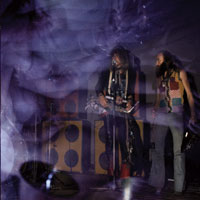 The live material here apparently comes from a gig at the Cambridge Corn Exchange in January 1972, making this one of the earliest Hawkwind live recordings available: as far as this reviewer is aware, the only releases that predate this are The Text Of Festival (itself a 'legal bootleg', and one which has reappeared under various names since originally surfacing in the early 80s), and some of the material on Vol. 6 of the group's own Weird Tapes series of archive releases. The gig itself has a special place in counterculture lore, as also on the bill was a short-lived band named Stars, featuring a post-Floyd Syd Barrett in what may well have been his last-ever appearance on a public stage. Syd-spotters need not start salivating, however – there's nothing here from Syd and friends, nor from the Pink Fairies, who also played that night.
The definitive live document of Hawkwind's early 70s sci-fi trance-rock odyssey is, of course, the
Space Ritual Alive
album, which should be familiar to all self-respecting
Freq
readers – although if by chance you haven't heard it, stop reading this immediately and don't come back till you've heard it, or at the very least ordered it from somewhere.
Leave No Star Unturned
– assuming the Jan '72 date is correct – was recorded about a year before that, and it's clear that here the band here are still honing the craft of the electric hyperspace freakout that they would later perfect on
Space Ritual
. This recording also predates the classic 1972 studio album
Doremi Fasol Latido
, and none of the songs that would appear on that album are ventured here. But the basic modus operandi is the same: lengthy, heavy, ritualistic jams, with the sci-fi themes already well in evidence. The line-up, however, differs from
Doremi
and
Space Ritual
in that original drummer
Terry Ollis
is still in the fold here – he would soon be replaced by the turbo-driving drum powerhouse
Simon King
– and this difference makes for
an intriguing glimpse of how the band might have developed if young Terry hadn't fallen, intoxicated, off his drumstool one too many times
(apparently the reason King was drafted in to replace him). His playing is lighter, jazzier, and the band's throbbing wall of sound has a looser feel as a consequence, at times sounding not unlike early Pink Floyd at their noisiest. Anyone troubled by that comparison should rest assured, however, that nothing here is fey or whimsical: Hawkwind were always at the dark and gritty end of the psychedelic spectrum, and in any event one
Lemmy Kilmister
is here in full effect on bass, driving the band's jams down the high-speed interstellar highway with single-minded aplomb. Even at this very early stage, Lemmy is a formidable presence, and listening to him rocket the anthemic "Born To Go" (the standout track here) into the stratosphere makes you wish he'd occasionally allow himself to stretch out and play like this in
Mötorhead
– the results would surely be phenomenal. All that said, some of this set is very loose indeed, so loose that it all falls apart at times. Even hardcore 'Wind devotees will find their patience tested by some of the foggy meanderings: the band were clearly still learning the knack of voyaging into the cosmos while still keeping things tight. In particular, there's a disappointingly plodding rendition of "Master of the Universe" that cannot stand a moment's comparison with the ferociously accelerated proto-punk version they would capture on
Space Ritual
. And then there's the sound quality. This presumably started life as an audience tape, and while the liner notes make much of the wizardry applied to spruce it up, you'd nevertheless have to be feeling very generous indeed to concur with the booklet that the sound is "excellent throughout." The music is present and correct for the most part, but the vocals are often faint-to-inaudible: in fact you almost have to treat some of these tracks as alternate instrumental versions of the songs; this works up to a point, but at times the deficiencies of the recording are undeniably frustrating.
The vocals are at least audible on "Silver Machine" – a highly atypical version sung by Bob Calvert, as it was in those far-off days before the band had an improbable hit with a version utilising an overdubbed Lemmy vocal. Calvert gives it a completely different feel, sounding like a particularly louche lounge singer, albeit not one who troubles himself with petty bourgeois considerations such as hitting the right notes. Like the album as a whole, it's rough and flawed, but a fascinating document, and essential for long-term fans.
-Manfred Scholido-