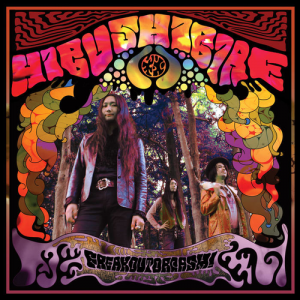 With no less a space cadet than Makoto Kawabata at the production controls, it's no surprise that Hibushibire engender fabulous furry freak riffs of a sort that Acid Mothers Temple can be heard blasting into space at any given psychedelic happening. They've also got that wibbly freak chant thing going on at times, plus a well-developed sense of the tight interplay of scrawling guitar frenzy, drum mania and wall-to-wall brain-melt across the four tracks on the LP; it's equally obvious that Riot Season would release this album as soon as hearing it too.
Look at the track titles: "Deep Throat River Holy Mountain High"; "Hallucination Valley Blues – Flying Shiva Attack"; "Trepanation Breakdown" – but then again, never mind the descriptions and the imagery, familiar yet effective as it may be;
dig the sparks that almost visibly spray forth in synaesthetic splendour with every shriek of the guitars
(just how many of the things are there exactly? Only
two
? 
Chang Chang
on lead and
821
on bass. Much multi-tracking. Many strings. So rock. Wow).
It's full on in every sense, whammy bars setting the vibrations asunder while plangent reeds and squittery synth sounds take their own course of action as the vocals shriek earnestly and (to these western ears) incomprehensibly into the whirling void on twenty-minute excursions into the nether regions of a well-expanded collective (un)consciousness. With each twist of needle-sharp feedback, the trio haul deftly back in unison for a thunderous return on a sixpence (or the equivalent Japanese coin); and is that bagpipes or a distended FX setting at the furthest extreme of "Lucifer's My Friend"? Maybe, maybe not, but it surely gets the ears a-tingling like few other sounds can.
Like the album's title (an English translation of the band name) so handily hints, this is music for getting both as close to the sublime and as far out as Hibushibire possibly can, pulling their listeners into a cavorting, writhing mass of orgiastic guitar play en route,
psychonanistically rendered by the massed spanking of planks, six-stringed or otherwise
. While it's easy to draw attention to the guitars, thrust so prominently to the foreground as they are here, it's worth taking time to slip laterally into the percussion for a moment or ten, equally off the wall — it's no surprise to discover that
Ryu Matsumoto
is a noted free improviser — sputtering and spatchcocked as if the universe will only continue cycling through its paces if those skins are flayed and the cymbals crashed with all the ardent energy available in his muscule, sinew and bone. While there's plenty of mileage to be made in comparing Hibushibire to another legendarily far-out, fabulously freak-rock band, 
Mainliner
 (it's essentially true), they have enough gumption to make it worth while checking the band out purely on their own merits. And what might they be? A willingness to let it go, to wander down the byways when necessary, the stir up the cooking pot of whatever brew seems most appropriate and
set the controls for the heart of existence, never mind just that old friend the sun
. There's moments when it sounds like guitars and drumkits are going to get damaged, and frankly if it's not the gear that gets it, it'll be whatever grip on reality the band and their audience might have at the halfway point – and often earlier – of any given song.
-Antron S Meister-