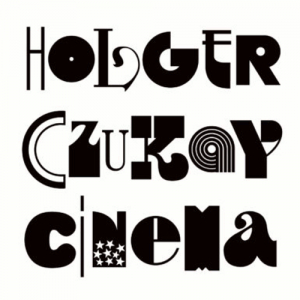 Where to start with Holger Czukay? His is a name with which any self-respecting music fan will be only too familiar.
Holger had a career that started in 1960 with the introduction of the Holger Schuring Quintet, then time spent as a student of Karlheinz Stockhausen, on through the years spent honing Can into the extraordinary machine that it became; and then the best part of a forty year solo career which was the epitome of inclusion, with collaborators flocking from far and wide to work with him. His restless desire to expand the boundaries of music, how we should think about it and listen to it, and how it should be produced and from what, was limitless. Any progressive or experimental music enthusiast has a lot for which to thank him.
In an attempt to do just that, Grönland have chosen the occasion of what would have been Holger's eightieth birthday to release this lovely boxed set which takes material from most of the important points of his solo career and attempts a kind of potted history. There is nothing from Can, as I guess that has been dealt with well enough elsewhere, and nothing from the David Sylvian collaborations or after the point where Holger left Virgin in 1991, except for a few collaborations with his long time partner and muse U-She tucked at the end. It is a great starting point, though, and an extraordinary taste of his legacy.
Disc one starts with a two-minute piece from the Holger Schuring Quintet that was recorded in 1960; "Konfigurationen" owes a little to
Django Reinhardt
, a drum-less jazzy doodle that perhaps is a good example of the ground zero for him. This was before meeting Stockhausen and therefore having his musical mind expanded. The following two tracks however comprise the infamous
Canaxis 5
, a sound experiment that he undertook with
Rolf Dammers
as
Technical Space Composer's Crew
. Sneaking in and out of Stockhausen's studio over the course of 1969, using second-hand tape, he constructed
two long sound collages that were so ahead of their time that listening to them now, they could have been made yesterday
.
For Canaxis, they constructed the highest but subtlest of drones over which radio waves, outer space transmissions and other odd, synthetic sounds were layered to produce an elegantly unfolding soundscape. Found vocals were then added in, and at points some sort of dreamlike zither appears and then drifts away again as distant growling gives the impression that you are in a cave somewhere, creatures lurking in the dark recesses out of sight. "Boat Woman Song" is constructed from similar parts, but the lilting Vietnamese vocals, taken from an old Folkways LP and a melancholy six-note descending horn loop give it a different vibe entirely. The guttural vocals and wild strumming of the zither give this a more earthbound feel, but under it all is the horn loop that as the song gradually fades out, you realise has been there the whole time, subconsciously tugging at your heartstrings. This disc ends with Holger's trancey collaboration "Ho Renomo" with Brian Eno and Cluster from After The Heat'. The repetitive electronics and piano reverie drifts spring-like in the aether, its meditative vibe in good keeping with what has come before.
Disc two contains the entirety of perhaps his most well-loved album, 1979's
Movies
. Apparently starting off with Holger playing double bass to radio broadcasts, the recording of the album expanded to his using all the members of Can, even though by this time, he had left the band. It opens as a little jazz excursion with bass and drums being covered by the extraordinarily spindly guitar; it swings really well and Holger's startled vocals sit nicely with the overall sound, but soon enough the samples come in,
b-movie gangsters, dogs, cats, vehicles, crashes, bombs, weather
.
Movies
is an amazing aural spectacle under which the rhythm continues unabated and descends into jazz fusion towards the end as Holger asks in his childlike voice, "Need you now, where are you?" There is an interesting Afro-Caribbean influence to some of the rhythms on "Cool In The Pool",
the jauntiness of the guitar, the strange ululating vocals, a repetitive mantra that is in tandem with random tuba snippets
. The whole things is charming, but you feel at times as though it has been recorded on a cruise ship under sunny Caribbean skies. This album is endlessly inventive and finally plays out with the fifteen-minute 'Hollywood Symphony" that is a little more hesitant and thoughtful; voices appearing from nowhere, talk of ghosts adds a little more drama to the feeling of pursuit or of being watched. All through this, the band play gorgeously and you wonder if they felt a little more freedom
Movies
being Holger's idea, rather than a Can album. This just opened so many doors, it can't be overplayed. Disc three starts with a little-known track from a 1980 12″ single by
Les Vampyrettes
, which was Holger with
Conny Plank
. It is quite a turgid track, with drastically slowed-down horror movie vocals and a slashed, churning sound. "Menetekel" is quite dramatic and downbeat compared to what had come before, but the group did little else. Then there is the track "Signal" from Japanese artist
Phew
's first album released in 1981. Here, Holger,
Jaki Liebezeit
 and Conny back Phew on a rumbling post-punk monster. Typically for its time, it sounds as though
4AD
could have released it, with its resonant subterranean bassline and jagged detuned guitar. Phew throws her fierce vocal over the top and it sounds delicious, and you could almost imagine them thinking it was a little like having
Damo Suzuki
back amongst them. Again, this is
another fascinating one-off and completely different from what came before
. The following four tracks are taken from
On The Way To The Peak Of Normal
 and include a large excerpt from the wonderful "Ode To Perfume". Again, it is all over the place: "Witches Multiplication Table" attempts to swing thanks to Jaki, but it is quiet and mysterious with Holger singing, blurting horns here and there and the trademark trebley reverbed guitar; but the slow sensual crawl of "Perfume" is the highpoint, with about fourteen of the track's eighteen minutes appearing here. Twangy surf guitar, a lot of
cut-up voices and a lovely cornet line
which plays against treated and streeetched vocals as the track hits its gorgeous stride. There is an odd kind of 1940s swing feel to it that is unexpected, but really welcome, as is the wild rockabilly sound of 'Two Bass Shuffle".
The final track on the disc again changes the mood as it is taken from Holger and Jaki's collaboration with Jah Wobble, 1982's Full Circle. You can recognise that fuzzy, dubby bass anywhere, and it lends a different sort of urgency to the track and the various gauzey synth experiments. You could almost imagine it as a "White Ark" with its sweet piano, dubby trumpet and a kind of lightness that is not necessarily apparent on some of Wobble's PiL stuff.
Disc four starts with another three tracks from 
Full Circle
, and here on opener "Trench Warfare", the bass is a little more PiL-like but with a lushness to the rhythm against which Holger throws all manner of squawks and squeaks. Deranged vocals, a frightened trumpet; you imagine this would be Can in another dimension, with Holger entirely given over to
causing as much musical mayhem as possible while the others try to keep the rhythm going
. Of the other two tracks here, "RPS No 7″ is less abrasive, a flute carrying some melody along with more Caribbean guitar, whereas 'Twilight World" is more sinister, a fairground organ leading the charge into the night along with a steamy jazz trumpet line that brings the shutters down. For some reason, there is nothing from the
Snake Charmer
EP with
The Edge
and  Wobble, and instead the next four tracks are taken from
Der Osten Is Rot
, which lifts the mood again with more jaunty tomfoolery. I can't help but think that this where
The Sea And Cake
borrowed some of their ideas from; that high-life guitar sound, the Caribbean steel drums, a great big smile on everybody's face. The melding of a marching band along with a jazzy trumpet is seamless and with African drums filling the gaps — but out of time and firing rimshots into the midst of the marching band —
Holger is attempting some pretty audacious cut-up, but it works perfectly
.
You can't help thinking that ZTT were also listening before putting together the Art Of Noise and when the drone dream of "Traum Mal Weider" arrives, it is hard to believe so many ideas are squeezed into one album, and this is just four of the album's ten tracks. The last two come from 1987's Rome Remains Rome and are like some crazy conga party, particularly with Sheldon Ancel's deliciously deep and smoky vocals on "Hit Hit Flop Flop", which also has some children repeating the song's mantra without realising that they were being recorded, lending a real innocence and playground twist to the track.
The final music disc contains two more tracks from
Rome Remains Rome
, continuing the vibe from before. A touch of
Louis Armstrong
-like trumpet over a rumba rhythm and Django guitar inflections.
Imagine if Kraftwerk took acid and recorded a Latin album whilst smiling a lot
, then this would be the result. French café accordion is scattered amongst "Music In The Air"'s faintly drifting vibe, but still it is hard to understand that all that has come before is one man's brainchild. Three tracks from 1991's
Radio Wave Surfer
 are more forceful and perhaps less playful. There is an air of tension across these tracks and the imagery in the very short "We Can Fight All Night" is almost violent, and could be
Devo
in another world. It is sinister and awkward in places and feels very different to the previous albums.
The four final tracks on this disc are diverse. Holger's ten-minute experiment with Stockhausen's voice on "Breath Taking" from 2008 is previously unreleased, is quite trippy and heavy but with slow, subtle piano notes. It drifts at points and Holger's random interjections seem more measured, as if holding a certain amount of reverence for the voice. It is great to hear it and after it descends into a kind of beat-less monastery, breathtaking really is the word for it. Two collaboration with U-She follow: "La Premiere" showcases U-She's deep, sensual voice, the song in French over a heavy trip-hop beat at a quick tempo. She sounds like Nico, but with a zest for life, while Holger's playing has lost the playfulness of twenty years previously.
Their 21st Century is a much more awkward beast. She is singing in English, but it is a much darker vibe, swampy and off-kilter. It is really intriguing and very difficult to pinpoint the rhythm, but is again offset by the final track. Bison was a band from 2014 and the track "Mandy" is a very satisfying end to the album. Over creeping cymbal and heavy beat, Holger's voice sounds aged but wise. Electronic sounds bob and weave against his steady vocal and the track moves with the stealth of a cat. It is great to know that he was involved in something so vibrant and important towards the end.
The DVD that comes with the CD boxed set is an hour-long made for television movie from 1988 entitled 
Krieg Der Töne
or
Sound Wars
. I want to say that it's something of an indulgence on the part of Holger, and
as well as a rather amusing story is also an interesting insight into his working practices
.
Holger works as a session musician for a studio run by Suzi, a previous band member and possible lover from decades ago. He runs into twelve-year-old Ina (Angela Smecca) whilst repairing her mother's piano and agrees to give her piano lessons in preparation for a competition being run by Suzi's studio. What he discovers about Ina, though, is that she seems to share a way of hearing the world that gives her a similar musical landscape to him. Scenes where he is running various tape loops of the Pope chanting over a jazz backing with other sounds introduced over the course of the track's duration and asking Ina to crush an alarm clock while he records it are exactly how you imagine Holger would have been in the studio.
Over the course of a couple of days, Ina discovers things about Holger's past that include his time in the Schuring Quintet and Can. It is faintly ridiculous, but charming, and the two scenes containing versions of his classic "Hit Hit Flop Flop" are great; one involves a group of supposed classical prodigies descending into the avant-garde, and the other involves Holger and some other escaped inmates taking over Ina's recital and turning it into a slapstick farce as the police attempt to arrest whomever they can. I think this says a lot about the film.
As far as film-making goes, it is hardly essential, but the whole soundtrack is Holger's, apart from a few additional bits and pieces that appear and re-appear over the course of the hour, but it is just great. At one point, he and Ina are soundtracking the a scene of a satellite in orbit using various radio stations and static, and it is a rather touching and affecting moment as the two bond over these found sounds. I am not sure the film is worth the price of admission alone, but including it as part of the box is a lovely idea. I watched it twice and I could very easily sit down and watch it again. At one point, Ina discovers a group of people sat by a dock on a sofa blowing into bottles creating "music", and if that sounds like something you could handle watching again and again then this film is for you.
*
I read an interview from last year where Holger was asked if he planned to record any more music . He was hesitant and didn't really answer one way or the other, but with two or three careers that have covered the best part of fifty-five years, he owed nobody anything.
Cinema
is
a fascinating and life-affirming selection of tracks that highlight what made him so special
. It is impossible to have people like this now, as he opened so many doors for so many people with so many fresh ideas. Wonderful.
-Mr Olivetti-