Howard Jones – Best 1983-2017
by Freq | 2017-07-28T12:30:59+00:000000005931201707 12:30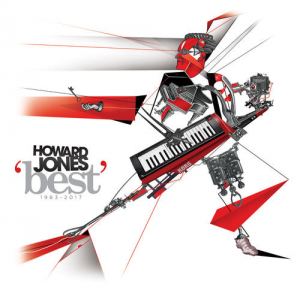 High Wycombe, 1977.
Thirty miles north-west of central London, famous for its illustrious furniture-making history, Wycombe has always been a voraciously music-hungry town. A strong local music scene took root some years ago, but viewed nationally, the town is still renowned more for its notable venues than for the visibility of its indigenous talent.
Wycombe Town Hall has long been a feature of the national tour circuit: during the Sixties, its Tuesday Club famously hosts such world-beating attractions as The Who, The Small Faces, The Kinks and The Moody Blues. Pink Floyd, days after finishing their debut album The Piper at the Gates Of Dawn and playing the world's first-ever surround sound concert at their Games For May extravaganza on the South Bank, bring the place down when they conclude their set with a blistering, spaced-out version of "Interstellar Overdrive".
A literal stone's throw away,
The Nag's Head
pub (since the late Sixties under the direction of legendary promoter
Ron Watts
), has used its upstairs space to maximum effect through the Seventies, hosting gigs by everyone from mythical blues titans
John Lee Hooker
and Muddy Waters, to the newer punk generation of
The Sex Pistols
, 
The Damned
,
The Clash
,
The Stranglers
and
Generation X
. Other notable shows during the end years of the decade include
Throbbing Gristle
and
Dire Straits
.
Yet, of the town's homegrown artists, only one flame has threatened to burn brightly, only later to gutter and die before having properly scorched the national music psyche. Having been exposed to punk earlier than most of the nation through Ron Watts' visionary bookings at The Nag's Head, the town's disaffected late Seventies youth are quick off the mark in their response, galvanising to produce their own Great Punk Hope, The Xraverts. Formed from the ashes of local proto-punk (anti) heroes Deathwish, Xraverts lead singer Nigel Martin is a regular face on the London punk scene, hanging out at the Sex boutique in Chelsea whilst the band is also gigging regularly at The Roxy, The Hope And Anchor and the Fulham Greyhound alongside all the big names of the era.
At the start of 1977, punk's
annus mirabilis
, The Xtraverts play The Town Hall supporting a band called
The Jones Boys
, who contain three titular local brothers –
Roy
,
Paul
and
Martin Jones
.
Though they have a fourth sibling, he is not a part of the line-up
. Being a few years older, his musical Seventies have mostly been spent playing in a genre that preceded the great punk explosion, honing his chops as keyboard player in progressive rock band
Warrior
(who themselves arose from the ashes of local Sixties freakbeat outfit
The Hush
).
But as the decade ends, the big break, sadly, eludes both The Jones Boys and The Xtraverts. The former soon become a very creditable post-punk outfit called Red Beat, recording a very well received Peel Session in December 1980 and touring in support of Killing Joke, yet never quite managing to break free of Wycombe's gravitational orbit.
The Xtraverts, despite containing all the right nuclear fuel, somehow fail to quite reach critical mass and, as the momentum of first wave punk drains gradually away, so too do their chance of the big time. Any lingering hopes evaporate completely in the early Eighties, when Nigel Martin is sentenced to a lengthy stint in chokey following an altercation at one of the county's other noted gig venues. As later guitarist Xtraverts Glen Spicer recalls: "He got into a fight at Aylesbury Friars, and the silly sod used a knife." Wycombe's very own musical Terry Malloy.
They coulda had class. They coulda been a contender… Even by the early Nineties, a decade after the band's implosion, their name can occasionally still just about be seen spray-painted on the concrete surfaces of the town centre, the fading black lettering
a ghostly reminder of the town's musical archaeology and its central role in the brief but white-hot punk movement
that has already passed into musical legend.
Yet what of the missing brother, the one not present on stage that night with his kin, The Jones Boys? What of Howard Jones?
*
High Wycombe, Christmas 1983.
Howard Jones plays a triumphant homecoming show at Wycombe Town Hall, the audience rapturous in its appreciation. Finally, after all those years, the town has the musical hero it has long craved. Howard's début single "New Song", released in September, had gone Top Five in the UK, and unequivocally established his credentials as a bona fide pop star.
The big break had come after a gruelling year, during which Jones had put his nose to the grindstone, transcending the local gig circuit and gaining important national attention both via a Radio 1 session for David "Kid" Jensen and through support slots on tour with Orchestral Manoeuvres In The Dark and China Crisis. Finally, as summer began, Warners decided to bite the bullet and sign him, "New Song" being the first fruits of the new contract. Over the course of the next twelve months, Jones will have four more hits and a UK Number 1 album, "Human's Lib", which will eventually go double platinum.
Yet is is still, just, in the pre-
Nirvana
days, before the music industry – wrong-footed and embarrassed by Seattle's unexpected surge to the top of the global musical consciousness and determined never to let it happen again – winds its corporate boa constrictor coils around everything in the garden. Despite being a genuine pop star, Howard Jones's parents still run his fan club, and
his mother will knit clamouring fans replicas of his signature jumpers
for little more than the cost of a few balls of wool.
From a modern perspective, such a cottage industry is charmingly at odds with Jones's career in these Eighties heydays. By July 1985 he is appearing at the Wembley leg of the Live Aid concert, sharing the bill with the biggest names in the global music industry.
That's how big he is.
*
Wrapped in a sleeve featuring a beautifully-rendered Howard-cyborg (yet, on closer inspection, one comprised of distinctly low-tech components such as pianos and bellows cameras),
Cherry Red Records
' sprawling new three-disc career retrospective starts, unsurprisingly, with a sweep of material from Howard's spectacular Eighties supremacy – "What Is Love?", "Like To Get To Know You Well", "Life In One Day", "Look Mama", "Things Can Only Get Better". All the heavy hitters are here. My personal favourite, "Pearl In The Shell", blasts off in a wall of quasi-
Teardrop Explodes
type horns before it's peppy synth-beat sets the foot tapping irresistibly. It also showcases that,
even outside the Eighties pop star paradigm, Jones's voice was always a strong and appealing one
.
1987 solo piano piece "A Little Bit Of Snow" is as lovely a piece of playing as you're likely to hear anywhere in recording of that decade. In a double-blind test, one would be hard pushed to tell it from one of Gil Scott-Heron's thoughtful pieces. "Hide And Seek" (the song he performed at Live Aid) is a glorious confection, a creation myth narrative set to the kind of expansive Korg synth-scape which would not have been at all out of place sitting behind a sweeping helicopter shot of a moody, be-stubbled Don Johnson, arms of his pastel jacket rolled stylishly up (natch), racing out across a neon blue sea in a white speedboat during the end credits of Miami Vice.
And perhaps, buried within the lyrics of "Hide And Seek", is the key to understanding the enigma of Howard Jones, and the veracity of
the long-standing gripe which many of his fans levelled at the critics
: that they refused, unfairly, to take him seriously.
Getting an accurate picture of a decade when looking back from the vantage point of many years is never an easy task. Often the iconic will distort the real. During the Sixties, most people, most Londoners, were never part of "Swinging London". More people were actually listening to Engelbert Humperdinck than to Jimi Hendrix. The Eighties (like the Sixties and Seventies before it) are now often seen as one long unscrolling montage of iconic symbols and milestones. Yet in truth, not everyone was a yuppie, nor talking on enormous, primitive mobile phones, nor driving around in an Austin Metro. Despite the picture presented by I Love the Eighties TV, the number of people actually modelling themselves on Wall Street's Gordon Gekko was vanishingly small.
Nevertheless,
even adjusted for historical perspective, the Eighties were a decade in which "ambition" and "aspiration" were unashamedly on the agenda
. After the dour, recession years of 1980 and 1981, pop music began to reconfigure itself in the search for glamour, glitz and reward.
Martin Fry
certainly wasn't dressed in faded denim on the cover of
ABC
's
Lexicon Of Love
.
Although, temporally, Howard Jones was firmly a part of this, he was over half a decade older than, say, Martin Kemp of Spandau Ballet. As his presence in Warrior during the mid-Seventies attests, he was old enough to have come of age, and been shaped by, the mores and morays of the Seventies, not the Eighties. As the lyrics to "Hide And Seek", and even more so "New Song" (with its references to being "laden down by the doom crew", something that if you listen hard you can hear Neil saying in The Young Ones) demonstrate, Howard Jones had a hippy sensibility in the era of aspirational wine bar sophistication.
It doesn't take a conspiracy theorist to see that at a time when the music critics were praising the arch, knowing detachment of
The Pet Shop Boys
,
Howard Jones's brand of gentle hippy benevolence was never going to find as much traction
. Given that many of the lyrics on the "Human's Lib" album were written jointly by Howard's friend and spiritual mentor
Bill Bryant
– local eastern mystical teacher to some, "Second Hand Guru" to others – and dated back some years, they were always going to be an uneasy fit with the changed ambitions of Thatcherite Britain in the Eighties.
Howard, though, was commendably bullet proof to the critical brickbats, later commenting in 2006:
I wasn't fashionable. I never got good reviews. But I'm proud of the fact that I wasn't liked by the media. At the time, I thought rock and roll was the alternative way to live, but actually that wasn't the case. Pop music is so reactionary and bigoted. And I found that what's "cool" is often very shallow and transient.
Disc One ends at the conclusion of the turbulent Eighties, penultimate track "The Prisoner" (from 1989 album
Cross That Line
), showcasing a more muscular side to Jones's sound, stabs of raucous guitar arpeggio roughening up his previously smooth edges. As the years had advanced, and the musical palette of the decade moved on from the
Synth Britannia
 period at the start of the decade, Jones's sound had evolved organically and naturally,
often taking him back, ironically, to the kind of natural instrumentation that was his stock in trade
prior to his big breakthrough.
*
Disc Two moves us on the Nineties, with
a generous selection from Jones's four studio albums of the period
("In The Running", "Working In The Backroom", "Angels And Lovers" and "People"). "Lift Me Up" is poppy, fist-pumping feel-good, whilst "City Song" comes on like something from Side Two of
David Bowie
's 
Low
 before developing into a melancholy piano ballad.
The Nineties, though, was a problematic decade to be sure. In the wake of "Madchester", as the riptide of the techno revolution washed out across mainstream music, everyone and their dog started putting beats behind their music in an effort to stay "relevant". The trend accelerated to near light-speed following the Islington dinner-party smasheroo that was Portishead's Dummy. Howard Jones, commendably, managed it better than most. Particularly creditable in class is "You're The Buddha", with its shuffling stiff-funky beats, sudden bursts of fuzz guitar and deep undergirding bass, Jones's interest in spiritual faith very much to the forefront. "Let The People Have Their Say" comes over all Gracelands on our ass, its feel-good South African rhythms giving way to a middle eight where Howard suddenly decides to out-Orbital Orbital.
Mid-decade, Jones took the commercially and artistically astute decision to form his own record label, dtox, in order "to provide a label for my own music to be released. I found it very liberating to have so much control of my own musical and artistic destiny and then started seeing dtox as an umbrella for many other projects where other artists could have the same freedom to express their music and art." Well, it worked for Crass after all…
The latter half of the disc takes us into the Noughties, and some cold cuts from the albums
Revolution of the Heart
 (2005) and
Ordinary Heroes
 (2009). The former, with Jones' Buddhist leanings once more central stage, provides some fast-moving electronica,
the title track in particular being a veritable dancefloor shaker
punctuated by bursts of "Crazy Horses" style whinny. It would have made an excellent
Bond
film theme tune had
Pierce Brosnan
stayed on for one final mission.
"Just Look At You Now", with its sly lyrical reference to "New Song", could almost be Tame Impala. Best of all is "The Presence Of Other", in which Howard wrestles with the problems of non-dual existence over a musical landscape not a million miles away from what Kraftwerk were doing contemporaneously on Tour de France Soundtracks. Infinite intelligence, cycling – almost the same thing in my book.
A clutch of half a dozen songs from
Ordinary Heroes
 returns Jones to a simpler acoustic style dominated by piano and strings. There is an edge of melancholy around the proceedings, from the relationship heartache of Someone You Need" to the simple family drama of the title track. "Joy" and "The Human Touch", from 2015's
Engage
, return us to an electronic sound, the former delivering
Jones's typically upbeat, uncynical take on life, true to the position he took when starting out
some three and half decades earlier.
Disc Two ends with "Eagle Will Fly Again", a spectacular Simple Minds / Glitter Band hybrid, all epic crashing chords and dun-dun-dun glam rock backbeat. It's a stylish way to bow out. Disc Three presents a selection of live tracks showcasing Howard's stagecraft, together with some alternative mixes, including a particularly strong version of "You're The Buddha" by long-term collaborator and co-producer Robbie Bronnimman.
*
Best 1983-2017
is a sprawling travelogue of
one man's journey through music and the vicissitudes of the industry that surrounds it
. It is also, in many ways, emblematic of a certain kind of modern musical narrative. After a first flush of pop success, which Howard Jones rode brilliantly whilst it lasted, he was canny and fore-sighted enough to reshape his career and seize the means of production once tastes, and eventually the industry itself, started to change. There's
something immensely positive about the way he kept making the music he wanted to make
, and didn't let the notorious effluent of the music business ever wash over and tarnish the lustre of his positive mindset. Touring to the joy of his loyal fanbase, releasing his own records, marketing through his own website, these are the kind of tactics there were also, and often later, adopted by many others. Hell, even
Einstürzende Neubauten
ended up doing it this way. Now there's a collaboration I would pay cold, hard cash to see. Howard and
Blixa
, together at last.
"I don't want to be hip and cool. I don't want to play by the rules. Not under the thumb of the cynical few. Or laden down by the doom crew."
A message for our times.
-David Solomons-
 As every Wycombe skoolboy kno, a bodger was a skilled and itinerant wood-turner who worked in the beech woods of the Chiltern Hills.
It was after having seen the Pistols at The Nag's Head in September 1976 that Watts approached Malcolm McLaren to suggest that they headline his two-day punk festival at The 100 Club. Earlier in February of the same year, the Pistols had played only their twelfth ever show at Wycombe College, opening for Screaming Lord Sutch and legendarily receiving a half crate of Carlsberg as the payment for their appearance.
If only it could have been a double bill at the same show. Oh to have seen "Sultans Of Swing" and "Slug Bait" on the same evening.
One story tells of Martin, whose hair was already dyed-red and spiked, meeting John Lydon at an Arsenal match in early 1976 when the latter's was still in the long Hawkwind style as shown in his 1994 autobiography Rotten: No Irish, No Blacks, No Dogs.
An xcellent Xtraverts compilation, So Much Hate, finally appeared on Bin Liner Records late in the 1990s.
Support that night came from Fiat Lux, Wakefield synth merchants who counted Ian Nelson (younger brother of Be-Bop Deluxe's enigmatic genius Bill Nelson), amongst their number. Despite a recalcitrant Memorymoog, they played an excellent set.
© Ryland Smith, 1987.
Following a bitter split with Howard Jones shortly after the "Kid" Jensen session, Bryant would later nurture another (suspiciously similar) solo keyboard singer-songwriter called Paul Linn. Local wits instantly dubbed him "A-paul-linn". When Linn later joined forces with large-lunged local female singer Biz Mayer to form Paul Linn and The Biz, the wits carried relentlessly on, quickly re-labelling them "A-paul-linn and the A-biz-mal". Really, it was like shooting fish in a barrel.
 Wycombe's next oh-so-nearly-men, Thee Hypnotics, fared less well in the late Nineties.
Source URL: http://freq.org.uk/reviews/howard-jones-best-1983-2017/
---