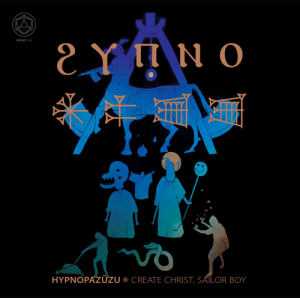 Well, this is a complete surprise, bassist and founding member for Killing Joke, Youth (AKA Martin Glover) is supplying an excellent arena here for David Tibet to shriek, howl and party the apocalyptic on Create Christ, Sailor Boy. Youth did so back in 1984 as well, one of an extended list of people who configured Current 93's Golgothan Nature Unveiled, but this latest transfiguration as Hypnopazūzu is thankfully not as bleak, the doom-mongering tropes abandoned in favour of a filmic morass of synth snakes and guitared roastings.
Tibet, always eager to find new goo to enthral us, is auto-piloting the arbitrary to good effect too. They make quite a team, Tibet throwing seemingly random words into the cooking pot, casting a spell in the drama of his delivery, a vicious vitality enfolded in these lush Youthian soundscapes, as if the staggered regal moods were giddy on Tibet's
shimmering orbits, each eating each with cabalistic delight
.
As a long time Current 93 devotee, I've got to say this is a brilliant distraction from the mainline operations of late, flushed with that old-time enthusiasm as its percussive heart ciphers the vowful and pure alchemy shifts the sublime from the seemingly ridiculous. "Magog At The Maypole" is a delight that strikes the mind like Island's rolling tapers, HÖH's graphical keys, Tibet's flip-booking doubles shining cathedral-like and strangely accessible. The production glistening like the family silver, falling through your head with blinding clarity. The title track (well, the song that mentions the title) rising merry, preened in church plumbs, Tibet throwing sermons from a blazing lectern as everything around him is swollen in the epic-ness of the instrumentation.
"Incidentally, Shaitan" taking that charge and scattering it out into a sweet (and all-too brief) lullaby, "Christmas With The Channellers" all sinister hues, its slow, twisting bracken holding to an 
Imperium
-like delivery that yarns, terrifies, dirge-doubled in a determined focus. Tibet is pumped on some insane logic and venomous words, siphoning
wide-eyed and terrible, reinventing the esoteric in tumbling intensity
: "….you groovy girls with…" — spitting out a rasp of pointed "teeethhhhh!"; frothing over in baleful zest, banking to a contrasted delicateness to add, "cursed with bloods and moons andddddd" — fetishing the conicalled distance with "necklacesssss…"
Spaceships, green/blue pricks, shoplifting pixies, the ruined folly of the queen's womb — the guy is channelling some mad subjectives that seem to make perfect sense, convincing in their driven convictions. Really liking the pictures that bonfire in the mind's eye, the spinning curvatures that perplex. "Gary Glitter not at all at hell (?)…" where did that fly in from — who knows? This is what he does best, betwixt those addictive choruses that are bruised'n'bloody in sing-ability.
I've got great love for this latest project, and have been captivated all week, Tibet's words turning into some sort of
virtual reality that whirls and cartwheels your brain's bone cage
. Don't get me wrong;
Create Christ, Sailor Boy
's not short of jarring edges, but it still all seems to work perfectly. A parade of visions like the grab-bag of the sublime he mentions on "Pinocchio's Handjob", all pouring forth, automating in the sunshine spittle. That military step of percussion, the shimmer/swell of  those banking choral strings stoking the drama, the Egyptian-esque chantery of "The Auras Are Escaping Into The Forest" giving a welcome respite to the capricious, leading us out on the sweet sorrow of "Night Shout, Bird Tongue.
This left me so bewitched I was falling over myself to order a copy.
-Michael Rodham-Heaps-