The Union Chapel, London
22 October 2016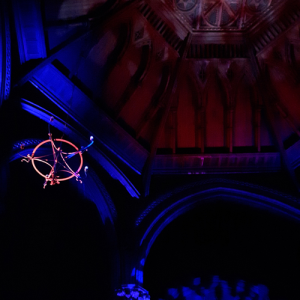 Lovely to be back at the Union Chapel again, without doubt one of the jewel venues of London. The vivid bruises of coloured light curving all that gothic finery, spot-lit chandeliers transformed into floating pentagrams. Just looking up at the vaulted ceiling was awesome in itself. You could say this was the perfect pitch for tonight's esoteric expectations. I saw Current 93 here a few years back and it was made all the more special because of this fact.
Settling into the narrow wooden pews, the night starts to the sound of crushed aspirins and hissing sibilance pouring from
David J Smith
's outstretched spans.
The Stargazer's Assistant
's set develops into one long sprawling epic that slowly lifts from its spidery beginnings to bank a murmuring medication of dronal crosswinds. Ancient sounds of
harmonium, melodica and that goatskin pipe pulling forlornly at the mediaeval shapes of the venue
, scattered out on a myriad of luminous percussives. Textures ascending into a Bedouin heat, drawing down in lush waves of fluted intrigue.
Twisting details that conjure with your head as a shadow locked
David J Knight
gliss-shudders the spectacle further, affixing spiralling arms to that arterial thump of floor tom and clashing metal. A host of mysterious betweens,
leaking, teasing at the doors of perception in reddening serpentine curves
that all too quickly descend from their heady altitude to the chasm of silence, quickly picked up in applause.
The support certainly supplied a rarefied vibe that the '70s cheese of "Chirpy Chirpy Cheep Cheep" shatters in announcing the main attraction. David Tibet has strong ties to the music of his childhood, but this seems even more personal. The song lines "Where's your father gone? Where's your mother gone?… Far far away…" sitting uneasily in my head with the knowledge that both of Tibet's parents have now sadly departed. A touching note of remembrance gradually eased into industrialised cordons and alarm-pinched noise that gets me fantasising about a future Current 93 album of '70s cover versions.
I quickly snap out of my imaginings to note that I don't recognise any of the performers that are slowly assembling the stage – that is, apart from the dreadlocked
Youth
, although that new guitarist skulking in the shadows was spookily reminiscent of
Thin Lizzy
's front man
Phil Lynott
. The fresh-faced parade leisurely teased above the industrialised mush-up of
Middle of the Road
's one hit wonder, with shimmering cymbals and orchestral tunings that herald Tibet's casual arrival. His jacket sleeves folded up, flashing the white of his open-cuffed shirt, his head Fedora-peaked, shouldering a tote bag, he looked like he was more suited going for a seaside stroll than fronting a band. After decanting the bag's contents onto the stage floor and affixing his lyric book to its stand, he lingers within the orchestral tangle waiting for a suitable point to interject, and it isn't long before his
forlorn pleasures hook in and burn though that instrumental surround with wrestled intensity
.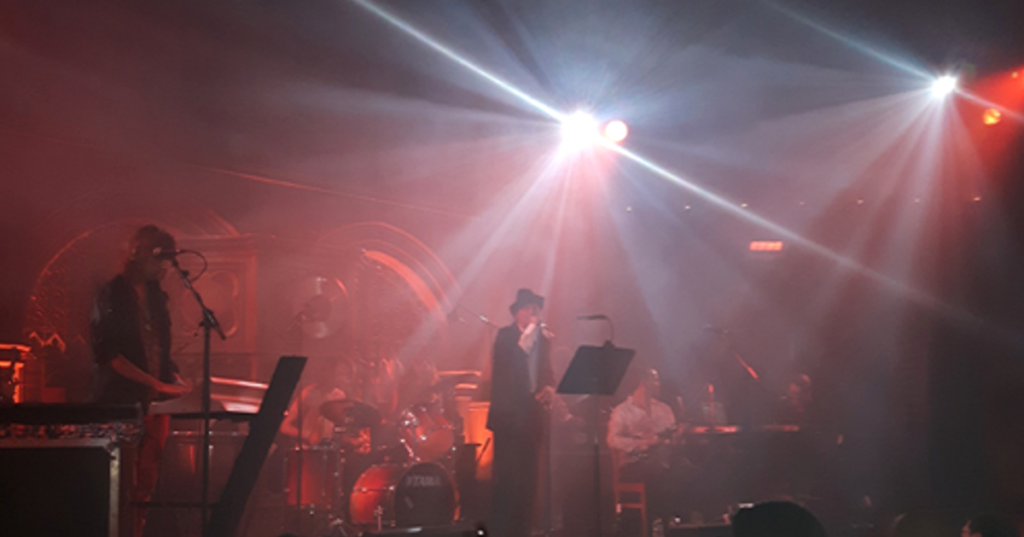 It's early doors set-wise, but that lovely dirge-drenched swell-crashing around his collaged lyrics is magnificent,
vividly kissed in salty metallics, a delight that's best tasted behind closed eyes
. Between songs Tibet wanders the stage, as if anxiety eaten, like some awkward messiah intent on making his craft shine beyond its studio persona — and he does — following
Create Christ, Sailor Boy
's running order, but re-jigging the emphasis, flowing with the current (no pun intended) to make things bleed brighter, the music's vistas always shadowing his unfurling direction and vice-versa.
Kinetically knifed to his every utterance, the dark majesty of "Christmas with the Channellers" is incredible, all curling forebode and weeping sinew sweeping up those flame-licked words, then I lose all review objectivity to the Moroccan kicked energy of "Crow At Play", Satan's crisp whisper scarred in sawing fiddle and scalloped gallop. The heart-felt noir of "The Sex Of Stars" grabs me back as it descends into pleas of "Will I ever see you again?" "will I will I?" phantomed away in doubt. Tibet shaking his head in refusal as real-time vocals chase the distant-cast echoes. Recurring glimmers of letting go, quaffed in howled tapers, sending a cascade of goose bumps over my skin.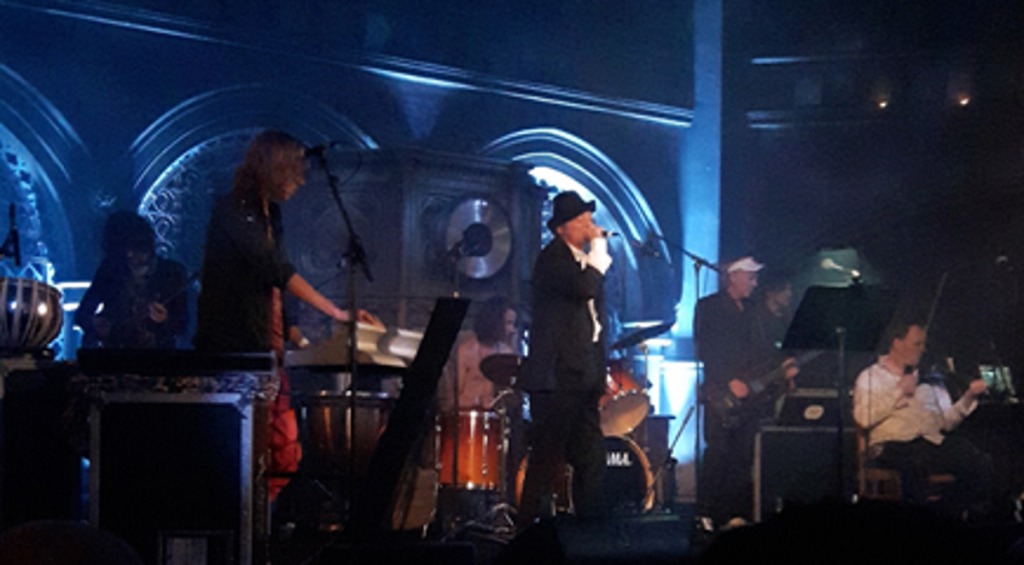 An emotional freefall, the further into the fray, the more lucid Tibet gets. Channelling
Quentin Crisp
in the half-light, momentarily striking an uncanny resemblance to
Jasper Carrott
that I quickly shake from my head. Gesturing arms, hands, pogo(ing), limbering around,
a flamingo-footed orator in ray-spanned halos
. His tectonics of love and loss, spiralling sweet'n'sour round your skull, the magical betweens shimmering "Magog At The MayPole"'s crooked disco, the tilting bite of "Pinocchio's Hand Job", Tibet's ancient tongue on "The Auras are Escaping into the Forest" rising from hushed whispers to animated asphyxias.
The last of the set savouring a warm, sorrowful glow, skipping synagogues to its Create Christ, Sailor Boy finale. Youth smiling at Tibet, hugging him before the stage empties. The stage again overtaken in more '70s nostalgia, mashed into a harsh-pulsed schism. A hit the name of which escaped me as I was somewhat preoccupied (like the majority of the room) in trying to rouse an encore to this already impressive outpouring that understandably never materialised.
-Michael Rodham-Heaps-