Applebush/Easy Action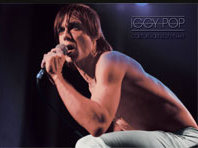 The world finally caught up with The Stooges when punk exploded, while Iggy himself ingeniously morphed into an alienated teutonic modernist, simultaneously retaining his appeal with the punks while appearing several steps ahead with his two 1977 Berlin albums The Idiot and Lust for Life. By 1979 however, he seemed to have back-pedalled slightly, recording the New Values album with latter day Stooges James Williamson and Scott Thurston. It was certainly a good record, but not a great record – despite some pretty fine songs, it ultimately seemed a bit Stooges-lite.
By November of that year, Iggy had once more parted with the other Stooges and had already recorded (though not yet released) his next album, the thoroughly uninspired Soldier. California Hitch-Hike is compiled from two concerts that month at San Francisco's Old Waldorf and sees Iggy backed by an all-star multinational punk supergroup – Brian James of The Damned on guitar, ex-Sex Pistol Glen Matlock on bass, The Patti Smith Group's Ivan Kral on keyboards and second guitar and Klaus Kruger from err… Tangerine Dream (!?!) on drums.
The recording quality is more than adequate and as always the guys at Easy Action have packaged it beautifully, with lots of unseen photos from the gigs and sleevenotes/reminiscences by both James and Kral. More excitingly, the performance itself is pretty damn rocking, Brian James in particular proving a worthy successor to Ron Asheton and Williamson.
Perhaps surprisingly, only two songs from the then latest album are performed, but they really take on a new dimension with this line-up, "New Values" sounding like a genuine Stooges classic and "Five Foot One" out-rocking the studio version by some distance. Although the four songs premiered from the forthcoming Soldier similarly eclipse their studio counterparts, no amount of enthusiastic performance can really hide the inadequacy of the lacklustre material.
Where the group really come into their own is in their reinterpretation of Stooges material, taking most of it at a contemporary breakneck pace that strips it of the grinding sexuality of the originals and replaces it with a belligerent speed-fuelled psychosis that bridges the icy alienation of Iggy's Berlin escapades with the visceral power of his earlier days. "TV Eye" in particular benefits from James' chemically enhanced breadknife guitar slashing, and Raw Power's "Your Pretty face Is Going To Hell" enjoys a rare live outing, apparently at James' request – it being his all-time favourite song. Ivan Kral's keyboards add fresh colour to the songs, his swirling analogue synths on "I Wanna Be Your Dog" combining with Matlock's relentless bass pummelling to make you wonder whether you've actually put on Hawkwind's Space Ritual by mistake.
The group show that they're no one-trick pony with the sleazy after-hours blues of "One For My Baby," a track not released until 1981's Party LP, that smooches along on Kral's smoky Fender Rhodes chords before being punctured by a Brian James solo that invokes Peter Green undergoing an adrenaline cardiac injection. The Idiot's "Funtime" and "China Girl" are given slightly ramshackle (and all the better for it) outings that strip them of their Bowied mannerism and the set climaxes with a version of "No Fun" that is closer to the Sex Pistols' version than the Stooges'.
Iggy himself is on great form throughout, clearly enjoying having such a great band to bounce off, throwing himself into the songs and flying off on improvised tangents like the hilarious rant against television during "TV Eye" –
"How soon will it be before you start eating potato chips? How many years before you can't get an idea through your ears?…. TV is killing you!… I have a TV that's killing me!" The previously unheard title track "Hitchhiking in California" is the real oddball though, with Iggy narrating over what sounds like the whole group improvising on vintage drum-synth oscillators and providing a glimpse of an unexplored potential future avenue.
It probably says a lot about this release that the least essential track on it is actually a well above average version of the Kinks' over-covered "You Really Got Me." This release may not be as essential as the recent Stooges set You Want My Action, but as far as solo Iggy shows go, this is probably as good as you're likely to find.
-Alan Holmes-