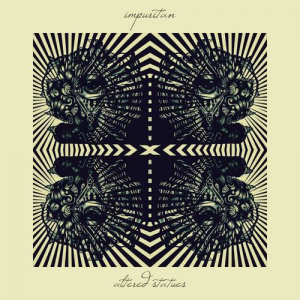 After luxuriating in the carnival like atmosphere of 2014's full length Make It Look Like Nothing Happened and the head spinning smorgasbord of 2016's Everything Is Magick, nobody could really second guess Impuritan's next move. The colours and textures employed in the previous releases made them a fantastic new discovery and I was intrigued to see what the next step would be. A curveball is the only way to describe Altered Statues as it turns in four tracks in around fourteen minutes, one of which is only a minute long.
Perhaps this is just a little sidestep to keep the listeners hungry for more while they prepare another full-length album. Either way, the succinctness of the EP is more than made up for by the quality of the material here. The San Franciscan three-piece ply an experimental fusion of post-rock and sample-based ideas, but with a mysterious globe-spanning element, perhaps due to the three members' diverse cultural backgrounds (Greece, Peru and El Salvador).
Opener "Spruce" sets the scene; a slow, plangent intro that comes curling like smoke out of the speakers and into your room, infusing it with the balminess of a swampy Southern night with the rhythm lightly strutting as
Alex Eliopoulos
's sleepy, syrupy vocals worm their way into your head. It oozes slow and sticky, with a gradual vibrant guitar figure bubbling up underneath. The guitar slowly works its way to the foreground and overtakes proceedings, becoming
growling and unsettling, like a rippling underbelly of unknown drama
. It is a damp and textured thing that then gives way to the aridity and brightness of "Strange Swim". Here, things are slower and gentler, the background hum, the lush resonant cymbal work, the throbbing depth and enormous vistas. It is tranquil yet energised, and brings to mind another wonderful Californian band,
Scenic
. The stargazing luminosity and drifting passage are over far too soon, but leave you staring into space. Just when you think things are taking a turn for the widescreen, the band mug with the one-minute post hardcore helter-skelter dash through "Poison Candy". If you thought you knew anything of the band, this is a way of reminding you of their roots. Impuritan's sound may have swallowed up vast oceans of ideas and experience over the last six years, but a flame still burns at their heart that this unstoppable dash goes some way to explaining. It is a shock to the system that closer "Death Trippers Anonymous" attempts to allay.
This track is a brooding one, and although the rhythm is fairly jaunty, underneath guitars and effects are bubbling and wheezing, squirling out of David Molina's fingers like jam from a doughnut as Alex's warm, sleepy voice attempts to hypnotise. Halfway through, the tempo changes, the bass picks up the pace and drummer Pepe Abad is given an opportunity to drive the sound on. The rhythm is restless and reckless and a maelstrom of guitars pushes you over, showering you in sparks.
Quite an ending to an extremely satisfying quarter of an hour blast. I can't wait for another full-length though. Check this baby out and then go for the back catalogue. It can't be resisted!
-Mr Olivetti-