Irmler / Oesterhelt – Die Gesänge Des Maldoror
by Freq | 2017-07-30T17:10:58+00:000000005831201707 17:10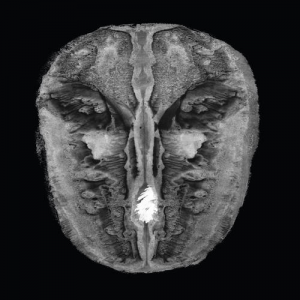 Refreshing to have so many fluid points at play, this could have easily drifted in a altogether singular direction – gone all-out sinister rolling those doomic dice – but instead HJ Irmler and Carl Friedrich Oesterhelt tease us with a classical anarchism that isn't affixed or preconceived.
First track "Erster Gesang" is an aural assault, an eleven-minute cascade of late-era Scott Walker zeal that begins tip-toeing nervously into the stage lights, all shadow-clad in half impressions and the odd sinister dart of ill intention, before being pushed out on driven strings and disjointed piano. A Michael Nyman-esque fantasy of bullying enquiry – all whining sinew and disjointed ivory, warming the head with its laudanum-haggled instability. An opaque melodrama of pounding percussives and military snares whose tension is abruptly absolved in Weimer-like night-lives and tarnished "Clair De Lunes" that transcendentally teeter, parabolically bicker like the callipering shadows of a spider crawling over a sleeping mouth unknowing of the potential danger.
These draggering classicals are a winner, conjure some heady parallels to the wordy hordes falling from
Lautréamont
's pen. A bit like
Olivier Messiaen
's
Turangalia
 but without the floral bouquet, it's a beautifully fragmented affair, orchestrally pointed, manically overspilling then falling into a irritability of tenderised introspection. The light around the shadow constantly toyed with, the wizened romanced in a macabre cabaret of stiletto(ed) whimsy before being exorcised back into a raging page. Brief bursts of electronica take hold throughout, colour the stirring panoramas, nurse the ghostly vocal interactions of "Dritter Gesang" with a crystallised ambiance, further chilled with Germanic curls of wisdom plucked from the author's mind's eye. Subtle hues that transfix as the clipped nuances incise that
Stockhausen
-like choral yarn enfolding it. That (arresting) cover art staring back at you, its dualism swirling a cesspit of pestilent possibilities twitching with lice-filled monochromes.
A visual synergy that holds to shimmering halos; that runic purr of organ, the queasy pinions of piano that tap into that hot-buttery prose so effectively. A drama that croons into the cosmonautical colours of northern-light greens and papal purples, titling inevitably towards total oblivion. A audio feast that deserves a cinematic twin.
Would le Comte de Lautréamont have approved? You know, I think he just might have…
-Michael Rodham-Heaps-
Source URL: http://freq.org.uk/reviews/irmler-oesterhelt-die-gesange-des-maldoror/
---