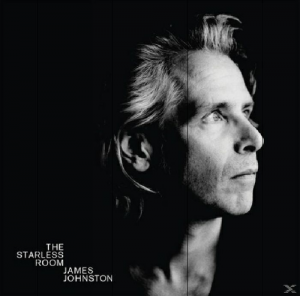 James Johnston often seems omnipresent, having lent his dark twang to the likes of Lydia Lunch, The Bad Seeds, Faust, PJ Harvey and of course his own baby, Gallon Drunk, over the past few decades. It comes as a bit of a surprise then that The Starless Room is actually his first ever solo release under his own name.
James largely shuns his trademark guitar here, concentrating mostly on piano and vocals, resulting in a very intimate and emotionally engaging set of songs. Not that this is a minimal, stripped down album by any means — much of it features wonderfully lush orchestrations by Sebastian Hoffman, although the sparse and spontaneous album closer "When the Wolf Calls" is every bit as haunting as the fully orchestrated pieces. I mentioned this to James and he told me that it was an improvisation that he recorded on his phone, humming along to his piano and then recording it in one take in the studio.
The overall mood of the album is melancholic and longing, reminiscent at times of
Dennis Wilson
or
Epic Soundtracks
' solo works, although James himself cites
Isaac Hayes
and
Ray Charles
as the inspiration. There is an epic edge to a few of the more highly orchestrated songs, but never does it venture over that danger line into pomp, thanks mainly to James' raw and honest vocals — mostly done in single takes, apparently. James says that he deliberately tried to strip away the dissonance and anger with this record to see whether he could do
something different, more personal and focused
. The answer is a resounding yes he can.
The Starless Room
is a warm and enveloping album that is one of the most rewarding listens of 2016. "I just followed whatever triggered an emotional response in me" — well, it paid off, James.
-Alan Holmes-