Jane's Addiction – Alive At Twenty-five: Ritual De Lo Habitual
by Freq | 2017-12-01T13:55:08+00:000000000831201712 13:55
Rock Fuel Media / Cleopatra / MVD Visual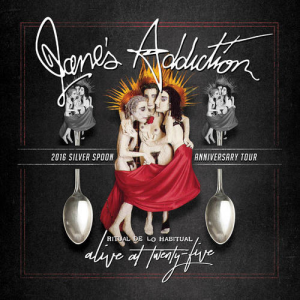 Hard to believe Ritual De Lo Habitual is a quarter of a century old, but a quarter of a century old it is, and has taken its rightful place in the pantheon of classic albums. A high point for alternative rock music in the 1990s, which began so optimistically with Nine Inch Nails, Rage Against The Machine and Nirvana and ended with fucking Nickelback.
It was also the last real time Perry Farrell's idiosyncratic creative vision dovetailed so neatly with the zeitgeist — the second Porno for Pyros album is an underrated gem, and his solo drum and bass Kabbalah album Song Yet To Be Sung a beautiful experiment, but Ritual was when the public were really on board. Everyone went crazy for this shit. And with good reason — the band were at the height of their powers, and Farrell's peculiar blend of glam, prog, carnivals and hard drugs was exactly what the world needed at the time.
And twenty-five years later, Jane's took to the road again to mark the anniversary of this musical milestone — a record of the record, maybe. And now, of course, comes the inevitable (and welcome) live package for home entertainment- a record of the record of the record. And a neat little bundle it is too — for the price of admission you get the live album, and the filmed concert in both BluRay and DVD formats (and there's coloured vinyl editions of the live album out there too). And, of course, they play
Ritual
from beginning to end. And it's still a rock-solid set, lean, mean and tighter than a badger's arse. The utopian one-two punch of "Stop!" and "No-One's Leaving" still set the blood on fire and get the ears tingling, Farrell's
unearthly falsetto still hitting the high notes all these years later
and
Dave Navarro
(who in the intervening years has starred in a reality show about his marriage to
Carmen Electra
and been killed by
Jimmy Smits
in
Sons Of Anarchy
) is still one of the best, not to mention coolest, rock guitarists out there. And all this time "Been Caught Stealing" has been on permanent rotation at rock clubs around the world. Admittedly, Farrell's between-songs optimism about the state of the world seems a little unfortunate given recent world events, but that's hippies for you, I guess. And it's always good to have a little positivity.
But the centrepiece of the album, and of the show, is, was, and always will be "Three Days". Never has Farrell's whimsical mysticism been so closely married to the most gorgeous music imaginable, its three-part structure and shifting tempos building to a fantastic crescendo that was way more complex than anything else on MTV at the time. (Historical note — they used to have music on MTV, you know. Sometimes even good music. Weird, huh?) "Then She Did…" is as heartbreakingly beautiful as ever, and "Of Course" is still beguiling, and prefigures the direction Porno For Pyros would eventually take on Good God's Urge. And then it all calms down with the post-coital languor of "Classic Girl".
They encore with the absolute piledriver that is "Mountain Song",
Strays
' "Just Because", the serial killer epic "Ted Just Admit It" and, of course, they have to end with "Jane Says".
Velvets
-aping title aside, it's a smacked-out character study that has earned its place alongside anything
Lou Reed
himself wrote. And here it's
a triumphant climax to a spectacular show, complete with obligatory balloon drop
.
Of course, how much you'll enjoy any of this depends on how much you enjoy Ritual De Lo Habitual. But then, so do a lot of things about you.
Twenty-five years and still fresh as a daisy.
-Justin Farrington-
Source URL: http://freq.org.uk/reviews/janes-addiction-alive-at-twenty-five-ritual-de-lo-habitual/
---