Double Six / Domino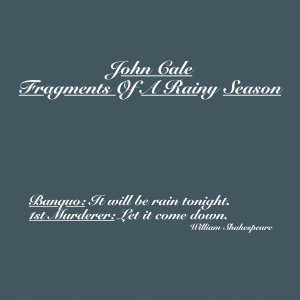 This is a very welcome reissue of John Cale's 1992 solo live album and on listening to it again, I am struck by various things. We know him so well as producer — The Stooges, Nico, Jonathan Richman, Patti Smith, etc — and as a collaborator (Lou Reed, Terry Riley, Brian Eno, Spedding, LaMonte Young, etc), but what this album shows us is just what a fine songwriter and solo performer he really is. Fragments Of A Rainy Season sees him plucking tracks from a twenty-year career that was anarchically varied from the gentle delight of Paris 1919 to the purposefully discordant Music For A New Society , right up to collaborations with Reed and Eno. Armed only with a piano or at times guitar and that wonderful baritone, sometimes playful, sometimes sorrowful, he leads us onward.
Shorn of the excesses of band members and with just a single instrument, the
songs shine like diamonds, the sound is crisp, the delivery at times brisk and fluid
, at others melancholy; and even veering into the warped, the ending of "Guts" a particularly unhinged outburst. There are also some fantastic covers, Cale's definitive take on "Hallelujah" (purported to be the version that
Jeff Buckley
took to his heart) and his ploddingly desperate yet subtle version of "Heartbreak Hotel". "Ship Of Fools" finds Cale strumming the guitar with enough force to draw blood and the vocals emerge like hellfire; whereas "Lie Still, Sleep Becalmed" is just heartbreaking. "Cordoba" from his Eno collaboration is shorn of its over-production and is all the better for it, while "Style It Takes" from
Songs For Drella
is a perfect memorial to
Andy Warhol
, Cale's delivery is warm and fond, and devoid on any of the tension that recording with Lou may have produced. There have been a few compilations over the years, but personally I think this is
a great place for a Cale novice to start, as well as a welcome addition to any collection
. Once you see the quality of the songs, it would be fun to go back and see how they are worked out in the studio.
This version comes with an extra disc of out-takes, some of which involve strings. The lovely "Antarctica Starts Here" receives dramatic flourishes, an incredibly jaunty and well received "Waiting For The Man", an even more lachrymose take on "Heartbreak Hotel" and two more versions of "Fear (Is A Man's Best Friend)", one of which collapses into piano barbarism much to the audience's joy.
And of his piano playing? Sublime, manic, so self-assured, touches of
Erik Satie
here and there, but on the whole Cale is his own pianist. The songs are unique so the playing is the same, but at points where he allows himself a little run, you
marvel at the agility and tone, and his decisions of where the song should be sent
. Listen to the versions of "Fear" though, from classical flourishes to utter demonic discord and then back to the song, as if this were the most natural transition in the world.
It is a joy to be reunited with this album and I imagine the three LP set is going to be a real treat. Domino's quality is such that surely this must be essential.
-Mr Olivetti-