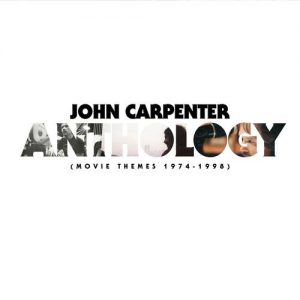 I've just spent a few days driving down the south coast of England and then around the Devon countryside, listening to John Carpenter's Anthology all the way. And the first thing to say about it is, it works. Overlaid on any landscape you'd care to imagine – a traffic-jammed motorway, a small-town suburb, a swooping coastal road, a mist-sodden moor, a little high-tide cove – it creates a very precise atmosphere of unease, of impending darkness, of collapse.
And that atmosphere has a very specific feel to it. On the one hand, it's built on the mundane rhythms of everyday life – of a single mother late night DJ arranging a babysitter, of a group of grad students flirting and joking, of construction workers jobbing together, of so many others just getting through the day – perhaps not quite how you and I might do it, but near enough to identify pretty closely with.
But on the other,
there's always that lift-off into some very fundamental disruption
. A lovely little seaport is actually built on an unspeakable crime; an inexplicable evil unstoppably stalks the innocent; an unknowable yet always obscenely too-present invader awakes beneath the ice; God turns out to be a bad (but oh so readable) pulp horror writer; the Messiah turns out to be a failed alien pest controller; the only man capable of saving modernity is also the only one to understand exactly why he shouldn't; and so on. John Carpenter's films do what horror should. They don't just scare you – they assault your sense of place in the world, dismantling any assumption that you're the hero of a story that will end up somehow privileging you, that will even make some sort of final, human sense. At best, his heroes are left catastrophically disillusioned. At worst, they personally create the apocalypse. And most of them are enough like you to leave you feeling that, sooner or later, that kind of breakage will come for you too.
His music's a key part of that. At first listen (or rather, re-listen – because it's a pretty safe bet you've seen some or all of his films already), there's something very down to earth about it all. Recognisably 80s guitars and synths chime out, evoking the clutter of the charts of the time – hair metal, synth duos, escaped TV themes and everything else you'd either imagine or can actually remember.
But it's all so off-kilter, so unsettling. And every theme carries within it something deeper and wider than itself – memories of the film that it came from. Carpenter's heyday centred on the 80s, the great age of the music video. But these pieces of music reverse the standard relationship between song and video. Here, the visuals came first, the music composed for the most part around an already completed artefact.
Without the films that birthed it, this music is orphaned. That in itself is unsettling. Imagination and memory concentrate fear; in many ways I find horror films scarier when I remember them than when I watch them, because my memory cherry-picks their most penetrating images and retools them to more precisely affect me. This album works just like that,
calling up a sense of something that isn't there and driving it deep into your mind
. Hearing it is in its own right a properly haunted experience.
But there's also something more heartening there. John Carpenter is one of cinema's great poets of cosmic disillusionment. I've always had the sense that – by way of ironic return – the film world has left him pretty disillusioned too. But now he's touring his themes – Anthology, a set of re-recordings rather than original recordings, is one fruit of that.
I saw him play live last year, and it was a wonderful evening. Partly because of the music; partly because of his generous, affable, supremely laid back stage presence. But really, it was wonderful because Carpenter was able to perform part of his achievement live for an audience, who could themselves perform their appreciation, admiration, adoration even, right back at him. This album is
on one level a record of those gigs, performed with his touring band
. So, as I listen to it, there's a new memory to add to it all – a very great mythmaker finally, directly experiencing at least some of the recognition that's his due. It's well deserved. And of course, there are all the films, endlessly rewatchable, endlessly unsettling, endlessly rewarding in their absolute refusal of comforting narratives and easy solutions. If you haven't seen them, you're missing out. Don't start with this album; go straight to the movies,
let Carpenter's music surprise and entrance you
as part of them, then return to this and find yourself haunted. And if you have – well, you pretty much know what you're going to get. It's every bit as good as you'd think.
-Al Robertson-