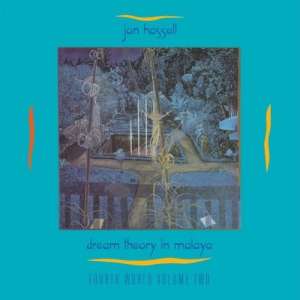 Years ahead of its 1981 timestamp, Jon Hassell's Dream Theory in Malaya was inspired by Kilton Stewart essay about the Dream Tribe of Malaya (now Malaysia) called the Senoi – a people whose equilibrium was based on dreamtime.
The wavering weirdness of the opener is an arresting one, pulls you to attention in a stark (concrete) treatment of trumpet, a disembodied verve piloting you straight to the extraordinary. This greaseproof comb of glitchy shuffles that seem to eavesdrop the feet of some tribal ceremony, incrementals that bring on slo-mo visions of the Masai merging with a bony hand claps. The next one, "Courage", takes this hook of elsewhere and weaves in percussive rhythms, the shadowing of treated trumpet droning the betweens like a hallucinatory helix twisting in silvering flex, a subtle bass eking nervously through these compelling atmospherics.
Over the intervening years these would become Hassell's hallmark, moved to more commercial intent in his involvement with
David Sylvian
's
Brilliant Trees
and
Alchemy
/
Words With The Shaman
that would follow, but here it's still about discovery. Something that can be tasted in the arpeggio spirals of "Dream Theory" and
the moiré mirages of dabbled amber that seem to cascade
through. It's incredibly simple music, but very effective, a few stitched textures left to wander in search of some invocative beyond. A vibe that's strangely primitive yet futuristic, even some thirty-five years later. This was one of Hassell's best albums, world music at its most imaginative,
in love with the cinematic sound of its subject matter
. The trance-like malfunctioning of Angkor Wat on "Datu Bintung At Jelong", holographically shifted in dry aerosoling colours and vocal chillums, that inquisitive drift of "Malay" with its hints of gamelan blushed in the watery splashes of riverbank washing and giggles. The strung out distance of "These Times" too, with its clanks of breeze-taken metal and that trumpet sounding more mystical than ever, as this hum of femininity throws out immersive curves to the chattering humidity and fluttering bird song.
-Michael Rodham-Heaps-