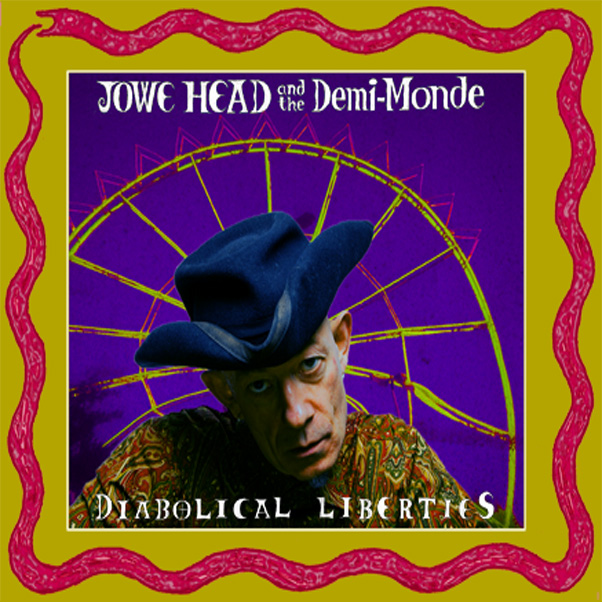 Topplers Records
are an old-style independent label based in Scotland who specialise in limited runs of beautifully presented eccentric pop gems. Depending on your point of view (or age), it's a sign of either the label's willful obscurity or unquestionable genius that a high proportion of these releases are by ex-members or associates of
Swell Maps
. To someone whose formative years were soundtracked by the likes of Swell Maps,
Television Personalities
and
Cult Figures
,
discovering Topplers Records is like Christmas and birthday coming all at once
– I had no idea that
Jowe Head
,
Phones Sportsman
and their surviving chums were still active. Since finding the label, I've snapped up every release and even (unsuccessfully) attempted to coax Phones Sportsman (who now is a north Wales resident) to come out of hiding and play some gigs round here.
The latest arrival from Topplers is a brand new album from former TVPs and Maps bassman Jowe Head. The first release by his new group The Demi Monde, Diabolical Liberties is an ambitious affair featuring strings, brass, bassoon, oboe, flute and autoharp as well as such exotic sounds as the bulbul-tarang and theremin augmenting the standard rock arsenal. The expansive sound provides a rich tapestry that draws on folk and eastern influences to temper Head's avant-punk roots into an accessible but distinctly odd pop music that manages to not quite sound like anything else.

Diabolical Liberties
traverses a broad musical landscape, from the uptempo pop of opener "Tiny Monsters" to an almost Canterbury style pastoralism on "Camoflagellant," sinister pagan folk of "The Horse Sits in the Tree" and "Imp of the Perverse" and even full blown prog on "Inky Sucker Bus." Potential hit single "Cyan Eyes" sounds something like a
John Barry
theme song interpreted by a Balkan psych combo. Throughout, all is held together by Head's lugubrious vocal delivery and droll lyrics, a kind of psychedelic
Jake Thackray
, with that peculiarly English surreal eccentricity.
Although there is much humour and strangeness to be found here, this is a genuinely original and moving work, and Jowe Head isn't afraid to play it straight at times – "Slough of Despond" being a touching ballad of great beauty. It's a joy to discover that Head has retained all his originality and disregard for genre boundaries as he enters his fifth decade of music making.
-Alan Holmes-