The Lexington, London
19 January 2011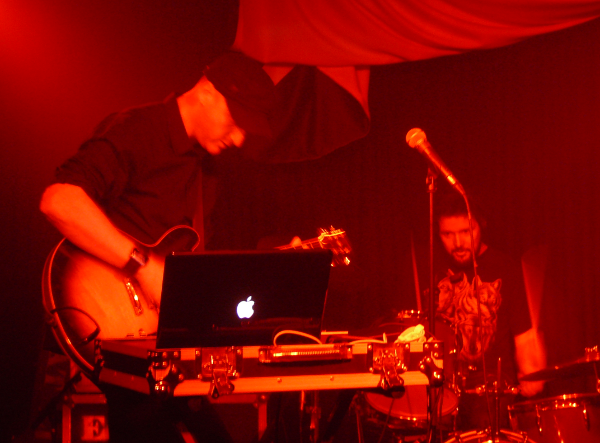 It's a red-light night tonight at The Lexington, north London's finest whiskey bar and excellent venue to boot. Red décor and red lights make for a surreally-flattened visual experience, as if watching tonight's bands during one of the more blood-soaked sections of Suspiria. But there's no gothic horror show from Eat Lights, Become Lights – their take on psychedelic immersion is far more in the Düsseldorf tradition, as befits what is effectively Klub Motorik's house band.
It's pretty clear from the get-go where Eat Lights are coming from, driving in from San Francisco '68, Germany '78 and Rugby '88, passing through Camden Town in the mid-nineties on an epic road trip which rolls the good times into Islington '11 on the ever-enveloping groove. Opening with a bright number on which the late Klaus Dinger would definitely recognise his mark, Eat Lights pick guitar lines and organ runs with aplomb, cheerful long-range stares fixed firmly on the future as daydreamed on the 1975 autobahn. As the smoke machine increases the blurriness factor, they keep up the flow of what for them is a truncated set in the support slot tonight, flicking on the cruise control as they sweep through the songs in a performance which is at once elevated by the semi-acoustic wah guitar sheen and held to the tarmac by precision drumming, all swirled up and over by the ever-buzzing organ tones.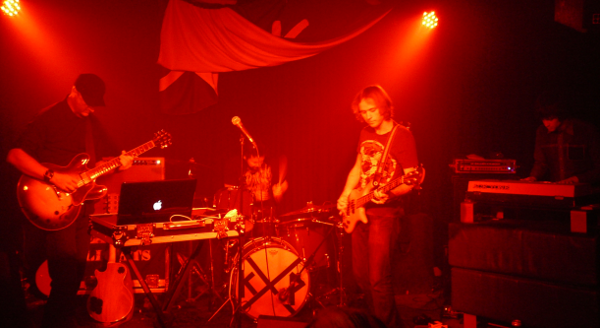 Single cut "Test Drive" is lead by a chiming loop into a NEU!tastic slice of ecstatic propulsion, slipping easily into the wide-open spaces which the motorik rhythms evoke, firmly optimistic and riding on a utopian dream as much as the persuasive percussion, the guitar solo sounding as if it could easily be drifting out of a blissfully-imagined playground song sung in a Technicolor world without cares or danger. When Eat Lights, Become Lights have to end, they do so leaving the empty stage reverberating to the now-traditional – yet always winning – sound of self-oscillating FX which, like their songs, could easily ride on forever down the road.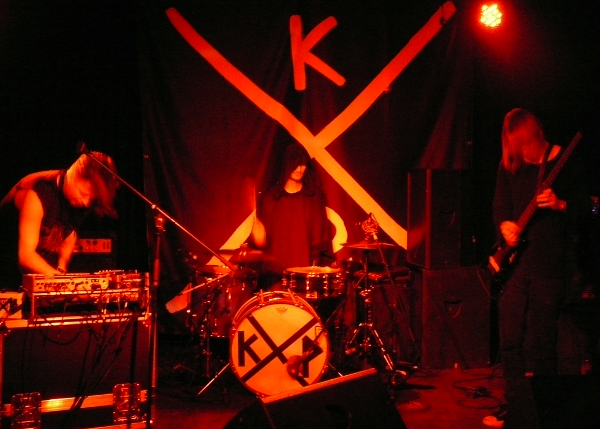 K-X-P are equally happy to draw from their multifarious influences, parcelling up a Glitter Band-stomp, industrial disco and the quasi-stadium posturing of DAF or even Front 242 among their own roots as key players in the Nordic underground scene. Singer Timo Kaukolampi is a frontman on a mission, though one which seems like it might not be as entirely expected from a band with its pedigree, his hair as slicked back as the keyboard riffs which soar in short chords like disco never died, let alone fell ill or even went through a bad patch. There are certainly affinities to the dark-clad, strobe-lit BPM scene – each band member is in black, and there's certainly something of a theme to Finnish bands that they seem to have to look like the could or have been in a doom or thrash metal outfit at some point (and probably has been). Rather than his customary masked-ball look, tour drummer Tomi Leppanen from Circle plays his kit wrapped in a black cloak and cowl of a sort which would fit right into the costumes worn in the (also scarlet-lit)  Roger Corman classic adaptation of Masque of the Red Death.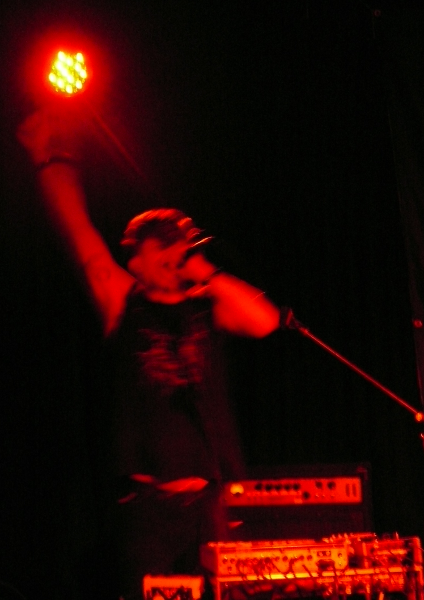 But are they funky? Somewhat.. Are they danceable? Decidedly, but given that this is London and a hotly-tipped gig, few actually do until the set is nearly done, as will be seen later. Kaukolampi fronts up a performance, rocking out to the amphetamine logic familiar from the Wax Trax and PIAS flavour of dance music, where the perpetual motion of the machine was the be all and end all. As with the likes of My Life With The Thrill Kill Kult, there's a gratifyingly harsh edge to K-X-P's sound, even though it is more than counterbalanced by the rhythmic fervour, one which accepts no compromises on its relentless rise as constrained by the tyrannical control of the beat and the repeated, infectious percussion. Here though, Leppanen brings his space rock side to the mix, making the groove wriggle and roll with an x-static injection into the trio's collective bloodstream, rippling outwards into the room.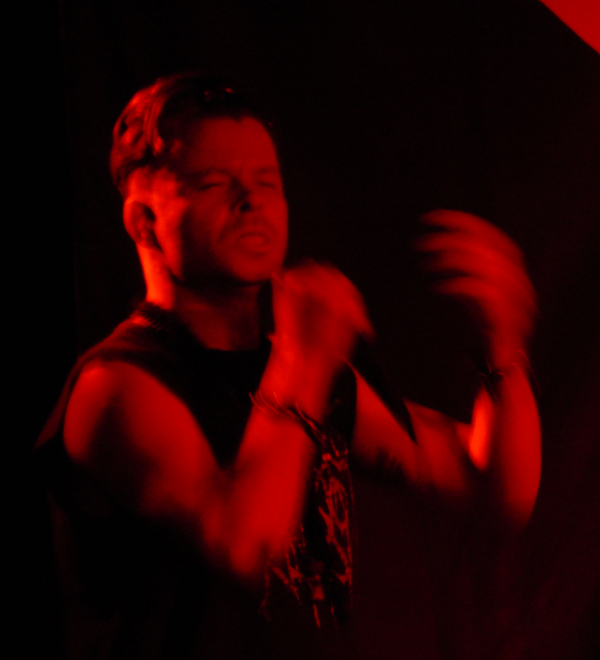 There is space too for the rest of the band to demonstrate their musical prowess, Tuomo Puranen's hands flickering up and down the length of his headless bass while Kaukolampi builds a sampler full of swarms, but there's always space for the drums to kick back into life on the explicit imperative that the audience is expected to get on down and move, as the echoed "Heys!" and "Rights!" steam into the mix. The rhythms crank up to breaking point on a deep undercarriage of electronic pulses and throbs with all the certainty of bliss yet to come, the rave aesthetic gone a tad weird on a washed-out float of FX and epic yowling. By rights, at this point the crowd should be going nuts, throwing shapes and/or pogoing, but still their metropolitan cool keeps the motion levels down to an enthusiastic level of shuffling in honour of the hepped-up energy being played out with vigour onstage.
As with Eat Lights, Become lights, the motorik force is also strong in K-X-P, but one which involves a fair degree of fist-punching too as they throttle off into their own particular take on the electro-motorway  imperative. As the synths arpeggiate like their disco lives depend on it, and the sequencer blips into phasered runs, wonder of wonders – the crowd starts to dance like they're having fun as the stupendously big sound fills the PA and the room, K-X-P soaring off blurredly into a space-krunk encore, headed for who knows where, or when.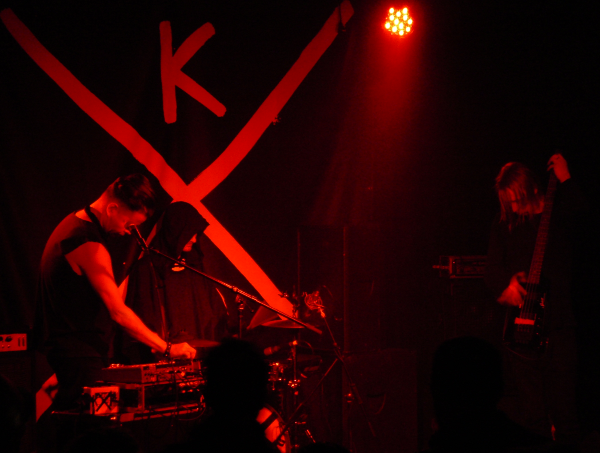 Like Zombie Zombie and Circle's extraordinary synth-pop side project Rättö ja Lehtisalo,  K-X-P are a post-modern group for people who have been through the po-mo era already, where the sense of irony is so well-developed is has actually become sincere once again – much as it ever was, same as it will be, now and probably forever in a media landscape changed unstoppably by a glut of influence and knowing homage. But K-X-P rule tonight in the kingdom of the mashed-up miasma, where everything is permitted – and also now multiply, infectiously, true.
-Linus Tossio-