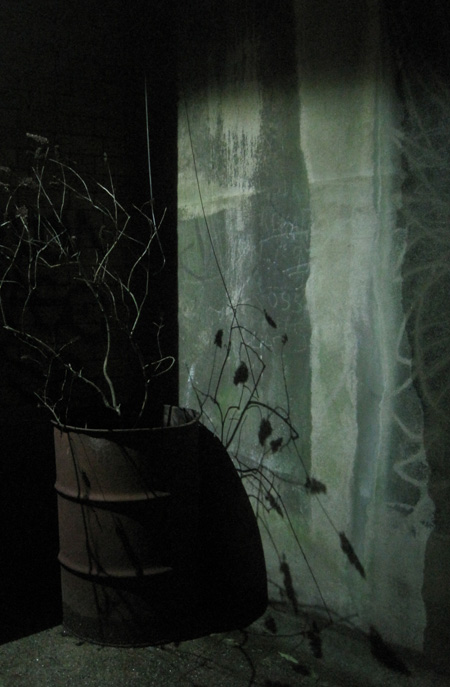 The Island, Bristol
21 February 2014
Second time round, The Island seemed less foreboding, with its seats, circular bar and rather cosy with a choice of off-kilter ambience leaking through the speakers from Bizaare Rituals.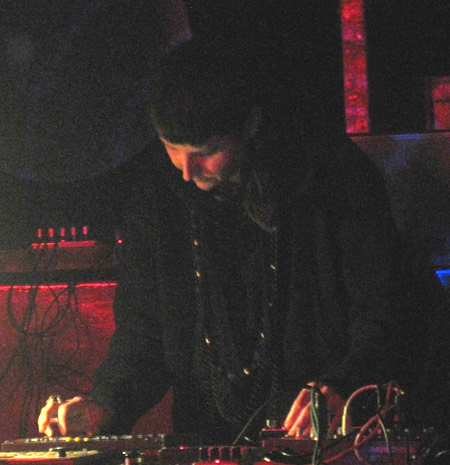 H, AKA Heloise of the excellent ZamZam label, kicked off the proceedings in contacted cymbal loop-caught metal overlaid in temples of spinning pennies, cross-stitched, pollinated in drifting drones, cross-cut with mythological teeth and kicked in scatter-cushioned primals. A whirring cascade that literally sucked you into its unfolding dramas, those shape-shifting horizons adance with cave-painted beasts. That distortion of chant later tape-fed into the mix, sounding like a mangled Chris de Burgh or some corrupted Buddhist hymn making for an fitting terminus to her tonal journey, signed off with a silent hand pyramid above her head.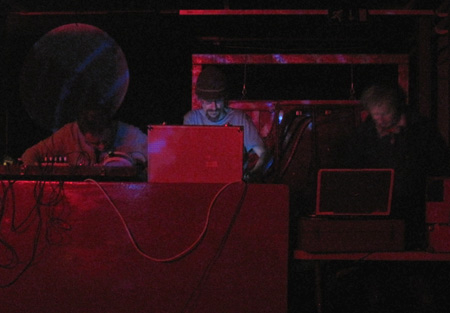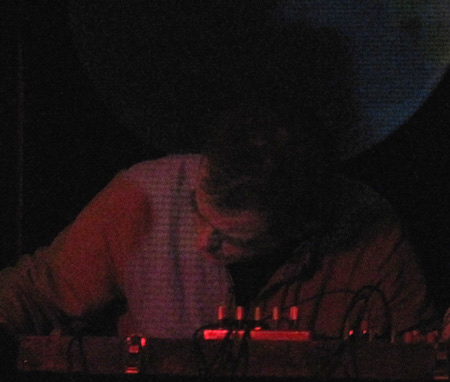 Hacker Farm were a slow mizenball crawl of subterranean colours, an ether swell with spectro-dialogue shadowing through. The clanking milk bottle rhythmics and a prosthetic smile of ceramic beats softened in whirling drones. Didn't really seduce until its heart gave way to some loop illusions, tonal mealworms of words'n'phrases; I swear that at one point it sounded like  "wired trousers" were battling with "were not drugged."
The brittle bric and atomised t-dreams pulsing out a borrmann burrmannnnnnn  purr. Some nice reed action later ensued, bringing back my
Ice Bird Spiral
days with
Kek-W
whose head that night was often bobbing like a plastic Buddha's, a satisfied grin affixing his face with every thud. Their set ending on a Serengeti sunset, Mr
Glitch
bent over the helm of his spaceship as if attempting a difficult landing
as a headphoned
Bren
applied bass slurs to the navigated fade out.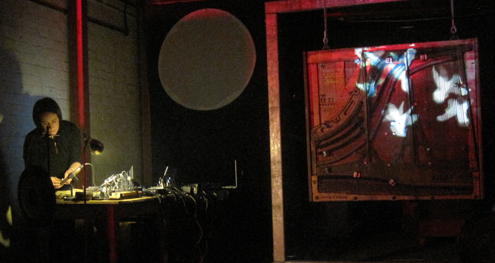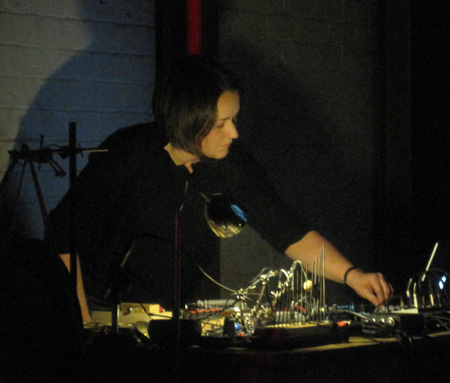 In the shadows behind the performers hung some suspended piano innards, all through H and Hacker Farm's sets its strings were seductively spider-webbing in the projectors' light, leaving me secretly hoping it wasn't just for decoration.  Seeing it wheeled into position for the next act
Kathy Hinde
was certainly a prelude to something rather special. An electro-acoustic honey pot in which
projected birds leapt the piano's wires
, creating delicate gamelan-like falls of tapped timbre, the sudden flurries of hammer mimicking the light-boned transits. The accompanying rubbed acoustics jigsawing that prepared percussiveness beautifully in a rich stream of layered strata, texturally alive, a clatter of somnambulistic arrows weaving in thresholds of curling abrasion.  An oddly orchestrated soup, occasionally peaking in feedback , the fibre continually fed, punctured in cheeping toy and toiling metallics. Flickering motorised beaks on the wires, a clang of Javanese flavours. A unique, inventive and highly enjoyable set.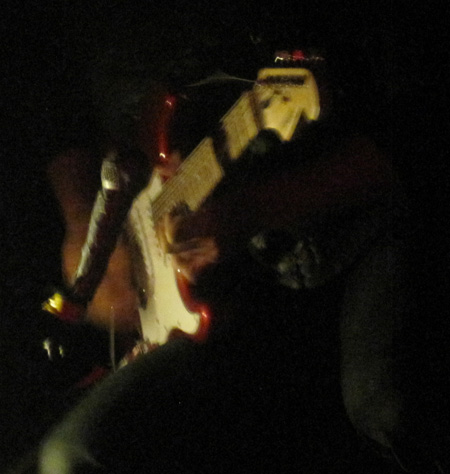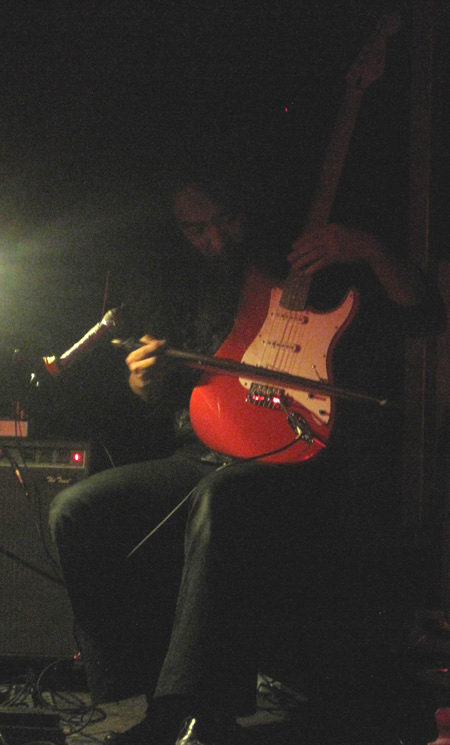 Makoto Kawabata was in the solo spotlight for the show's finale, no less the psychedelic minstrel minus his usual Acid Mothers cohorts. He started in bowed guitar contours, droning rubs that rose out in a shrill and pierced majesty to which fingers in ears released a whole soup of shifting textures below.  As the volume subsided new loop captures ambled straight into a sparkle-footed rendition of "Pink Lady Lemonade," its blissful trickle overlaid in Mississippi hairpins and bent hand flourishes that left you a moth in his barbecuing flames.
He later set up this lovely pre-recorded bounce of acoustika;  overwhelmed it in aggressive moodswings of wah and sustain. A blur of tortured angles and pedal-pointed directions. Bright contours that turned the guy in front of me into
a devotional spread of hands, an open triangle of awe
, ears exploded like curving prophets,  myriad in illumination. A howling universe of fiery perspectives feeding the hungry skull sharks and bringing the curtain down in a well deserved applause.
-Michael Rodham-Heaps-