(Midwich)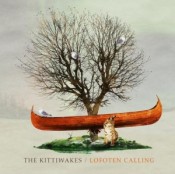 A folk group from Essex recording a concept album about the Lofoten Islands in Arctic Norway seems an intriguing though ultimately self-defeating idea. After all, isn't the idea of folk music that it reflects the culture it comes from, rather than holiday snaps of exotic locations? Actually, it turns out that the two areas share a large amount of common folklore, dating back to Viking times, and there has long been maritime contact between the two regions, including singer Kate Denny's grandfather seeing active service in Lofoten in WW2.
The group have developed snatches of traditional melodies common to both locations to write their own song cycle that musically fuses the styles of both places. Denny's up-front singing is effectively set off by a sparse instrumentation of accordion, violin, mandolin and banjo alongside some beautifully arranged vocal harmony parts.
Lofoten Calling illuminates a route via which folk music might develop in the 21st century, avoiding both isolationist stagnation and Real World-type forced post-modern integration, acknowledging cultural globalisation but building on specific historic connections and avoiding the kind of insipid ethnic lucky dip that results in abominations like the loathsome Afro Celt Sound System and their wretched ilk.
-Alan Holmes-