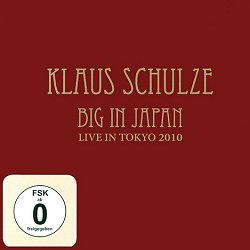 After spending the last few years playing live with Dead Can Dance's Lisa Gerrard, Klaus Schulze thought it was time to get back to playing some 'pure' Schulze live and this is exactly what this double disc delivers.
Schulze had not played in Japan since 2003 and these shows were set up by a fan of the man. It seems as if Klaus took this on board and decided to play a set full of classic sounds for his audience. The disc opens with "The Returns," a reworking of 1977's Mirage track "Crystal Lake." This piece shimmers beautifully in all its Rivendell glory. Majestic string sounds cascade over each other as Schulze switches from major to minor key in a lilting stillness like summer air on water. When the major theme kicks in it begins to lift the piece while the sequencers add rhythm until 35 minutes later the languid strings take over to head towards its melancholy end.
After this fantastic opening "Sequencers Are Beautiful" seems a little out of place. This track was left off the original Japanese issue and I can kind of see why. On the original recorded version this track was meant to showcase sequencers stretching back to the 1970s; live it sounds awkward and somehow unfulfilling. It meanders around and loses its way, strays into atonal territory that it never quite recovers from. The drum machine seems a little hackneyed (which is rather odd when you think that Schulze started his music career as a drummer), and the ending is taken over by Schulze playing the guitar in a very idiosyncratic style and limps towards its final chords leaving you feeling a sense of "what the hell was all that about?," which is a shame.
Disc 2 and we are back to what Schulze does best. The opening choir fugue to "La Joyeuse Apocalypse" is quite outstanding. At times it drifts between bombast and the spatial sound of Tangerine Dream's "Mysterious Semblance at the Strand of Nightmares." Sequencers kick in and we are off delving into minor key dark valleys that fill the air with a sci-fi tension that tonally shifts subtly and builds towards dramatic string chords that climb downwards until they leave you hanging floating between Jupiter's moons. "Nippon Benefit" is a delicate, almost interlude, piece with a loose structure and drifts within its own ready-created atmosphere. At times it feels cold and detached; however, it still works in connection with the other tracks. "The Deductive Approach" is pure 70s sounding Schulze: clanking arpeggios, swirling flute sounds and big string pads that create a melody. By the end of the piece when the ambient space screams come in and the Chris Franke-style sequencing is holding the steady rhythm its almost as if you're transported back in time….
The two CD set also comes with a DVD of the live performance; alas my copy did not come with this. Overall for any Schulze fan this is a must-have; its very much old school, although the wild soloing is kept to a minimum which is rather sad, but on the whole an excellent set of an interesting performance. It would be good to see him do something like this in the UK… please Mr. Schulze…
-Gary Parsons-