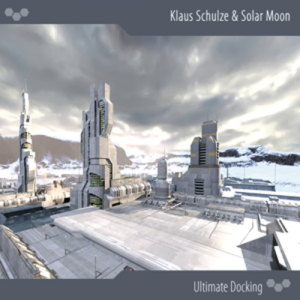 Made In Germany carries on its massive Klaus Schulze reissue programme with these two releases that have been unavailable for some time. Both come in lavish fold-old covers with a booklet containing notes about the making of the albums. Both are two disc sets containing nearly three hours of music on each release.
Ultimate Docking is an album created with the band Solar Moon. The tracks on this release tend to have more of beat running through them with a kind of dub vibe to them. The opener "Let The Rain Come" is a good example of this, with the rhythm section taking central space in the track while Klaus's electronics squeak away beneath the vocal. There is lots of space in the track and the rhythm touches on the sound of The Orb in the early nineties. Most of the track sounds improvised, but its good to hear Klaus play his classic Moog throughout the piece.
"You Get What…" starts off in a more atmospheric vein before the steady beat kicks in. This track has more of a sci-fi feel about it, so feels closer to some of Schulze's work during the early part of the millennium. The vocals almost sound
like something from an early Kraftwerk album as they intone of the robotic-sounding electronics
. "Strong" feels like a change in tone, with Schulze playing some classic synth pads that add a strange otherworldly atmosphere to the track. At points it hits in to dub territory, but still has a feel of floating out among the universe.
Scattering rhythm introduces "Sugar Mode" giving the track a slight jazz feel. Here, Klaus's synth pads remind me of the types of sounds that Richard Barbieri was getting for some of David Sylvian's early solo releases. The track is almost somnambulistic as its shifts through its plaintive mood. Disc two has remixes and a dub version of "Strong" and "What You Deserve".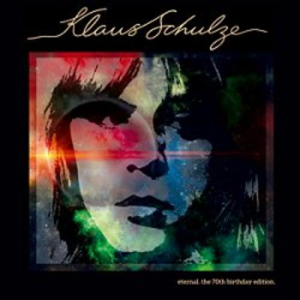 Even though the sleeve shows a picture of seventies Schulze from the Mirage era, the tracks on Eternal actually date from 2006 and are previously unreleased pieces recorded for music fairs.
"Rhodes Romance" is a ethereal piece played on Fender Rhodes that has a melancholic and majestic feel. You can sink into its oceans of echo and let the track drift ambiently over its forty-seven minutes. Strangely, at times it conjures up the same atmosphere as mid-seventies
Tangerine Dream
, especially when string pad synths begin to swell beneath the Rhodes. It also brings to mind some of
Harold Budd
's work, but
its playing and delivery are pure Schulze
.
"Minority Report" has some classic Schulze sequencing, as well as some wonderful Moog wibble. Here again it feels like we are stepping back to Klaus in the seventies, with one of those wonderful rolling melody lines that give the piece a forward momentum, but also take us out in to the dark universe. Throat singing introduces us to "Mongolia", which also has some beautiful female vocals and what sounds like Gregorian chant. With its scatter percussion keeping a steady beat, the track becomes reminiscent of something Enigma would have done. Klaus's synth pads build up a beautiful atmosphere that the track travels along for its length.
Disc two contains pieces that were written for keyboard manufacturers and released in very small amounts. "Schrittmacher" is full of pulsating sequencers that trip and fall over each other like a cascade of musical notes. This rhythm becomes hypnotic as the track picks up pace and propels it ever forward like a rocket being launched in to space. "Ion/Andromeda" has vocodered vocals over its space-echoed wandering lead that creates a lush atmosphere of other worlds beyond our own solar system. This is
the kind of thing that Klaus does best; it's when his music takes us on a journey into the farther reaches of the cosmos
or projects a sci-fi images onto the mind's eye. "Andromeda – The Grand Trance" closes the album with a massive forty-one minute reinterpretation and breakdown of the previous track that lets the instruments slowly build over a wonderful sequencing pattern. The track is
as big as Jupiter as it spirals around and creates own world
that becomes part of your room during its running time. It's strange melody travels around your head and becomes trance-inducing after a while, and has a similar effect to his early album
Cyborg
 for overtaking the space in which it is played in.
It will be interesting to see what other Schulze gems MiG will be releasing over the coming months from Klaus's collection.
-Gary Parsons-