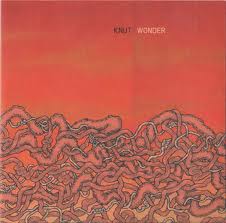 Ah, already after the first riffs of Wonder, I get a sense of "this is my kind of heavy metal". Hard and the kind of old fashioned heavy feeling; that sort of heavy feeling from some of the the 80s bands like Dio, that made my body want to slow down, BUT with the speed and intensity of metal hardcore act Converge. As fresh as the Swiss Knut sounds, they have still been around since the early 90s, pushing out records over the years – but they can still kick some butt. The mix between hard and heavy and going back to hardcore fast riffs even creates a math-rock feeling in some tracks.
Anyway, after a quite fast and heavy start of the first four tracks, the fifth track slows the pace down a bit. A very traditional sounding heavy metal guitar-riff, although quite intriguing. The drummer even more playing the drums than just pounding away, but still hard'n'heavy, but definitely not a hardcore track. After more than half the track, they set up a doom like pace, even, before they pick it up again. More strings to play, hey Knut! Made me wonder where they pick up their prog references? King Crimson?
Not quite done yet, they even let the guitarist do some slow fiddling about for the sixth track for some interlude. Disturbing, but makes the album more interesting as a whole, and the same theme comes back again later. Tracks 7 and 8 sets off a harder pace again and I am especially hypnotized by the repetetive vocals of "Bastard," and the way it moves over to some complex guitar moves, again some kind of prog influence from the 70s (I guess). And in track 8 the bass player also comes as a rare occasion, a bit more forward at times.
Wonder is a variable and interesting album. Quite heavy, but more hardcore and they also put in lots of prog references, which makes me even happier. They use listenable but still hard and heavy melodic riffs, and also manages the nice balance between instrumental tracks and hardcore punk screamo vocal tracks. Of course the hardcore  vocals will put off some of the prog fans, and the punk fans can be put off by the intricate guitar riffs and rhythm/mood changes within each track, but this is musicianship in my ears, and the compositions are nicely done and well put together.
-Ronny Wærnes-