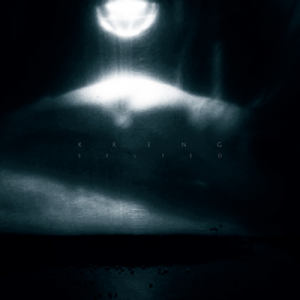 The latest instalment in Drone Records' series of double 10″ vinyl releases comes from Pepijn Caudron, AKA Kreng. Commissioned for a dance piece choreographed by Kevin Trappeniers, and performed in Ljubljana by Dagmar Dachauer, Selfed is envisioned as a metaphorical method for breaking down the borders thrown up by both the individual and society.
Over the course of three sides of lush multicoloured vinyl — the fourth is etched with the usual credits and so forth in a neat piece of elegant and unusual design —
Selfed
unfolds from the depths of almost inaudible susurrus by way of  
churning chaostrophy and slow-burning revisited drones
. Casual listening will not do at all for this music — if it's going to be heard, it needs to be heard loud and immersively; treating this as background sound is not sufficient to grasp the full weight and ultimately
heft
of the tone, nor the subtle and delicately-observed shifts that Caudron employs to push volumes of air in all directions.
Selfed is a slice of deep listening that rewards a patient listen, and must have been quite something to witness onstage accompanying Dachauer's performance. Passages of cyclical breathing, treated environmental sounds and creeping melody lines meld the outer and the inner worlds of electronic pulsations and Dopplered vehicles. When the booming cardiac rhythms drop, they are held in almost airborne stasis by Popol Vuh-like choral mantrascapes, creating an elevated sense of reverential contemplation. The third and final side does this most overwhelmingly, the bass becoming almost unbearably heavy as glitches strain among the heaving pressure that signifies the fade out into stillness.
-Linus Tossio-