Bristol
8 November 2016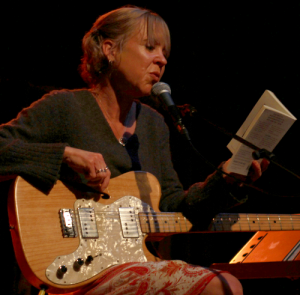 This was an intimate show, just Kristin Hersh laying herself bare – furnished with a few self-released books and a shiny electric guitar. Last time I saw her live was just as intimate, in a small, vaulted church off Park Street, where she delivered a stripped-down acoustic  shindig full of wonder.  That harrowing encore satisfaction of  "Delicate Cutters" is still creeping the personal archives some twenty-two years later.
Now Kristin's back with plenty of new material, perusing some choice pickings from her extensive back catalogue. It's very clear from the offing how much she feels the songs, needs them even, her head wavering, conveying every haunted word with a faraway  stare as if totally lost in their corridors.
These were cathartic lullabies, turning personal ugliness into art with a husky
Marianne Faithfull
delivery. Her guitar style breeding mirages, dramatically swaying, razoring her word-rushed highways into captive vipers, the guitar's varnish picking up the stage lighting and sending out disco mirror ball action into the front rows. The performance was peppered with read excerpts, and these were
witty, thoughtful and sometimes painful
. The account of almost drowning in a rip-tide taken as the ultimate in escapism, belying the optimism running umbilical through everything she does.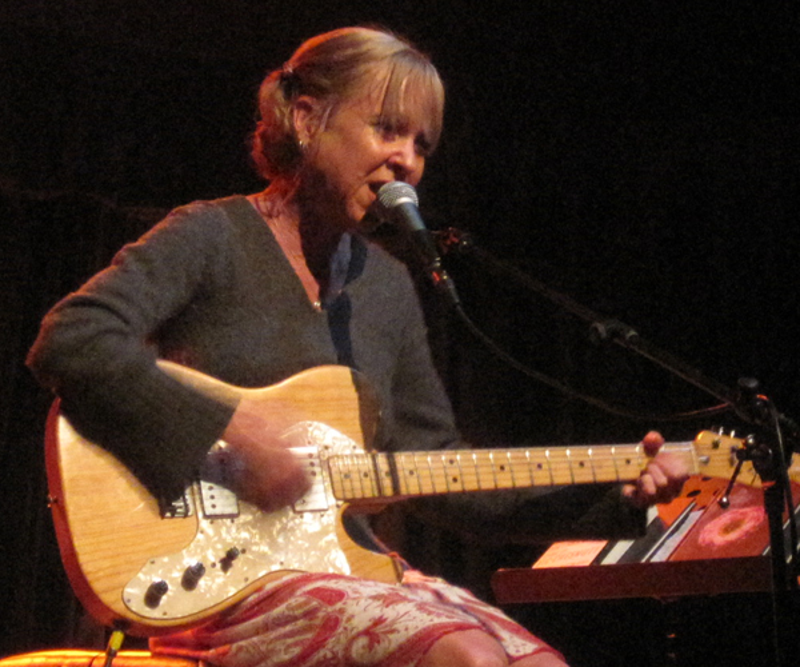 It's a rich tapestry of wry observations from which songs spring from; her
life and art are simultaneous, inseparable in the Hersh worldview
and it's given Kristin's work a longevity that's stretched into the homes of many. "Eyes like white stones in black light", she cries, words shining out in those choppy waters of "Mississippi Kite", detox flying from a tale about making gazpacho for the hookers outside in the hall.
The new material flies with an assertive glare, "Soma Gone Slapstick" in particular throws out a wow of bassy ignitions, sits in your head like a long-lost friend. When "Your Ghost" hits, the room literally melts; I look over to Sarah and she's grinning back warmly — it's such a beautiful song that brings those twenty-two years rushing back. "You Cage" is another blast from the past, this time Throwing Muses', with those off-mic vocal ascends weaselling the shivers.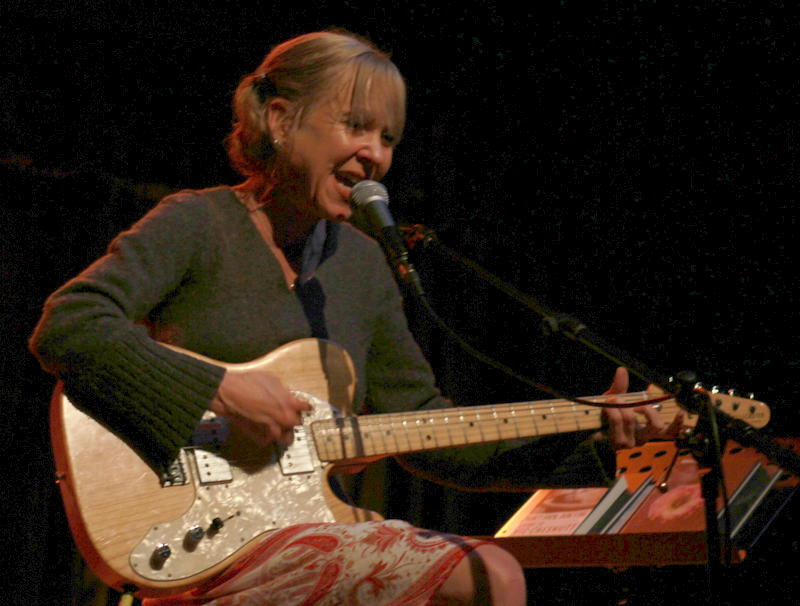 You'll have to excuse me, but it's a bit blurry in the detail from here on in: I'm sure
Sunny Border Blue
's "Your Dirty Answer" was in there somewhere, and a touching cover of her close friend
Vic Chesnutt
 too, which I forget the name of. She strums, bone-picks, the songs ascend, twist with
moody intersections, blushing with the occasional bluesy lick
. Musically, it's beaming emotion, the words clinging to the fairground plunges, cross-kicked in glowing coals and simple lilts – she certainly does heartbreaker well, and "The Flooding" is a brilliant example.
The encore brings on a few more choice treasures, one of which is from The Grotto; I just love this album's haunting buoyancy and we get a personal recount of "Sno Cat"'s creation into the bargain before the song fills the room with an imagined spiral of frosty exhale. She ends the evening with a taste of her childhood in "The Cuckoo", an Appalachian lullaby her mother used to sing to her (the only one that wasn't about death or murder, she added sardonically), another memorable moment from Hips And Makers.
A stunning evening of edgy intimacy.
-Michael Rodham-Heaps-