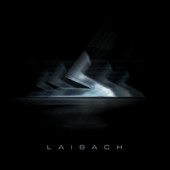 Released as a taster for the forthcoming Spectre album, the S EP finds Laibach in slower, reflective mood on the opening "Eurovision," the track unfolding with almost trip-hop intent in a fashion which harks back in tone to 1992's Kapital. Of course they can't help but get epic on the refrain "Europe is falling apart" – but even then the bombast is held back, and instead there's a mournful tone to the whole track, summed up when Milan Fras intones gruffly "In the absence of war we are questioning peace/In the absence of God we will pray to police." As with Kapital, it seems that Spectre will see that most politically controversial of bands making some of their opinions more (or less) obvious.
Similarly, "No History" is downtempo, and radically shifts the Laibach sound into areas which some of their more hardcore industrial fans
might
find a little hard to swallow, as it keeps the same familiar tropes and themes – decay of belief, destruction of the idea of a benevolent Euopean future – and packages them in a very, very contemporary pop package. Fras' spoken words, which reference Occupy Wall Street as much as the death of history ("No God, no rules to scare you all!"), brush up hard against production values which
continue their long habit of taking pop music and wrenching it
– kicking, wriggling and sometimes if not screaming then protesting firmly – into their own darkling, mordant form. Which continues on their throbbingly heavy version of
Serge Gainsbourg
's "Love On The Beat"  from the live
Monumental Retro-Avant-Garde
album
recorded at the Tate Modern
in 2012, and "Resistance is Futile," in which the  dystopian, nihilist present is threatened with Laibach's electro Blitzkreig. And
yes, there's autotune involved here
too. "We are Laibach – and you will be assimilated" they threaten; "what we are, you will become… we suck your culture…" Sometimes their intentions are declared in more filtered, dubbed-out robo-tones than others, while
Mina Špiler
's quasi-chartbusting vocal sonorities wail; perhaps it will come to pass, though it's perhaps helpful to assume this will be the absorption of pop culture into something more… interesting.
"Existence, as you know it, is over," they declare, and that much has been apparent for a long time: but now – as they've said before on WAT, for instance – Laibach are coming to claim (or is that to warn about?) the mantle of The Borg.
-Linus Tossio-