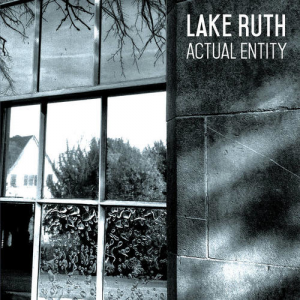 Formed by members of Holy Fuck, The New Lines and The Eighteenth Day Of May, Lake Ruth offer a disarming take on psychedelic indie pop with their début album Actual Entity. It's a charming glimpse into a world of magic and wonder, although of course not one without its own darkness. Because otherwise pop music just doesn't tend to work, and this manifestly does.
While the album is a coherent piece in its own right, having
a distinctive sound that carries from song to song
, individual tracks tend to vary in terms of style and influence. Opener "The Greenfield Industrialist", for example, brings to mind a
My Bloody Valentine
with cleaner lines and a focus on tune rather than fuzz, while "Cabin Fever" is like is a more fulsome, less wiry
Sundays
. Even the ghost of
Fried
-era
Julian Cope
gets a look-in on "Dr Snow And The Broad Street Pump".
Things take a slightly proggier turn on "A Victimless Crime", whose restless, nervy bass line at first threatens to break into Yes's "Owner Of A Lonely Heart", but thinks better of it and decides to underpin a rather lovely and magical tune built around a simple but haunting bell melody. "The Timekeeper's Lament" adds some psych-rock Doors organ to the mix, yet ends up sounding oddly French for no reason I can really put my finger on, like Gainsbourg invoking the Lizard King by smoking outside a café.
For me, 
Actual Entity
's highlight is "One Night As I Lay On My Bed", where English folk music meets the American West (or perhaps, more accurately, parts of Spain PRETENDING to be the American West) courtesy of some supremely high-plains-drifting (yes, I KNOW that one was filmed in the US, but really who gives a shit? We all know the sound I'm getting at) guitar and some supremely
Shirley Collins
-esque vocal work. Album closer "Yet Still Tomorrow Comes" is the triumphant set-closer, an epic sonic mantra of skirling guitar, bubbling bass and soaring vocals,
the kind of thing you could carry on listening to for hours
while wishing a band wasn't actually about to leave the stage.
As a whole, the album's quite a trip, starting fairly simply and then spreading its arms wider to encompass more and more styles, before a finale which leaves you in space rather than bringing you down again. But, hey, it's pretty cool up here.
-Justin Farrington-