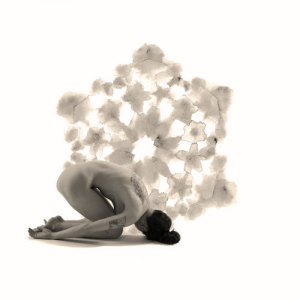 Seeing Larkin Grimm at the (now demolished) Seymour's Family Club in Bristol back in 2006(?) was a real pleasure, that incredible voice of hers just held its own, her musicianship spurring and stirring her wordy glow-forms. Been a fan every since her startling (and slightly un-hinged) debut Harpoon Baptism hit back in 2005, a sparse pagan hymn to a decaying relationship full of wyrd musical dynamics and a voice to match, a Linda Perhacs peppering (in the vein of Chimacum Rain and more so) that would feather the tune with dark and psychedelic emotions.
The albums that followed became more embellished, lyrically infused, mining this hungry, often autobiographical energy, always eclectically searching for inventive ways to decorate themselves, but never complacently falling into that strum-o-phonic guitar a lot of folksy stuff fearfully lingers.
The Last Tree
 that followed quickly after felt like eavesdropping into somebody's headspace; then
Parplar
totally surpassed it in a lullaby'd furrier that was compositionally solid and wildly confident, mixing the sour with the sweet,
never afraid to have spin shivers of honesty with the fairytale
.
…I've got no hooker's heart of gold, my hooks are sharp… my heart is cold…
This strange seduction was given more polish with the release of 2012's Soul Retrieval and it's from this point that her latest LP Chasing An Illusion is wrought. The first track, "Oceanic Pleasure", is a polyphonic joy with Grimm's subtly reverbed phrasing sliding, diving that swishy sitar-filled sky and exhaling ambience. Something that could have easily snuggled into Last Tree, as its trippy layering sends cinematic slivers through your skull and she describes "The princess of swords rising" to a fractal flutter of random tunings and scattered rabbit bones.
The second tune, "Beautifully Alone", glimmers like a straight-up pop-song, prances around with a loved-up spring in its step to a glinting harp and
Shelleyan Orphan
nibblings. She has a weird sensibility to her songs, that sort of
glides, levitates before you like some unfurling fiction
that seeds the dopplering sax and rim-kicked percussion of "Fear Transforms Into Love (Journey in Turiyasangitananda)". A gentle wonder in which her multi-tracked vocal (hazy with delay) is suddenly flung forefront to a dimensionally divided backing of thrown perspectives that dolphin, get fanciful with your hemispheres. The curvy gliss of harp and echoing violin snaking this diaristic mediation on the difficulties of  "a love", she laments, that "will turn into hate" — a sentiment sonically mirrored by a sudden diffused shatter and a milling of reversing slivers.
There's always a sting in her tales – she carries her souvenirs from life's gift-shop proudly, the good and bad are often a helixed one, as the slow tug of "I Don't Believe You" burns indelibly into your head, a rivering, delicate beauty that belies a shocking source. Her excellent voice leaps with inclination, an emotional vent that tangles those twitching tempos, that skittering flame, always clambering towards an inner truth. The self is deftly dragonflied to "A Perfect World", the jivering jauntiness of "Keeping You Alive" bounding the ear in a bewitching soulfulness.
A folksy-tinted delaware for the album's grand finale "Chasing An Illusion" to feedback on the old-time savagery of "Harpoon Baptism", a bizarre departure that has this happily married and now mother singing about her heart and her soul being empty: "I feel dead insiddddddddde", she vocally tears; "don't you?" she retorts, stabbing inquiringly at the fourth wall. A vocal that suddenly explodes in a visceral scream trailed in a blister of saxophonics; bursts into a bubble of renewed optimism – a
prog-filled, tambourine-tapped hippydom that sweeps the shadows away in radiant colours
interspersed with a native tongue invoking some ritual and a hydra-head of marauding words from Grimm that fracture like dreamweapons to the subconscious.
The girl's done good.
-Michael Rodham-Heaps-