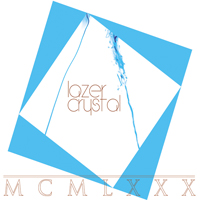 Lazer Crystal come from Chicago and this is their first full release. The title MCMLXXX is a real declaration of intent, or at least a real advert to the albums contents. And it is, but at the same time it isn't. I've heard many bands that are really stuck in the 70s or 80s to the point of sounding like a stale copy. Lazer Crystal aren't one of them. Indebted to the 80s, yes; in awe of the 80s, almost certainly; but not stuck in them.
They give us a gloriously mad synthfest. The 80s never actually sounded this demented. Like an unholy mixture of Ian Curtis, Fad Gadget and "Crockett's Theme" delivered with the screwed up spasticity of Aphex Twin or Squarepusher. The mad electronica through a food processor sound is distinctly more recent. It's a delirious look back the 80s. I immediately thought of David Bowie's cocaine fueled soul nightmare Station To Station, which he claims to have no knowledge of actually making. It was the side effects of the cocaine, David. But that's good. MCMLXXX has that kind of quality, a mechanical sequenced synth pop that just doesn't sound coherent for all the tightness and precision invloved, sprinkled with voices that sound like a garbled cry in a hallucination. A sound that's barely on the right side of consciousness, which ever one that is. It's like watching an episode of Miami Vice on really strong acid, or listening to Gary Numan in the grip of a burning fever.
-Alaric-
Lazer Cystal – Love Rhombus from Thrill Jockey Records on Vimeo.