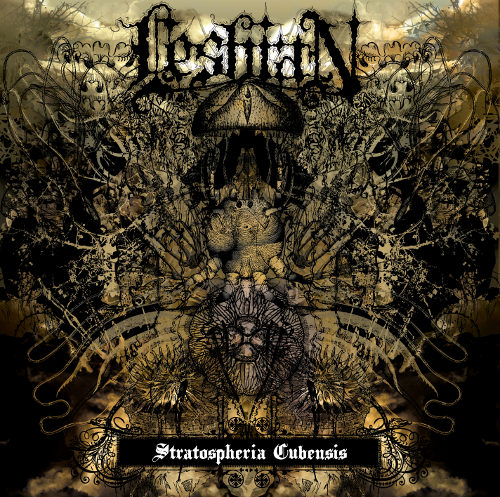 The second album-length outing from Lesbian finds the self-professed prog-doomsters reaching further into the upper reaches of the psychosphere on a craft constructed from some seriously heavy sounds and equally convoluted musicianship.
Lesbian like to rock, they like to soar, and it's quite possible they're rising high over the stratosphere right now. Ten parts doom to three parts pomp, Stratospheria Cubensis is a logical component to all things stoner-appreciated, decked out with passages of relentless weightiness interspersed with occasional levitating melodies which squirm and turn, though without quite hitting the symphonic excess of the likes of Ulver. However, underneath it all, the all-pervasive riffing eventually always gurns its way back onto the processional rhythms and widescreen expanses of mushrooming ecstatic release. This of course allows for some comprehensively wibbling high-energy guitar runs in old-school, proper metal style from axe-spankers Arran McInnis and/or Dan LaRochelle, as demonstrated comprehensively on the concluding epic "Black Stygian," which has more then enough movements to keep Conan the Barbarian on his toes.
Dorando Hodous delivers his vocals with deep-throated hellish energy, but there are also twangily-rendered pastoral passages which wouldn't be out of place on a Yes album; were Yes of course far, far more into black metal than hitherto suspected. This is Lesbian's main difference to the current round of doomy bands, and a characteristic they share with the likes of Asva, for example – and however grandiose the results can be on Stratospheria Cubensis at times, it's also refreshing to find the form bending and stretching into areas which draw on elements of Seventies head culture not solely restricted to emulations of and homages to Black Sabbath.
-Linus Tossio-