The Jazz Café, London
10 November 2012
Anyone who knows anything about Krautrock will already know that Agitation Free were one of the most significant bands during the early '70s in Germany. They will also know that both Manuel Göttsching and Christopher Franke are included amongst their alumni, and that the three albums that make up the core of their discography, Malesch, Second and Last, are some of the most accomplished psychedelic music ever to come out of Germany. Everyone else will mutter incoherently about something called a motorik drum beat and analogue synthesisers and other stuff that is more relevant to the '90s bands that aped Neu! than about the progressive music that was coming out of Germany during this period.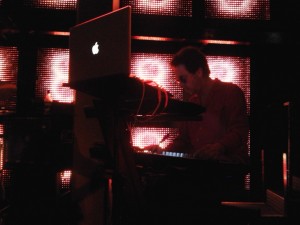 In the relaxed and uncomfortably slick surroundings of London's Jazz Café, after a young man (Matt Stevens) with an acoustic guitar and a looper makes a decent fist of amalgamating all that is best in Guru Guru and the original Amon Düül, a quintet of guys take to the stage. On the far left (audience perspective) a thin man with a mop of white blond hair and a diffident air, Lutz "Lüül" Ulbrich, picks up a Les Paul and turns to his fellow guitarist Gustl Luetjens, the new boy who joined in '73, who is inspecting a Charvel superstrat with amusement. Luetjens looks a bit like an '80s film star who has aged well. Beside them, a wiry, bald man envelops himself around an ugly professional-looking bass guitar. He and Lüül were the nucleus of the original band. And behind them Burghard Rausch, who replaced Franke on drums when the latter left to join Tangerine Dream, makes experimental moves around his kit. Finally on the far right Michael Hoenig is perched behind one of those angular synth stands that look far more precarious than they probably are. His kit is entirely digital and the ubiquitous Macbook shines an Apple from on high. Like most of the older generation of electronic heroes he has little nostalgia for unreliable old analogue equipment on stage.
And none of them are playing yet because the sounds of a conversation in the cabin of a jet airliner bound for Egypt in 1972 is playing across the PA. The key question in this conversation and the opening piece of the concert is called "You Play For Us Today?", and the group that are assembled here, with the exception of Luetjens, is the band which played on the album
Malesch
which opens with that track.
Agitation Free kick into their fluid motion. It's a graceful thing to see.
Sometimes Luetjens will take the lead, sometimes it's Lüül with his understated modal playing. It's quite the least rock'n'roll thing. Almost egoless. That's not to say that it's lily-livered, fey or twee. There's a strong structure underpinned by Rausch's loping swing, or Hoenig's arpeggiations.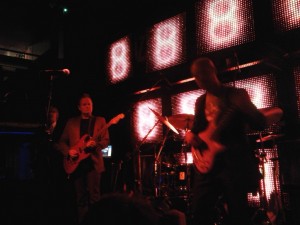 Throughout the set we move through much of the material on those three key albums. It resembles the original models quite strongly but anyone who knows the 1974 live album At the Cliffs of River Rhine will not be surprised by this. It's not that they just play the tracks just like they are on the album either. It's more that they have a crystal clear understanding of the underlying system and of each other's playing styles and a great sense of musical space. And it doesn't feel like we've stepped back into 1972, or at least we could as easily have stepped back into 1992 or 2002 or 2012. Agitation Free always feel very contemporary, containing elements of what came to be called ambient or post-rock or electronica. But these genres are as ever a canard. It's the strong sense of melody and dynamics that holds it all together rather than generic clichés and formal tropes.
It's when they step off the stage to re-emerge shortly afterwards for an encore that the time travel happens. A row of semitones descending tips us off as Agitation Free salute London with a strangely accurate rendition of Floyd's "Interstellar Overdrive," because
Pink Floyd
are a key part of the story here, but while
Dave Gilmour
's careful, contemplative lead playing was predominantly pentatonic, Lüül and Luetjens are deeply modal. Agitation Free never descend into gloom unnecessarily and were never doomy bluesmen. There's more jazzy colour and playfulness here than in the pomposity of the Floyd.
That playfulness and modal ambiguity, that exploratory verve and musicianship; these are the things that we might find useful and inspiring in German music from the early '70s. There was more to so-called Krautrock than a monotonous 4/4 drum beat and a collection of unreliable synthesisers, and to follow these pioneers into some of these lighter and seemingly more effortless realms may be less derivative and kitsch and more rewarding in the long run.
-Iotar-